Students Compete in Army Engineering Drone Contest
The Army-sponsored inaugural Historically Black Colleges and Universities/Minority Institutions (HBCU/MI) Design Competition was held at the University of Texas at El Paso, April 2019. The drone competition tested 11 student engineering teams from HBCU/MI on their ability to master drone challenges developed for the event by the Army.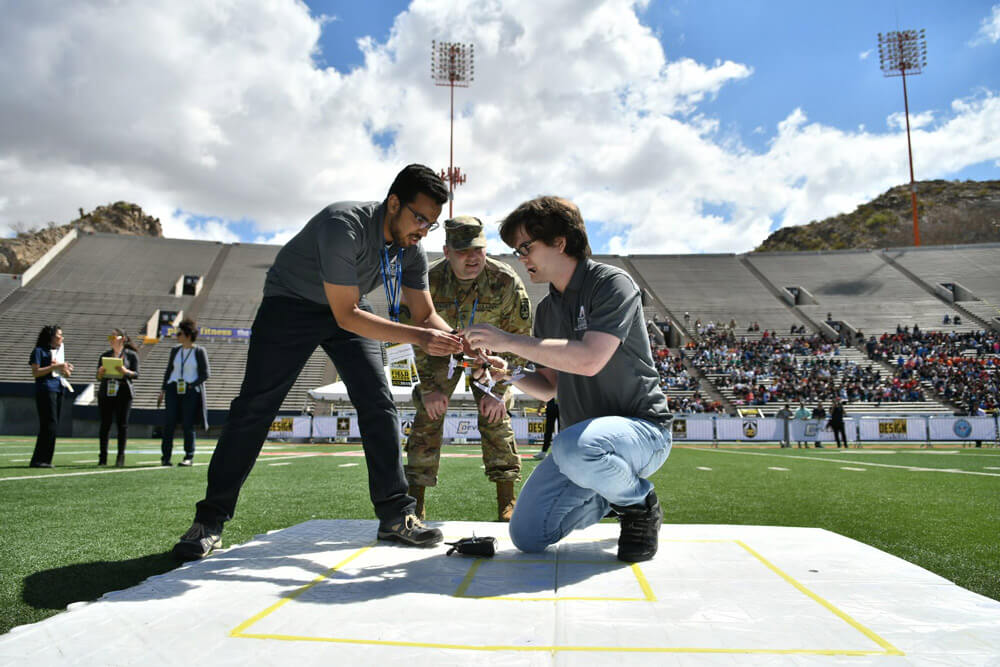 The contest was the brainstorm of Commander, U.S. Army Combat Capabilities Development Command (CCDC), MG Cedric Wins. It was not only an opportunity for young, minority college students studying in the science, technology, engineering and mathematics (STEM) field to showcase their skills, but it also doubled as an avenue for the Army to gain new insights into potential solutions for real-world challenges faced by the Army's various unmanned aerial vehicle research laboratories. The event was so successful that event judges recommended patent applications for several of the competing students. 
"We designed this competition to showcase what goes on in the education and development of students at HBCUs and minority serving institutions," said MG Wins. "We know there is talent everywhere across the United States, and we want to tap into that for the Army."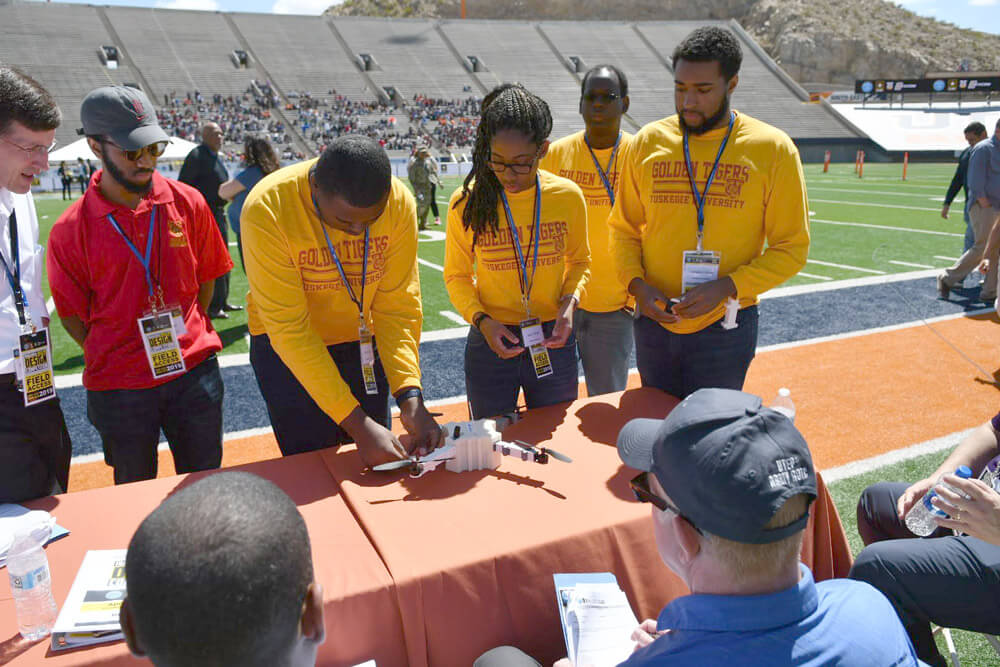 The students were judged by senior CCDC leaders on their ability to present the details of their drone designs; how effectively that design solved the Army challenges; how the drone design could potentially be commercialized for Army use; and most importantly, the success of their flight demonstration.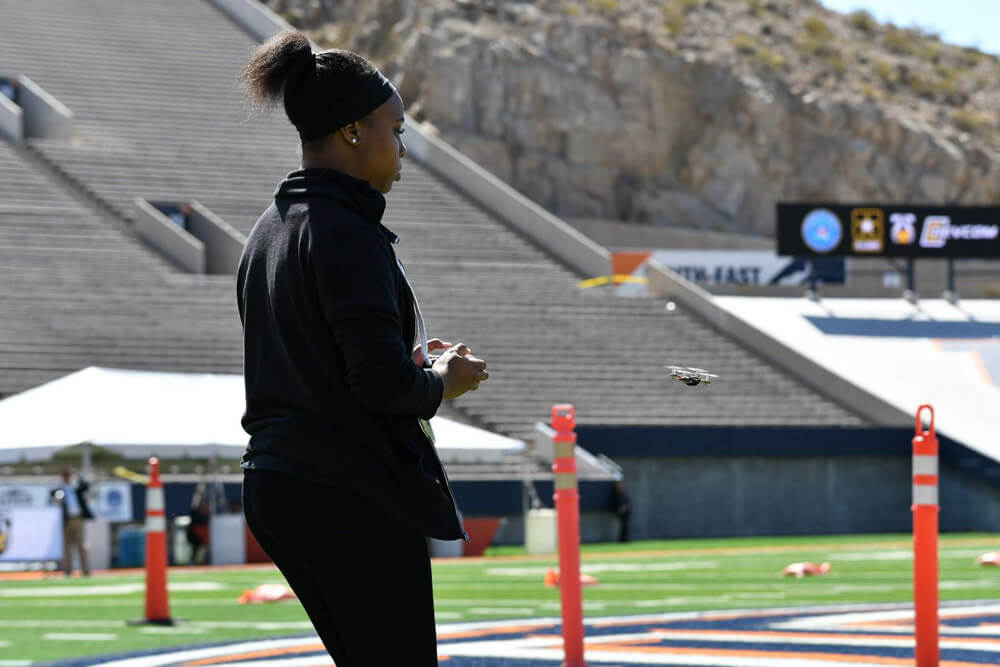 Over 1,000 middle and high school students watched from the stands of Sun Bowl stadium as the competing teams took their drones on a 30-second hover before directing their drone around pylons to land on a bullseye target. The teams then had to change out their drones' batteries, hover again and go back through the pylons. To win, the teams were required to keep the drones within a specific height range throughout the entire demonstration.
SFC Daniel Guenther, the military applications advisor for the CCDC and self-proclaimed "CCDC go-to drone guy," was bullish on the contest. He said he has 17 drones at home himself and is a Federal Aviation Administration-licensed drone pilot. He noted that the students—none of whom have professional experience in drone development—truly impressed him.
"We just told a whole bunch of [student] engineers, 'Hey, here you go. Have fun!' It was a quick learning curve. I don't know if you've heard the term drink from a firehose, but that's exactly what they were doing—trying to construct a drone out of nothing."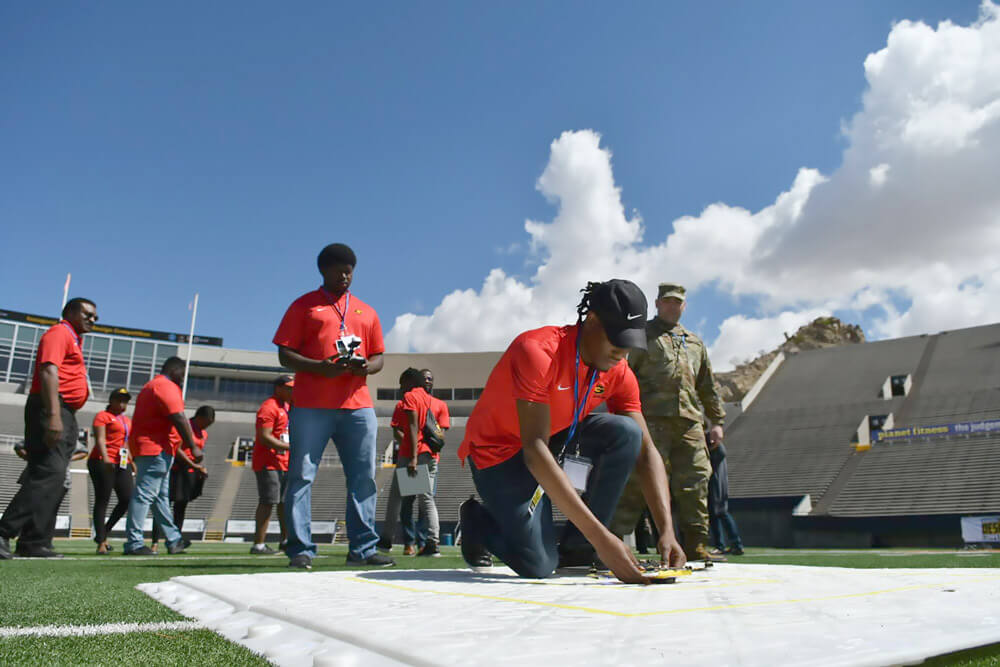 The competition featured two main design challenges. The first was to create a drone frame using biological material produced from enzymes. The second was to develop a design that would eliminate the wire bundles traditionally needed for a drone to function. SFC Guenther indicated that the goal behind the challenges was to push students to think outside the box and imagine, for instance, a drone that could land in water and harmlessly disintegrate, or drones that could be fabricated by a 3D printer. 
Also included as part of the event was a tech expo featuring various exhibits displaying current Army technology as well as University of Texas STEM programs. 
2019 HBCU/MI Design Competition winning teams:
1st Place – InterAmerican University of Puerto Rico
2nd Place – University of Texas at El Paso
3rd Place – University of Illinois
4th Place – Spelman College
The winning teams received cash prizes of $5,000, $4,000, $3,000 and $2,000 for first, second, third and fourth places, respectively.
Dr. Vallen Emory, project manager for the design competition, noted enthusiasm over the success of this first-time event. 
"It was a win-win for everyone," he said. "This was the inaugural competition. We were flying blind throughout the whole thing, but it really worked out for everyone." 
Next year's competition, which is currently scheduled to be held in the Chicago metropolitan area, is already in the early planning stages. Eligible higher learning institutions will be contacted by the Army in their ongoing effort to help spawn innovation and entrepreneurship among education partners. 
SFC Guenther said he expects that all the universities that fielded teams this year will return to compete in next year's competition, with several new schools joining the competition. Given the increasing notoriety of drones in everyday society, administrations from minority colleges and universities across the country are keen to offer their engineering students as much exposure as possible to developing what is likely to be commonly used technology in the very near future. 
"Drones are becoming an everyday part of life," said SFC Guenther. "They are [already] out there." 
BY STAFF WRITER Matthew Liptak
Photos courtesy Great Minds in STEM