When playing a fun game with his Family about which kitchen tool would best describe them, SPC Travis Cooper, Construction Equipment Mechanic with the 207th Engineer Utilities Detachment of the Alaska Army National Guard, was deemed a zester. His Family likened SPC Cooper to the utensil used to precisely scrape fine shreds of peel from citrus fruits because of his knack for precision. It is this same trait that has led to SPC Cooper's success in the National Guard Biathlon program.
"Being in the National Guard Biathlon program has been a huge blessing for Travis," his mother said. "It has allowed him to pursue his passion for biathlon and skiing with complete focus. He also gets to see the world while doing it."  – Leslie Cooper
The biathlon, a winter sport that combines cross-country skiing and rifle shooting, originated in the skiing traditions of Scandinavia, where early inhabitants revered the Norse god Ullr as both the ski god and the hunting god. In modern times, the activity that developed into the sport was an alternative training exercise for the Norwegian military. Norwegian skiing regiments organized military contests in the 18th century, divided into four classes: shooting at mark while skiing at top speed, downhill race among trees, downhill race on big hills without falling, and a long race on flat ground while carrying a rifle and a military pack. The current-day biathlon is a civilian variant of the old military combined exercise. The first Biathlon World Championship was held in 1958 in Austria, and in 1960 the sport was included in the Olympic Games.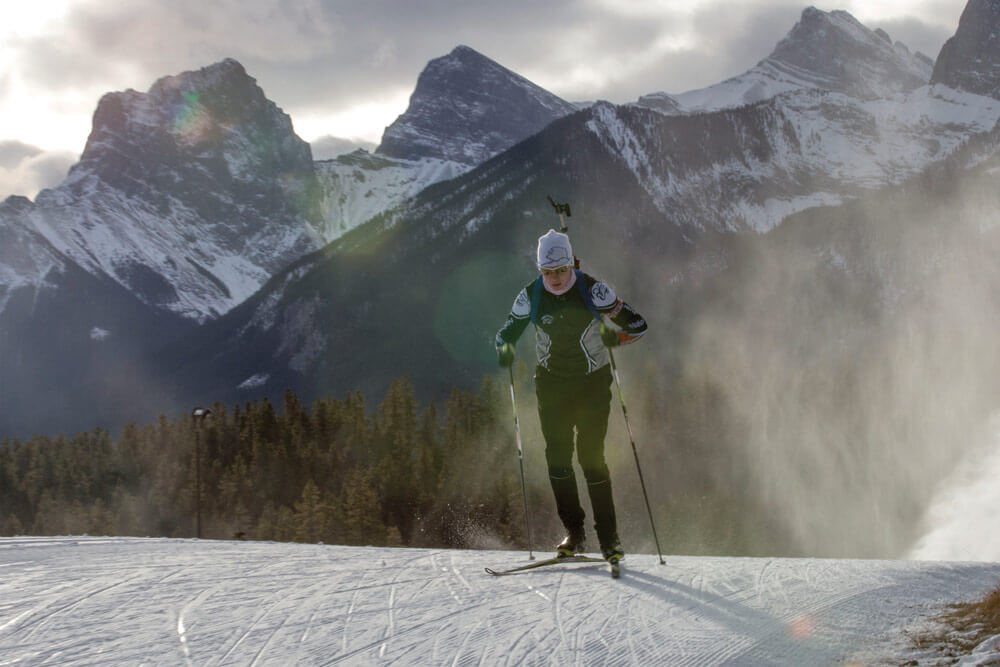 According to National Guard Biathlon officials, the National Guard has taken the biathlon back to its military roots and uses the program to help Soldiers improve their skiing and marksmanship skills, which advances their overall combat readiness. Throughout the United States, service members from the National Guard Biathlon Team represent the Guard in national and international competitions, such as the Biathlon World Cup and Winter Olympic events.
"It's an opportunity for Soldiers to put skiing and shooting together to improve their ability to mobilize over snow, which is a skill that Soldiers in northern climates need to have," explained LTC Stephen Wilson, Director of the Alaska National Guard Biathlon Team.
SPC Cooper's path to the National Guard Biathlon program began at a young age, starting with a general interest in skiing.
In the seventh grade, SPC Cooper joined his middle school ski team in Kenai, Alaska, following his older brother who had also skied on the team.
"My brother started skiing in middle school and it just became a winter activity for the whole Family," SPC Cooper said. "I started racing at a young age and I loved it."
When his brother's high school ski coach allowed SPC Cooper to participate in their practices, he was able to further develop his skills and got a head start on the competitors his own age.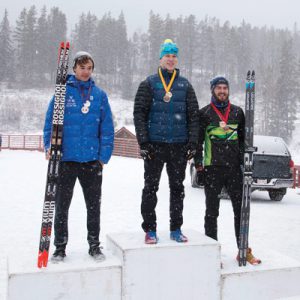 "The high school team starts the first of November and the middle school starts right after Christmas," said Leslie Cooper, mother of SPC Cooper. "The high school coach at that time was very gracious and allowed Travis to practice with the high schoolers. That set him up for a successful 7th grade ski season and started him on the trail [to bigger things in the sport]."
SPC Cooper later joined his high school ski team and his love for skiing continued to grow. He competed on the varsity team all four years and represented Team Alaska three times at the Junior National Cross-Country Ski Championships.
While in his junior year of high school, SPC Cooper attended an event that would spark his interest in the Army National Guard and the biathlon program.
His mother explained, "We have a friend who is in the National Guard. When Travis was a junior, the National Guard had a regional competition and [our friend] competed. Travis and [his father] went to Anchorage to watch, and that's where the biathlon interest started."
The competition was the National Guard Western Regional Biathlon Competition in Wyoming, and it led SPC Cooper to speak with an Army National Guard recruiter and Soldiers in the biathlon program. Afterward, SPC Cooper decided to join the Army National Guard and enlisted in the summer of 2015 after graduating high school.
According to LTC Wilson, The National Guard often looks to high school and college ski programs for possible athletes for the program.  "We are always actively looking for young, fit athletes with the potential to enter the sport at top levels," LTC Wilson said. "We look at the highest level for northern ski racers, and approach top skiers to see if they might be interested in developing their skills with the National Guard."
The Alaska National Guard immediately identified SPC Cooper as a potential world-class athlete, and he began racing for the biathlon team in October 2015. Under the guidance of coaches SSG Sarah Lehto and TSgt Travis Voyer, SPC Cooper follows a strategic training regimen that combines cardio, strength training and shooting. SPC Cooper logged 700 training hours in the 2017 season alone, and that number will eventually grow to 760 hours. The goal? To prepare SPC Cooper to compete at World Cup level.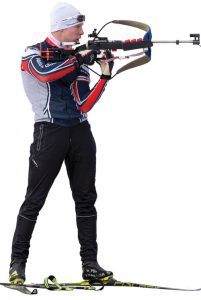 SSG Lehto explained, "[The training regimen] allows him to make the changes that are necessary to capitalize physiologically and also to recover in between the races. Once the season starts, especially in World Cup, they are pretty much racing every weekend from November until the end of March."
Though SPC Cooper started in the biathlon program with minimal shooting experience, he was determined to elevate his skill. In the two years that TSgt Voyer and SSG Lehto have coached SPC Cooper, he has qualified to compete in two Junior World Championships. During the 2017 championship, held in Osrblie, Slovakia, this past February, SPC Cooper missed the first five targets. Each missed target results in a 150-meter penalty lap, which can take about 30 seconds to complete. SPC Cooper came in last place. It was a hard reality check, reminding him how important marksmanship is to the competition. The following month, SPC Cooper would take that lesson and turn it into a win.
In March 2017, at the National Guard Bureau Biathlon Championship at the Camp Ethan Allen Training Site in Vermont, SPC Cooper only missed five out of 20 available targets in the pursuit race. The pursuit race is the final event in the competition, and biathletes' performance in the prior four events determines their start-times in the pursuit race. SPC Cooper was able to beat every competitor by three and a half minutes. His much-improved shooting performance gave him a critical advantage and ultimately played a vital part in his win.
"I think the highlight [of my racing career] so far was the Junior Worlds," SPC Cooper said. "That was a big eye-opening experience into the world of racing. It was really motivating and made me train harder."
TSgt Voyer added, "Devotion to the sport is what makes you a strong Soldier and athlete, especially in the biathlon. I'd say a hard work ethic is one of [SPC Cooper's] strongest attributes."
When SPC Cooper first started competing on the National Guard team, other competitors were beating him by 10 minutes. By the end of the 2017 season, he was only three minutes behind the leader in the 2017 U.S. Biathlon National Championships, earning him fifth place overall. He improved his ranking on the U.S. championship team from 37 in his first year, to 16 by the end of his second year. SPC Cooper currently ranks 13th on U.S. team and 73rd in the Junior World Cup.
"I am inspired by the fact that I have the opportunity, provided by the National Guard, to pursue a career as a professional athlete," SPC Cooper said. "The dedication of support I receive from my coaches, teammates and everyone involved in getting me to where I am today, motivates and inspires me to work hard to better myself every day."
"Being in the National Guard Biathlon program has been a huge blessing for Travis," his mother said. "It has allowed him to pursue his passion for biathlon and skiing with complete focus. He also gets to see the world while doing it."
According to SPC Cooper, one of his favorite aspects of the program is the travel required to get to the competitions. During his time in the program, he has traveled to Canada, Romania, Slovakia, Slovenia, the Czech Republic, Austria, Italy and Germany.
"I get to go all over the world and I don't have to worry about where I'm going to get my funding for those trips," said SPC Cooper. "A lot of athletes have to worry about how to fund their travel and how they are going to pay for ammo and [supplies]. Being able to go on the trips without worrying about where my next meal is going to come from or how I'm going to pay for it allows me to keep my focus wholly on my training and competition performance."
With dedicated training and an intense motivation to succeed propelling him into the next season, SPC Cooper has high goals for the 2018 competition season. He plans to make the International Biathlon Cup and World Cup teams. His ultimate goal is to compete in the Olympics.
"It would be very gratifying to make the Olympic team," SPC Cooper said. "It would be a confirmation that I am doing the right thing with my life and that all the hard work is paying off."
According to TSgt Voyer, making the Olympic team for biathlon is much different from other sports. Because the competitions are over an entire season, rather than just one week of trial races like most sports, there are numerous steps that have to be taken in order to make the team. Despite the intricate process, SPC Cooper and his coaches are determined to achieve the Olympic goal.
"It's a really defined team and there's about six separate steps you have to take to make the team," TSgt Voyer said. "[SPC Cooper] is still young in the sport, but I would describe him as one of the strongest and hardworking athletes that we have. Getting him to the next Olympic cycle four years from now – that is his goal so that's also our goal."
SPC Cooper said, "I would be very honored to represent all of the United States, the Army, Alaska and myself on the biggest [competitive] stage in the world"
By Staff Writer Tatyana White-Jenkins