About 50 military personnel found themselves on a mission in cyberspace this past summer when competing in the 2017 Cyber X-Games.
The Cyber X-Games is an annual event where Guard members participate in cyber mission exercise scenarios and quizzes throughout a five-day challenge. As participants in the games, members garner useful insights into cybersecurity from both military and civilian personnel while also gaining an immense amount of practice in the subject area.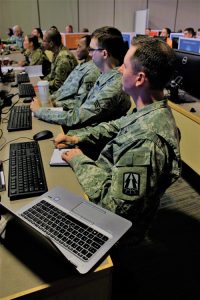 Held at Carnegie Mellon University, in Pittsburgh, Pa., and hosted by the Army Reserve Cyber Operations Group (ARCOG), the exercise was created to help participants focus on cyber and security training.
"The coordination between CMU and the ARCOG was very smooth," SGT Erick Yates with the 335th Signal Command (Theater) and Public Affairs Specialist for the Cyber X-Games, said. "You could definitely see the hard work that was put into the coordination."
ARCOG supports the 335th Signal Command (Theater), based out of East Point, Ga., in directly engaging threats within the cyberspace domain. ARCOG was created from the Army Reserve Information Operations Command in October of 2016 and is in the process of building up the unit through recruitment and advanced cybersecurity training.
"The ARCOG provides trained and ready cyber forces under the Cyber Protection Team construct to conduct defensive cyberspace operations and cyber support to [Army, Combatant Commands, Department of Defense, Defense Security Cooperation Agency] and other government agencies against an evolving threat," COL Michael Smith, then-Commander of ARCOG, said. "Our success depends on the myriad of skills [service members] bring to the ARCOG."
Representing units from the Pennsylvania National Guard, 335th Signal Command (Theater), the Defense Information Systems Agency and the Surface Deployment and Distribution Command, members participating in the X-Games competed in a series of challenges that tested their skills in cyber deterrence.
"Cyber training and exercises provide a forge to develop professional, adaptable and resilient teams capable of delivering world-class cyber operations capabilities for the Army, DoD and Combined Force," COL Smith said.
Upon arriving at the games, participants were given orders and then began conducting mission assessments. After breaking into teams and assessing the team member capabilities, competitors were tasked with figuring out how to defend and protect efficiently in cyberspace.
"It's a way for our [members] to operate in a cyber environment and in teams," said LTC Michael Lewis with ARCOG.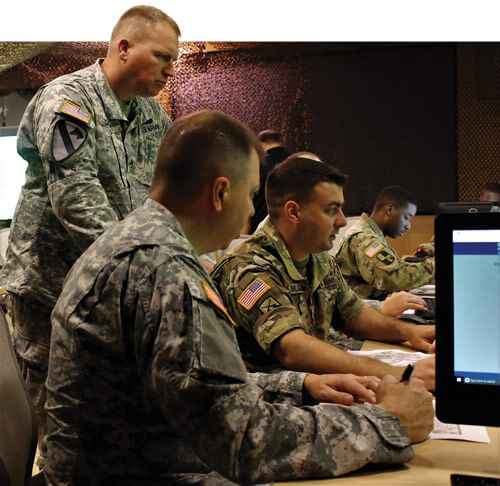 Cyber detection, response and recovery were the main areas of focus for the X-Games. Participants were able to use learned techniques, tactics and procedures to practice real-world applications.
Several aspects of the games were considered in the planning and development of the cyber environment. Two important aspects were ensuring the participants' ability to perform in the cyber environment and providing an overall productive learning process. To that end, this year's X-Games included a larger variety of event-based scenarios that tested the competitors' skills on a variety of levels.
Austin Whisnant, a cyber exercise developer with the Software Engineering Institute, led the development of the gaming environment for the Cyber X-Games.
"We worked with the Army for about a year on this," Whisnant said. "It took us about a year to go through the initial scenario development and to get to the point where we were actually testing out the environment."
For Whisnant, it was important to create an environment that was realistic and provided a useful space in which the participants could learn and accurately train.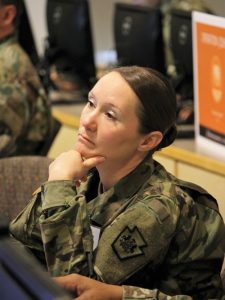 "Something that is common to all of our exercises is creating a lot of realism for [participants] to be able to practice," Whisnant said. "So we had to think about what kinds of tools they would be using, what types of tactics and procedures they needed to work through, and field the environment to suit their needs."
The Cyber X-Games led into the Cyber Endeavour conference, an annual DoD-sponsored conference addressing the connection between cyberspace and national security. Each year, creators of the conference develop a focus topic and invite well-versed speakers to discuss the threat, concepts and solutions.
To choose the topic, conference planners examine large-scale risks facing the Nation in the given year and then select a theme relevant to those risks. For the 2017 conference, the topic was deterrence. Bringing together military and civilian practitioners from government, academia and private industry, the conference theme of cyber deterrence was the focus in both the conference and the X-Games competition.
Using the cyber deterrence theme, Whisnant was able to build an environment that created excitement and enthusiasm from the X-Games' competitors. "Specific to X-Games, we had to incorporate the conference theme, so we had to build out a scenario and kind of a back story to support that," Whisnant said.
"The way we incorporated the deterrence theme kept everybody really motivated and challenged throughout the entire exercise," Whisnant continued. "It was a five-day exercise, so we made it really flexible so the different people with different skill sets could all participate and stay engaged. That was awesome."
According to Whisnant, the theme made the X-Games enjoyable for members who said they liked the challenge of being tested on their skills.
"Participants stated that it was more challenging than they expected," said LTC Lewis. "They enjoyed it and asked for it to be longer."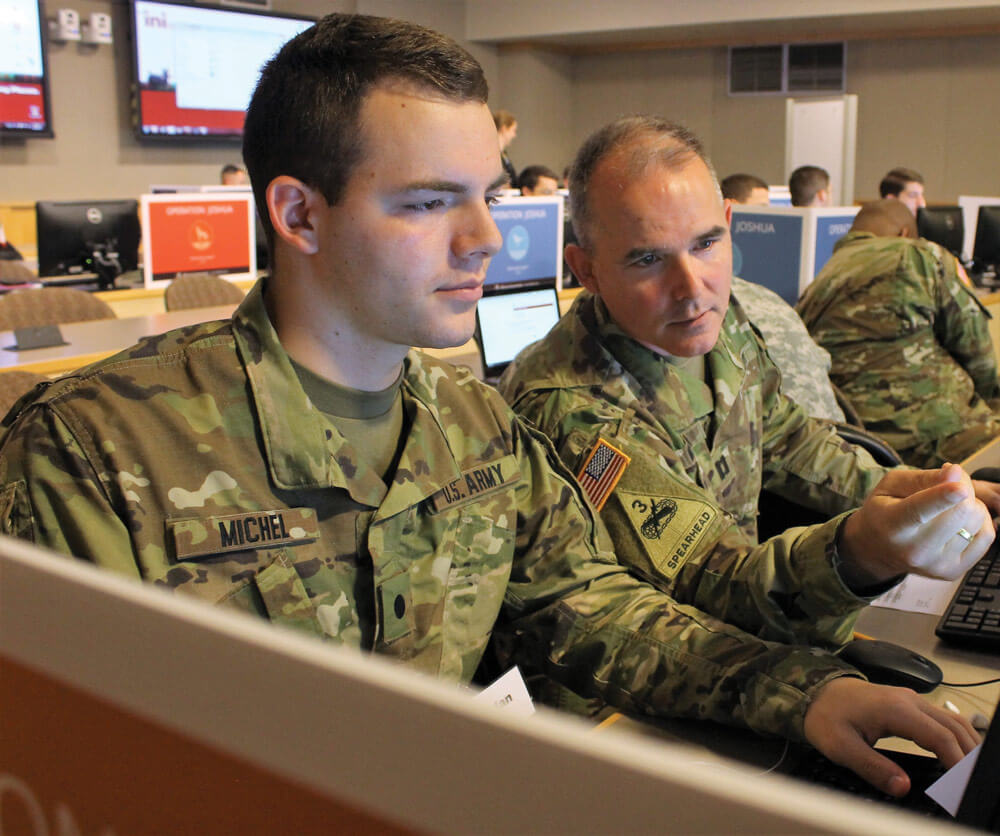 "For pretty much anything, practice is important. But I think it's particularly important for the Guard because they [National Guard service members] don't get a lot of opportunities to practice with their mission teams," Whisnant said. "This is a good way for them to act as a team and practice those skill sets. I think the ultimate takeaway for an exercise like this is for them to understand where their current skill set is and what they need to work on going forward."
According to LTC Lewis, it is important for all members to have experience in these types of training exercises.
"[My favorite aspect was] watching the collection of different units and teams evolve and become efficient to accomplish their missions," LTC Lewis went on to say. "Training can be limited, due to time, so we try to be extensive when we get the opportunity to train and work out an issue [so we are prepared] in the event we get called up. National Guard and Reserves are very important to the cyber mission. We are all Citizen-Soldiers."
By Staff Writer Tatyana White-Jenkins