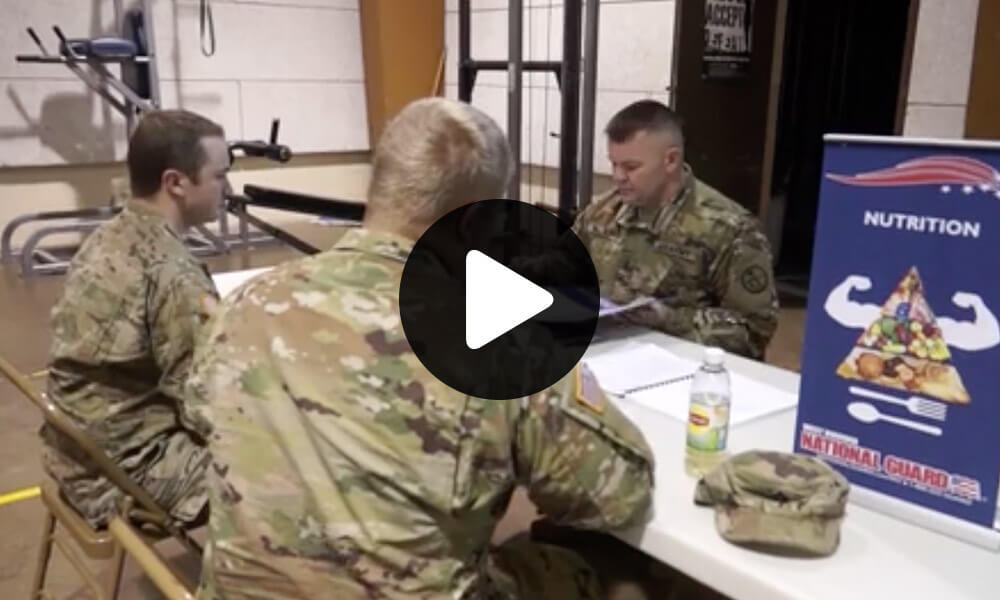 West Virginia National Guard welcomes first-ever National Guard dietician.
Based on individual Soldier need, 1LT Mullins creates diet and exercise plans that coincide with requirements to meet height and weight standards.
"You have some Soldiers who need to drop body fat, but on the flip side, we also have Soldiers who may need to gain muscle tissue," 1LT Mullins explained. "Or we'll have a unit that is being deployed and needs to know how to eat while [away] or while training for deployment. It's really dictated by the individual Soldier."
1LT Mullins said he has seen marked progress from many of the Soldiers he has worked with through the TFNT program. Some have lost 50–80 pounds of weight, allowing them to meet Army standards and continue their service in the Guard. 1LT Mullins commented in particular on the progress from Soldiers in the West Virginia National Guard's holistic tactical camp, which currently has a 60 percent success rate. 
"[The camp] is a week-long session where we teach Soldiers the foundations of not only diet and nutrition, but also sleep, recovery and how to train," he explained. "We measure the success rate by the Soldiers' progress. Progress may be weight loss or increasing their pushups or sit-ups. Say a Soldier is 60 pounds overweight and has lost 40 and still has 20 to go – we still say that's a success." 
1LT Mullins expressed his appreciation for the dietician position that is allowing him to provide Soldiers with the tools they need to live healthier lives. 
"My favorite aspect is being able to help someone make their life better," he said. "I'm currently helping Kentucky and Massachusetts develop holistic programs within their States, so that's been great too. Two years ago, I would not have been able to do that as a civilian. As a Soldier, I can go on crossover orders and I can go help others. It just feels good to be able to help more people and more States in this part of my career."