The Iowa National Guard's 34th Army Band is using its talented group of Soldiers to ardently represent the Army National Guard while building positive relationships with the local community.
Dating back to 1918, the 34th Army Band is based in Fairfield, Iowa, and currently has 44 members. Each member is seen as a musical ambassador, tasked with representing the Iowa Army National Guard through music and performance.
The band's current focus is on developing their small groups, known as Music Performance Teams (MPTs). MPTs are specialized ensembles that focus on specific genres of music and perform in communities throughout Iowa. The use of MPTs helps to expand the 34th's ability to respond to the many performance requests received for both civilian and Army events in the State. But more than that, the MPTs serve the larger purpose of helping to modernize the image of the Army National Guard within the civilian community, thus building stronger ties.
"As military musicians, we are the musical ambassadors for the National Guard and for the Army," said 1SG Brian Pappaducas, senior enlisted leader and saxophone player for the 34th Army Band. "Being able to perform for audiences and communicate the message of our leadership – it's an opportunity you don't have anywhere else."
The 34th Army Band receives performance requests for both civilian and military events, with the majority of requests coming from civilians. Performing anywhere from 50 to 75 acts per year, each of the Iowa National Guard's MPTs holds performances at venues all over the State. Performances include military ceremonies, 4th of July celebrations, the Adjutant General's Summer Concert Series at Camp Dodge and the Iowa State Fair. Because MPTs are smaller groups, they are able to perform in a variety of settings including dining halls, hotel lobbies, parks, auditoriums and amphitheaters.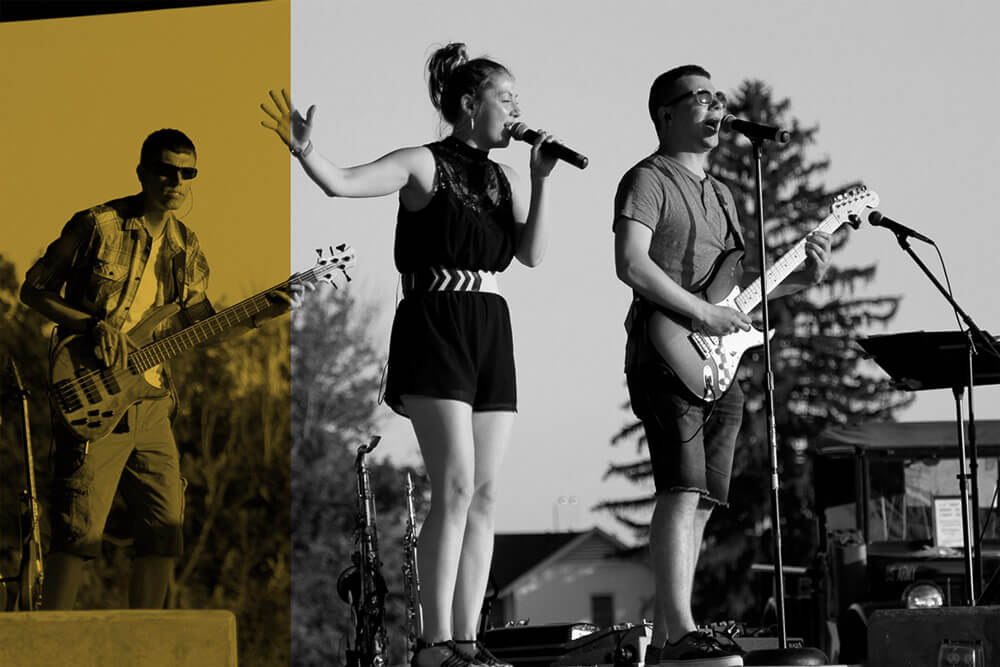 Within the 34th Army Band are four core MPTs, which perform at both civilian and Army events. The core MPTs consist of two rock bands, the Sidewinders and 42 Romeo; a pop ensemble named Scrap Metal; and a woodwind quintet called Synergy Winds. The 34th also has two subset MPTs, a brass ensemble and a brass quintet instrumental group. The subset MPTs are manned with Soldiers from the core MPTs, but these brass groups only perform at military functions. The largest component of the 34th Army Band is the concert and marching band, which brings together the entire 34th to perform as a single unit.
"It's a pretty wide variety of places that we play and that's really the design of the ensembles," said CW2 Kent Wesselink, Commanding Officer of the 34th Army Band. "[The MPTs] are set up with the capacity to arrive at any type of venue and effectively put on a concert."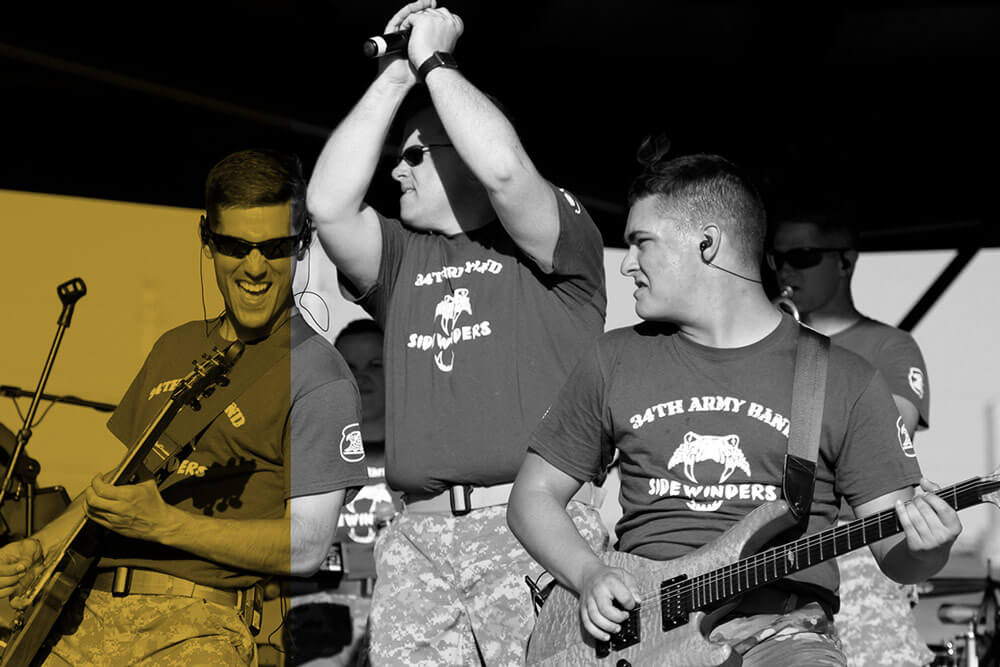 CW2 Wesselink went on to explain that embracing the individual strengths and talents of each Soldier in the band is an important part of developing the band as a whole. "Every MPT, from State to State, is unique to the members that are in it. The groups are built around the personnel and their particular skill sets. So as new people come and others leave, these groups evolve to the shape of the strengths of the Soldiers that are in them. We may need a trumpet player in one location, or a guitar player in another location, but the individual [that fills that opening] is going to bring a different skill set than someone else might bring while playing the same instrument."
According to 1SG Pappaducas, the 34th Army Band as a whole executed 181 performances during 2016 and 2017, with a projected audience count of just under 100,000. This does not include their estimated televised audience, which 1SG Pappaducas noted could be as high as 675,000 for certain events, such as performing the National Anthem at the Iowa Speedway.
"We support a lot of the anthem requests that we get for the Iowa Speedway, Iowa Barnstormers, Iowa Cubs and other [sports events] in the State," said CW2 Wesselink. "It's huge exposure for the Iowa National Guard in a positive way. Just one person singing the anthem – that counts as an MPT."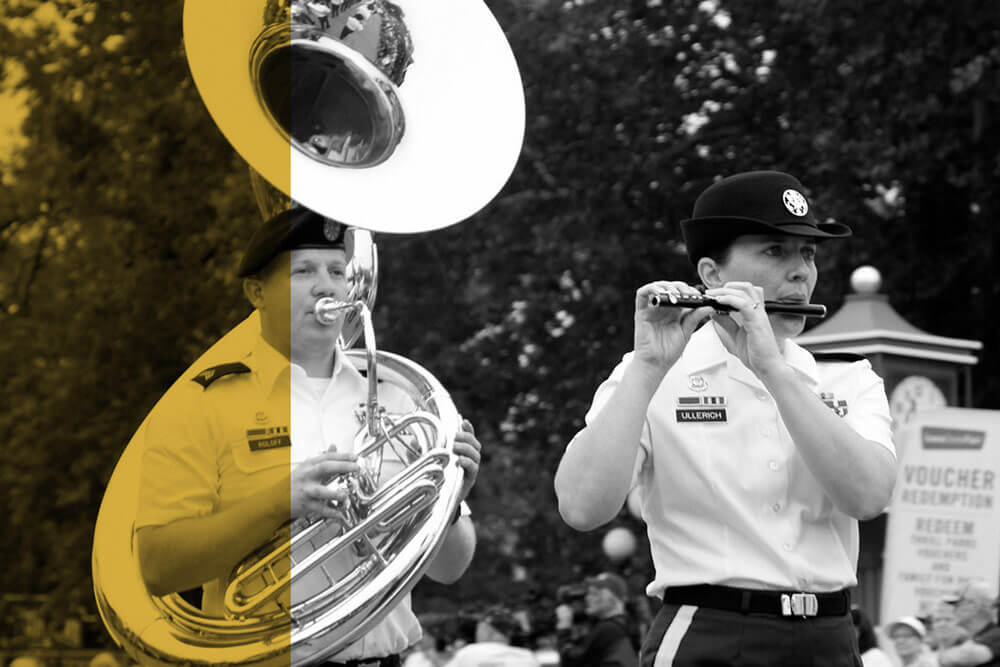 The exposure the MPTs garner has also proven to be an effective recruitment tool for the Iowa Army National Guard.
SPC Jacob Welper is a tuba player for the 34th Army Band and plays bass guitar for 42 Romeo. He has a personal connection to the Army National Guard and wanted to serve, but SPC Welper also wanted to pursue his passion for music.
"My dad was in the Guard for 25 years so I always had a military influence in my family," SPC Welper said. "I always wanted to serve, but I could never find [an] MOS that interested me."
After seeing an Army MPT perform at a convention in Chicago, SPC Welper did some research and found the 34th Army Band.
"I got in contact with Chief Wesselink and he gave me information about the band and how to audition," SPC Welper said. "I decided to join and have loved it ever since."
SPC Welper's MPT, 42 Romeo, plays a wide variety of genres. Performing music from the 80s, 90s and current chart toppers, the band appeals to a vast audience and is helping to break the stereotype that Army band musicians do not have opportunities to perform songs outside of marching band music.
"I like the winter tour where we go to different high schools and show what we can do," SPC Welper said. "It's fun to play for them because they are energized about it. We feed off of their energy just like they feed off of ours."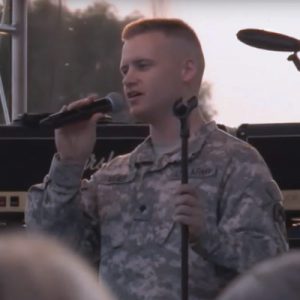 SPC Welper continued, saying that one of his favorite parts of being a member of the 34th Army Band and 42 Romeo is making connections with the community. SPC Welper noted his passion for his role as a musical ambassador and his commitment to serving his community.
"It feels amazing being the connection between the military and the community," SPC Welper said. "The community gets to see the military in a new light. They get to see that it's not just about push-ups. It's about serving the community and being a bridge."
SPC Michelle Monroe, trumpet player and singer for Scrap Metal, was also drawn to the Army National Guard through music.  When she first looked into joining the Guard, she was unaware of the existence of Army Bands. After telling her college band director about a meeting with an Army National Guard recruiter, the band director encouraged her to speak with an unexpected expert – her college percussion instructor Dr. Terry Beckler.
"My initial reaction was confusion because Dr. Beckler was our percussion instructor," SPC Moore said. "Then I learned that he was also CW4 Terry Beckler, the commander of the 147th Army Band in South Dakota."
After speaking with CW4 Beckler and learning more about how she could combine her eagerness to serve with her passion for music, SPC Moore enlisted and served with the 147th Army Band for nine years. She later transferred to the 34th Army Band.
"When I learned that I could join the [Army] National Guard and be a musician, I was sold," commented SPC Moore. "The military bands are a great way to gain experience in the [musical] field that can carry over into a civilian career."
In addition to gaining professional music experience, SPC Monroe shared that she finds significance in each performance that relates back to her pride as a Soldier and as an American.
"I prefer the performances where I can do my job and gain no attention for myself, but know that the tradition of military honor is being supported and Americans are being uplifted," SPC Moore said. "The Veterans beaming with pride makes performances at Veteran's homes and in city parades memorable. Bringing support to a deployment ceremony is memorable because you are letting those Families know that their Soldiers are a part of something great. Performing at homecoming ceremonies when all the Soldiers come home safe is the greatest joy. Homecoming ceremonies when some Soldiers did not make it home are the most humbling."
While the 34th Army Band affords Soldiers the opportunity to advance their musical abilities, the underlying mission of the unit is the same as any other in the Army National Guard.  Soldiers in the 34th are expected to develop leadership skills and complete combat training outside of their MPTs. Soldiers in the unit take their combat-readiness responsibilities very seriously. In fact, according to 1SG Pappaducas, the 34th Army Band has earned the Eisenhower Trophy more than 10 times in the past 25 years. The Eisenhower Trophy, named in honor of Army General Dwight D. Eisenhower, is awarded by the Chief of the National Guard Bureau to the ARNG unit in each State rated the most outstanding during the training year.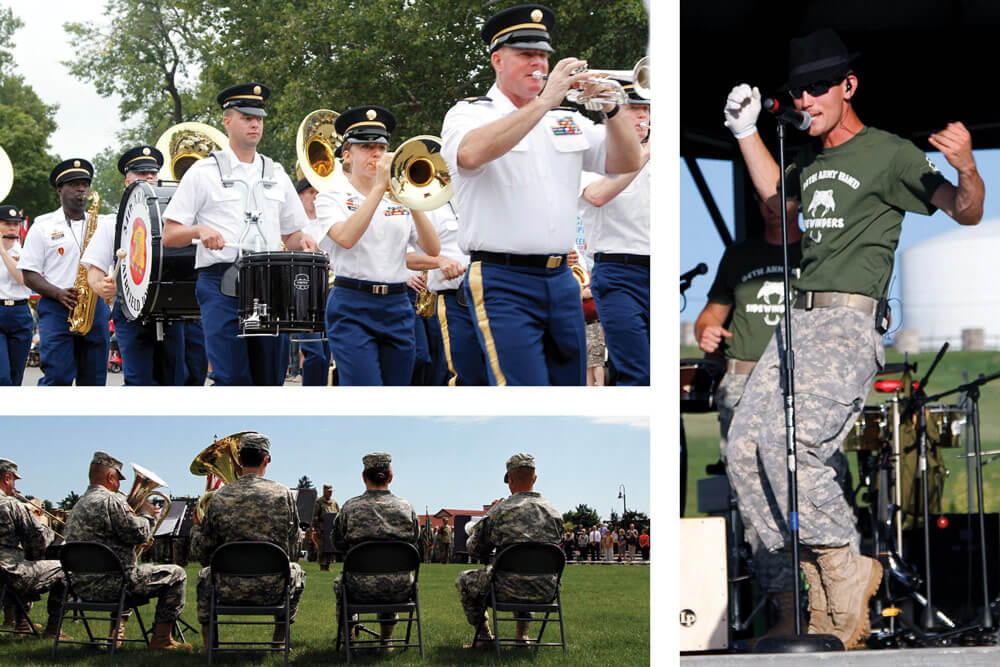 Members of the 34th have also excelled in competitions such as the Iowa TAG Match, an annual three-day marksmanship competition.
"We had a phenomenal year," 1SG Pappaducas said. "Last year the 34th Army Band took first place across the board in every category [of the competition] except for pistol, where we took second place. In addition to having outstanding musicians, [our unit has] outstanding Soldiers that can do everything you'd expect a Soldier to be able to do."
1SG Pappaducas continued, "One of the things I really enjoy about our MPTs is that it's a great way to take a group of Soldiers – each with different individual strengths – put them all together and watch each of the Soldiers, whether it's a senior E7 or one of the newest E4s, function as a team. We watch the younger Soldiers develop their leadership skills, their management skills [and] all the different things that we train for. It really gives them an opportunity to expand themselves – to grow. And as they do so, it makes us a better ensemble."
CW2 Wesselink added to this sentiment, saying, "Our unit mission is [not only] to provide music to the full spectrum of military operations, [but also] to instill in our Soldiers the will to fight and win, foster the support of our citizens and promote our National interest at home and abroad."
To join an Army Band, Soldiers should contact their unit administrator or commander for more information. Soldiers must audition and perform at Army standard level to join an Army Band. Once in the band, Soldiers are assigned to MPTs based on their talents.
For Soldiers in Iowa looking to join the 34th Army Band, CW2 Wesselink advises that they reach out to the band directly or go to the band's Facebook page for inquiries.
"Army Bands across the United States all have the same mission, though we may have different audiences," said CW2 Wesselink. "Wherever they are in the U.S., these Soldiers come together to create a show that is relatable to their audience, and they make it work to the benefit of the Army National Guard as a whole."
BY STAFF WRITER Tatyana White-Jenkins
VIDEO