When PV2 Matthew Graham enlisted in the Army from his hometown of Grand View, Indiana, in December 2016, he had no idea that just six months after joining his unit he would find himself halfway across the world making history in a country that he previously knew nothing about.
"I had never even heard of this country before," PV2 Graham said. "I immediately went to Google and started finding out where it was located, what the culture was like – just trying to get as much information about this country as possible."
PV2 Graham had volunteered to be part of a 24-member team from 1st Battalion, 151st Infantry Regiment, that would travel in August to the nation of Brunei Darussalam (after a training stop in Hawaii) to engage in the U.S. Army's first army-to-army exercise with the country.
With a population of about 435,000, Brunei is a tiny country located on the north coast of the island of Borneo in southeast Asia and shares a coastline with the South China Sea. Most of Brunei lies within the Borneo lowland rainforest region, and the Royal Brunei Land Forces (RBLF) have great experience operating in that environment.
PV2 Graham, who had recently graduated as an infantryman from boot camp and Advanced Initial Training at Fort Benning, Georgia, had no jungle experience before the exercise.
"I've never been to a real jungle," he said. "It's very different. Everything is darker, and it is very humid. It's nothing like being at home, back in Indiana."
Half of the 11-day training event, Exercise Pahlawan Warrior, focused on jungle operations training led by the RBLF.
Once the U.S. Soldiers arrived in Brunei, they received much of their equipment from the Brunei Army. The Soldiers didn't pitch tents; instead, they set up hammocks, ponchos and mosquito netting.
Unfamiliar with the equipment, PV2 Graham needed assistance. Fortunately, the Bruneian Soldiers were eager to help. One Bruneian noncommissioned officer, Lance Cpl. Azhar Bin Haji Basri, ended up taking the young private under his wing and helped him build confidence.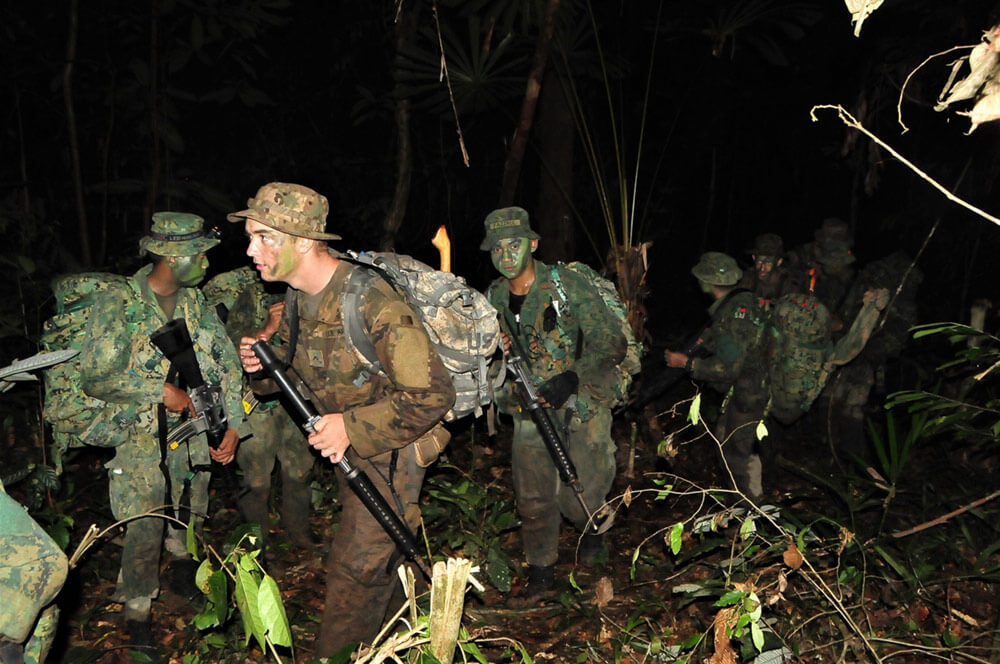 "I had no idea how they set everything up, so immediately when we got to where we were going to sleep for the night, Lance Cpl. Azhar helped me set up everything," PV2 Graham said. "He showed me where I should put my equipment, which trees to tie my hammock to – everything I needed to know so I would not get wet if it rained at night. He was just extremely helpful."
During the exercise's closing ceremony, PV2 Graham was presented a coin of excellence from MG Timothy M. McKeithen, deputy commanding general, National Guard, U.S. Army Pacific, for a job well done. 
Since PV2 Graham joined his unit, he has maintained a busy training schedule. From January through April, 2018, he went to Camp Atterbury, Indiana, to work on squad and platoon infantry tactics. That was followed by a 21-day training exercise with the brigade his unit is currently associated with – the 2nd Brigade Combat Team, 25th Infantry Division – in Schofield Barracks, Hawaii. 
When he found out he was going to have his annual training in Hawaii, PV2 Graham said he was excited. "I mean, some people never even get to go to Hawaii, and I get to go for free and get paid to do, so it was really cool," he said. 
By SFC Corey Ray, Indiana National Guard