Maryland National Guard Unit Uses Innovative Fitness Tool to Prepare for the ACFT
The Maryland Army National Guard's 629th Military Intelligence Battalion is utilizing a new fitness tool in preparation for the new Army Combat Fitness Test (ACFT).
Starting in October of 2020, the ACFT will replace the long-standing Army Physical Fitness Test (APFT). The ACFT is a new gender- and age-neutral test featuring six-event readiness assessments, as opposed to the three-event APFT. Since the ACFT tests a broader range of fitness and readiness aptitudes, Soldiers are encouraged to approach their fitness test preparation with a different mindset than they had when prepping for the APFT. 
"For Soldiers preparing for the [APFT], they may wait until a month before [the test] to actually start doing any kind of physical exercise," explained 2LT Delvon Anderson, master fitness trainer for the 629th. "[Much of that time] is only geared towards pushups, sit ups and how to pass the run. With the ACFT, it's a whole integration of different physical aspects such as stability, coordination, balance and power, which a lot of Soldiers don't practice on now." 
Thanks to FX Well, a digital fitness company based out of Baltimore, Maryland, Soldiers of the 629th are learning how to succeed in their upcoming ACFT by improving their overall fitness and wellness. 
FX Well's Fit to Serve program is a voluntary program for Soldiers that utilizes technology to provide them with virtual coaches in fitness and nutrition, tracking devices to monitor physical activity and sleep routines, and physical resources focusing on overall health, wellness and resiliency. 
"Fit to Serve is a remote coaching solution designed to support service members in their walk towards improved health and combat lethality," said Chad Ayinde, FX Well director of tactical fitness and head of fitness programs. 
Ayinde, a former Soldier with the Indiana Army National Guard, served in the Guard for 12 years. He utilized his military background when developing the Fit to Serve program.
"I have definitely been privy to a lot of the changes with the new Army Combat Fitness Test and the new focus on Soldiers being as fit and lethal as they possibly can be," Ayinde noted. 
The Maryland National Guard is the second State in the Nation to participate in the Fit to Serve program, the Indiana Army National Guard being the first. SGT Fatai Emiabata, a section leader of the 629th, learned of the program during a physical therapy session and instantly thought of how it could benefit his unit. 
"I was having a discussion with a physical therapist about looking for an alternative program to get my Soldiers prepared for a possible deployment," SGT Emiabata said. "I was introduced to the Fit to Serve program and saw the potential to help the entire battalion."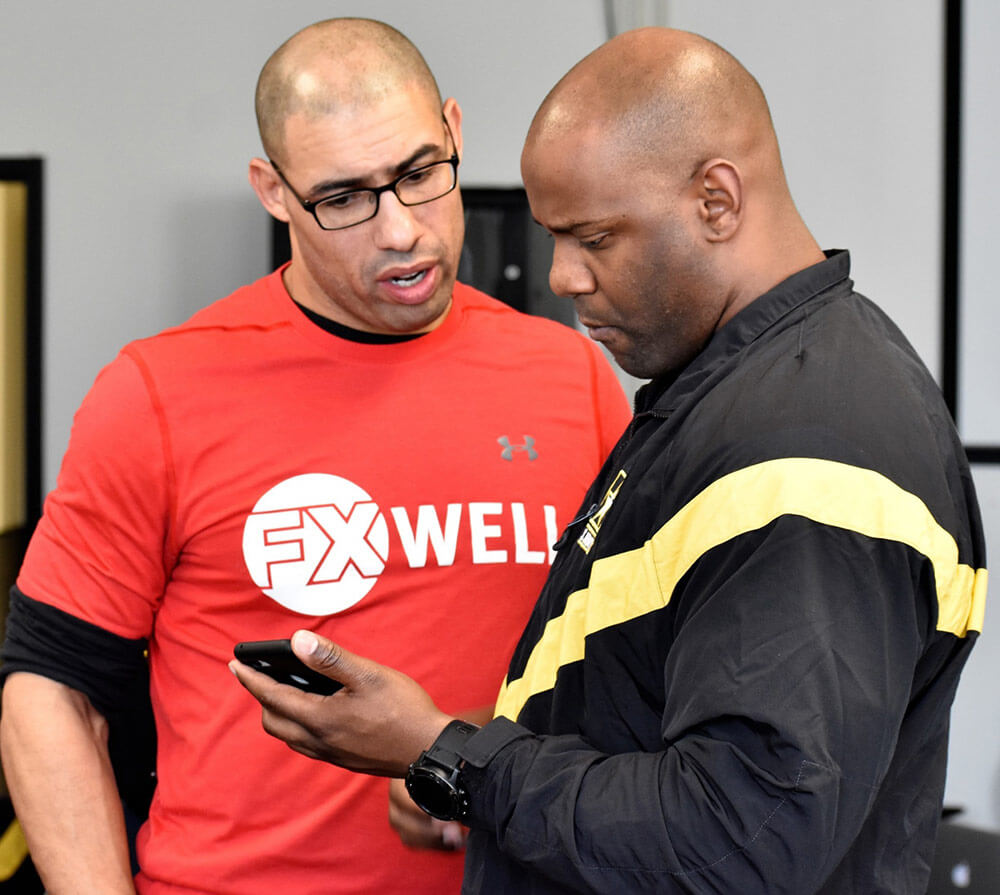 Fit to Serve is structured in two phases. The Soldiers of the 629th started the first phase, called the Kick-Off, in January of this year. The Kick-Off is structured as a boot camp that educates Soldiers on the ins and outs of the program, which is based on the SENSE model. 
"It is an acronym for Sleep, Exercise, Nutrition, Stress management and Enjoy life," said Ayinde. "It's awesome because it hits all three elements of the Army Performance Triad, but also touches on resilience, which is key as well." 
Following the kick-off, the Soldiers began the second phase of the program—participation in remote coaching sessions as part of a six-month pilot program. In this phase the Soldiers were given a digital tracking device, similar to a Fitbit, to gain access to the FX Well digital platform. Through the platform, Soldiers can share and interact with coaches and other participants, keep track of goals and win prizes by participating in challenges. Prizes include Under Armour apparel and accessories for workout challenges; and queen size mattresses for sleep challenges.
At the core of ACFT is the need for Soldiers to approach fitness as a way of life. Fit to Serve's digital platform supports this concept by giving Soldiers a means to stay on track with their fitness goals and health training even when they are not drilling or on duty. 
"As Citizen Soldiers, we only get [a limited amount of time to train]," said MAJ Michael Bryant, battalion commander of the 629th. "[Fit to Serve] is an opportunity to have something that not only helps us during our drill weekends, but also when we are out of uniform." 
The mobility of the program app not only allows Soldiers to take their coaches with them wherever they go, but also their fellow Soldiers who are participating in the program—thus increasing accountability and helping to create accountability partners.
"If someone is deployed, TDY, on vacation or at work, they still can communicate with other [participants] using the app," SGT Emiabata said. "It's great because it gives Soldiers a digital connection, even from long distances." 
Soldiers from the 629th have reacted positively to the program, praising its ability to accurately prepare them for the ACFT and improve their daily lives. 
"It sets Soldiers up for success by integrating best practices and actually giving them a baseline of knowledge for what they need to succeed," said 2LT Anderson. "It's a good opportunity to hit the reset button for a lot of Soldiers in preparation for the ACFT." 
After the six-month pilot, there are plans to roll out Fit to Serve to other units in the Maryland National Guard. As for the 629th, members say they plan to utilize their lessons to excel in the ACFT and in other health and fitness challenges. 
"Anticipating the new Army fitness test, we are taking an extra step now to not only get our troops physically prepared for the dynamic events it brings, but also to build up their confidence to overcome unforeseen challenges," said MAJ Bryant. "At the end of six months, we'll finish the program, then we're going to sustain it internally through our own mechanisms and tools [provided by] FX Well. We're learning life lessons beyond just passing the [ACFT] and that is key to total wellness."
By Staff Writer Tatyana White-Jenkins