1SG Charleston Hartfield gave his life in the same way he lived it — helping and protecting others.
When bullets rained down on the Route 91 Harvest Festival country music concert, 1SG Hartfield was not on official duty for his Nevada Army National Guard unit, the 100th Quartermaster Company, nor for his job as a Las Vegas Metro Police Officer. He was at the festival simply as a concertgoer. But it would seem that, in his heart and mind, 1SG Hartfield was always on duty.
As the volleys of automatic rifle fire began to pummel the crowd of more than 22,000 people gathered at the Las Vegas Village on Oct. 1, 2017, 1SG Hartfield went into action and began helping people out of the danger area. According to reports from Clark County Sheriff's Department representatives, amid the chaos, 1SG Hartfield used his years of training to attempt to locate the shooter. He scanned the horizon to try to find the perpetrator and began relaying information to responding officers. But ultimately, he was shot before he was able to render more assistance.
"He immediately took action to save lives," Clark County Undersheriff Kevin McMahill told reporters at a press conference following the massacre. "He gave his life protecting others," McMahill said.
"If there was an opportunity to help someone, he would do it," said CPT Randon Lessing of the 145th Brigade Support Battalion, Idaho Army National Guard, and former commander of the 100th Quartermaster Company. "Any time, it didn't matter what was going on, he would try to help."
1SG Charleston Hartfield, also known as "Chucky Hart," served 11 years in law enforcement and 16 years in the U.S. Army – 12 in the Nevada Army National Guard. He served one, year-long deployment to Iraq in 2003.
CPT Lessing said his first impression of 1SG Hartfield was as 'a man in charge.'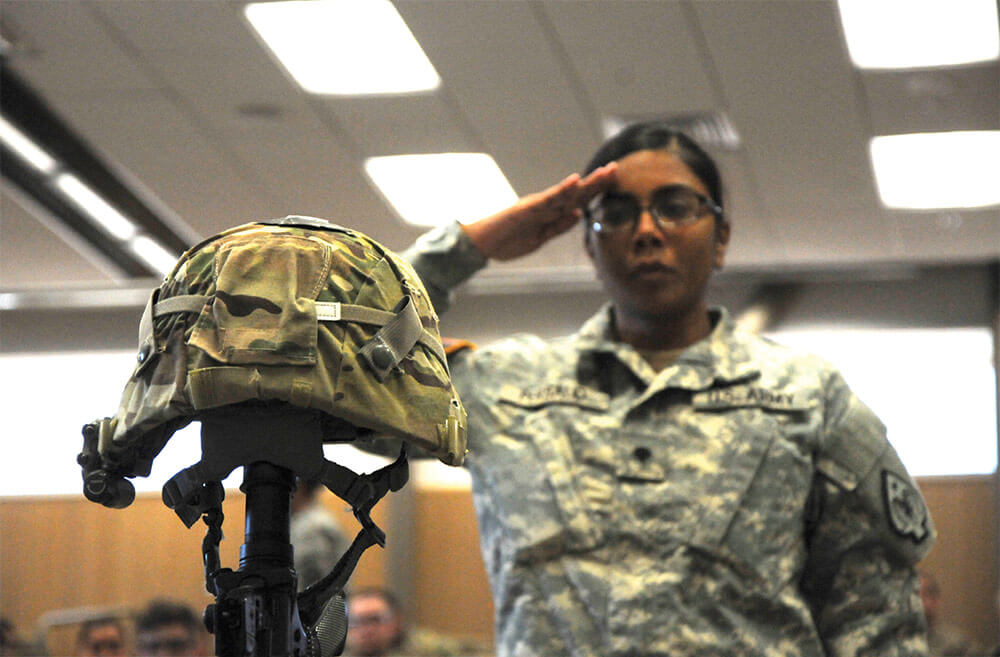 "At about [6 foot 4 inches tall], he was a big guy," CPT Lessing commented. "His presence alone commanded strong leadership. When you shook his hand, he looked you straight in the eye and you got the impression that he was a no-nonsense fellow."
CPT Lessing added that as he got to know the first sergeant over the next few years, his respect for the Soldier grew.
"He was most definitely a family man," CPT Lessing said. "And as I got to know him, I realized that he was in tune with most anything you wanted to have a conversation about — current events, law enforcement, Army, politics, music, pop culture. The guy was fast-witted and highly intellectual."
CPT Lessing went on to say that he thought 1SG Hartfield might have most wanted to be remembered for a lighter side and his sense of humor.
"That [light-hearted] part of his personality was probably what he loved about himself the most," CPT Lessing reflected. "He always had a way of making intense situations a little bit lighter. That was such an awesome part of who he was."
Personifying traits typical of quality military leaders, 1SG Hartfield was a mentor to several younger Soldiers in his unit.
"He really took the time to get to know every single Soldier in our unit," said CPT Elizabeth Ochoae-Ellis, current commander of the 100th Quartermaster Company. "He could tell me every single Soldier's story. We have 125 Soldiers and he knew who they all were. He knew their names, their backgrounds. That's what [I remember] when I think of 1SG Hartfield – how much he was involved in the Soldiers' lives and just the exceptional senior leader he was."
"He helped a handful of his fellow Soldiers get jobs with the Las Vegas Metro [Police]," CPT Lessing said. "That mentorship he provided will have long-lasting effects on the lives of dozens of Soldiers within the unit."
1SG Hartfield was officially promoted from SFC to 1SG posthumously. Though, according to CPT Ochoae-Ellis, his role in the 100th surpassed that of a typical first sergeant.
"When I came into the command, I really relied on him a lot. He was my partner. He was my teammate. I did not make any decision without going through him."
Outside of the military and police force, 1SG Hartfield was a devoted husband and father of two, a youth football coach and an author.
Just three months before his death, 1SG Hartfield published his first and only book. Titled Memoirs of a Public Servant, the book is a self-reflection on 1SG Hartfield's life as a Las Vegas Metro Police Officer.
"If you want to get in the mind of 1SG Hartfield, read his book," said CPT Lessing.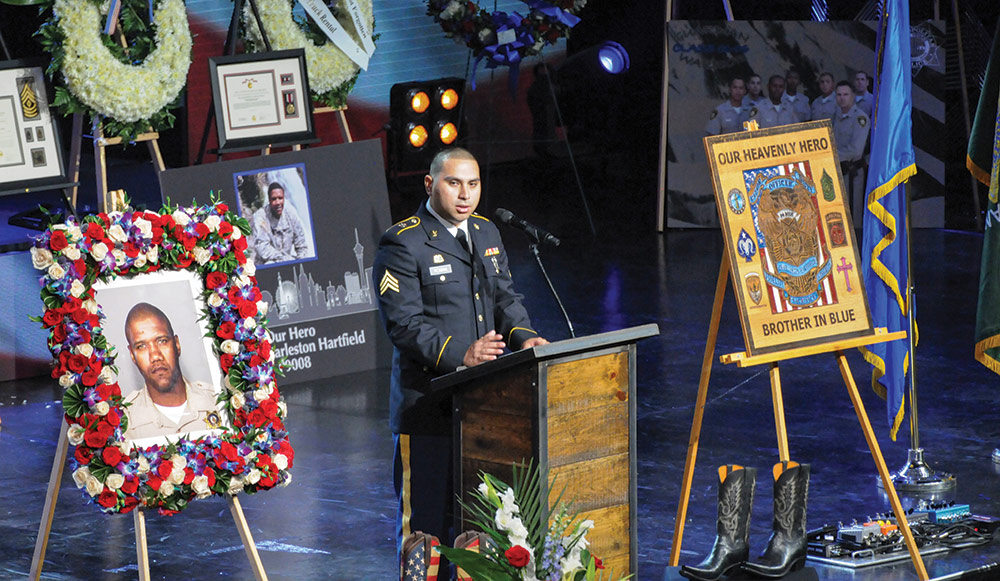 In the book, he called Las Vegas the "busiest and brightest city in the world." With his passing, it seemed many of his colleagues, friends and Family members recognized 1SG Hartfield as one of his city's "busiest and brightest." On the day of his funeral, a 100-plus vehicle motorcade escorted his flag-draped coffin to Central Christian Church in Henderson, Nev.
As the motorcade made its way through the streets of Las Vegas and down the famous Las Vegas Strip where 1SG Hartfield spent his last hours, thousands of civilians lined the streets to pay respect as his casket passed by. Upon arrival at the church that was filled with approximately 3,000 mourners, hundreds of National Guard and law enforcement officers saluted as 1SG Hartfield was carried in by an honor guard made up of both National Guard and Metro Police personnel.
"On that fateful October day, life certainly left Charleston Hartfield before honor did," said BG Zachary Doser, commander of the Nevada Army National Guard. "1SG Hartfield epitomizes everything good about America."
"Charleston Hartfield lived to serve the public and protect his Family," said Air Force Brig Gen William Burks, adjutant general of the Nevada National Guard. In a statement, the general called 1SG Hartfield "the epitome of a Citizen-Soldier."
Aware of the supreme sacrifice his duty might one day require, 1SG Hartfield had written directives for his funeral. He also left some parting words that were read at the memorial for those who would take time to remember his contribution to his community and his country.
"No person was ever honored for what he received," he wrote. "Honor has been the reward for what he gave."
Honor is an integral part of 1SG Hartfield's lasting legacy. His honor continues to serve as a beacon for his Family and friends, his fellow Soldiers and law enforcement officers, and the citizens of the city for which he gave his life.
By Staff Writer Matthew Liptak
VIDEO