A shadow warrior's face, lit by liquid-crystal displays (LCDs) with light-emitting diodes (LEDs) backlighting, remains inscrutable to the public eye.
Unknown, unsung, he targets the enemy (hostile adversaries) via integrated and synchronized cyberspace operations – the fifth dimension of warfare.
He works on a handful of computers simultaneously, conducting cyber opposing force support, network warfare activities and cyberspace intelligence, surveillance and reconnaissance. He provides mission command to network warfare teams, cyber analysis teams and cyber support teams, offering operational direction and guidance in the conduct of cyberspace operations.
He is SPC David Igou, an information technology specialist for the 144th Cyber Warfare Company, which falls under the 91st Cyber Brigade – the first brigade level cyber unit in the Army National Guard. He is a self-proclaimed typical nerd and exactly the type of Soldier the Army needs to carry out the fight on the cyber warfront.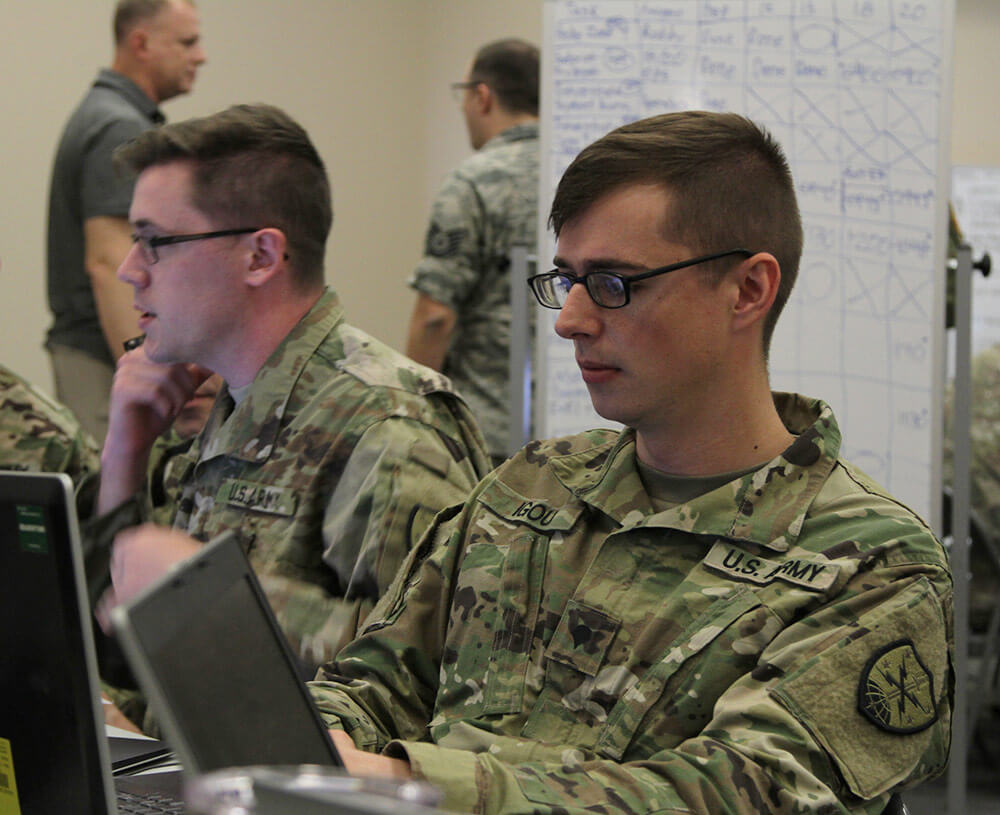 He stands about 6 feet, weighs about 180 pounds, with dark hair, thick eyebrows and freckles.
"His eyes shift around as he's talking," said SFC Jeff Pullen, SPC Igou's platoon sergeant and co-worker. "Like any good Linux guy, he's got his quirks."
SPC Igou is currently an infrastructure consultant at Red Hat, a software development company based out of Raleigh, North Carolina.
SFC Pullen helped him land the job.
"I ended up referring him to my company, Red Hat, because he's a smart guy," SFC Pullen said. "He was hired, not so much because of my referral, but because of his own credentials. He showed a lot of talent with development and Linux systems, which in this field not a lot of guys have, so he kind of stood out." 
SPC Igou has worked in the industry 
for 10 years.
In eighth grade, SPC Igou built his own computer lab, setting up servers, just because he enjoyed it.
"It was the only thing I could do well," SPC Igou said.
One of the things SPC Igou has done well for the 144th is build a lab – a virtualization platform for the unit that serves as a structure for building servers and virtual ranges.
"We've practiced on it to get ready for Cyber Shield 18," SFC Pullen said. "He built an environment with lots of different servers using old hardware we had lying around and recommissioned it back into something working. He worked after regular drill hours late into the night putting it together."
It's that kind of selfless service, in putting the unit's needs first, that sets SPC Igou apart, SFC Pullen said.
"I was able to use a piece of technology from my civilian job, apply those skills for my unit, and give my unit a leg-up on training," SPC Igou said.
Of course, he hasn't always been leading training activities; he's long been a student of his craft. Computer classes became his forte in high school, and he carried that on to a computer science degree from Virginia Commonwealth University.
SPC Igou decided to join the military while in college.
What he loved about basic training was that it was "hard-coded" and "static," he said.
"You didn't have to worry about what might happen; it was all laid out for you," SPC Igou said.
Things are not always so easily laid out in information technology.
"Technically, there's something people talk about in IT called idiot syndrome, where because technology is so wild and emerging every day, that you're going to see something that you've never seen before," SPC Igou said. "It's always really painful right when you first see it because you're like, 'Oh, crap, I don't know any of this.' So, there's always a moment – and everyone in IT has it – when you just doubt your entire career. IT can be overwhelming."
SPC Igou, a humble, sometimes self-deprecating IT authority, claims he has this moment often.
Shadow Warriors – Army National Guard Stands Up Its First Cyber Brigade
"My company will fly me across the country to go to this customer's site, be this resident expert on a piece of technology, and help them integrate it into their infrastructure," SPC Igou said. "There's always a time when I think, 'I cannot believe that there are enough people in this world that have enough faith in me that I can do this.'"
It's not only in the private sector, though, that SPC Igou engenders such faith.
"He's one of those dependable guys I can go to with technical tasks," SFC Pullen said. "He'll figure it out whether or not he knows it."
This faith in his ability runs to the top of his unit's chain of command.
"He's the example of what the Army National Guard brings to the Cyber fight because he's an E-4, [holds] a bachelor's degree in computer science, and there's a lot he brings to the 144th from that perspective," said CPT Anthony Stephens, commander of the 144th.
SPC Igou's expertise is highly useful, in part, because his unit was just recently established as a cyber warfare unit and, in part, because his unit is the first cyber warfare unit in the country. Everything the unit does is groundbreaking.
At Cyber Shield 18, the 144th and SPC Igou are acting as the opposing force (OPFOR) and engaging in criminal activity, trying to disrupt the infrastructure of Blue Cell.
Cyber Shield is designed to train National Guard members from across the United States on cyber protection; network defense; forensic analysis; tactics, techniques and procedures; and defense against cyberattacks, hackers or other malign actors. The exercise is a culminating training event that supports the National Guard's defensive cyberspace operations missions to defend Department of Defense assets by conducting cyber command readiness inspections and critical infrastructure vulnerability assessments.
"Igou has taught the whole OPFOR how to use some of the tools and develop tactics that we've used here," CPT Stephens said.
Members of the 144th have not worked as Red Team before, so while all the tools and tactics might not be entirely new, the way they've been used here at Cyber Shield 18 has been new.
"We're trying to challenge ourselves because we're the first to do it [to stand up as a Cyber Warfare Company]," SPC Igou said.
The 144th is part of an effort to prevent a cyber 9/11 in the United States, SPC Igou explained.
SPC Igou's Cyber Warfare Company has Soldiers with varied skill sets and backgrounds – a team of specialized shadow warriors.
"My biggest skill set that I use here is probably IT infrastructure," SPC Igou said. "In Cyber Warfare, reconnaissance for me is a lot easier and faster because I can kind of fill in a lot of blanks right off the bat … I think, 'I've seen this at work.' The role reservists in Cyber Warfare really play is, say, a private company or private utilities' provider is attacked by an adversary, and they call in the National Guard. People in the National Guard do this 28 days a month, whereas an active component probably wouldn't have as much diversity in experience. Every day of the week when I'm not in this uniform, I'm in real companies and infrastructures that are candidates for attack.
"It's like if you want to break into a building, and you want to plan that attack – find somebody who builds secure buildings for a living," SPC Igou said. 
By Contributing Writer SSG Chad Menegay
Read more about the Shadow Warrior Brigade here
[DISPLAY_ULTIMATE_SOCIAL_ICONS]