On the High Plains in southwest Kansas, a teenaged son of a cowboy walked into an old horse barn about 50 miles west of Dodge City. He was there to help a friend.
There were no horses or cows in the barn. Instead, what greeted him was a handful of boxers, preparing to train in a makeshift gym. Centerstage was a boxing ring made from sections of a wrecked semi-trailer that had been pieced together. Mismatched paint covered the walls, which were constructed from wood that had been salvaged or donated by the local Home Depot.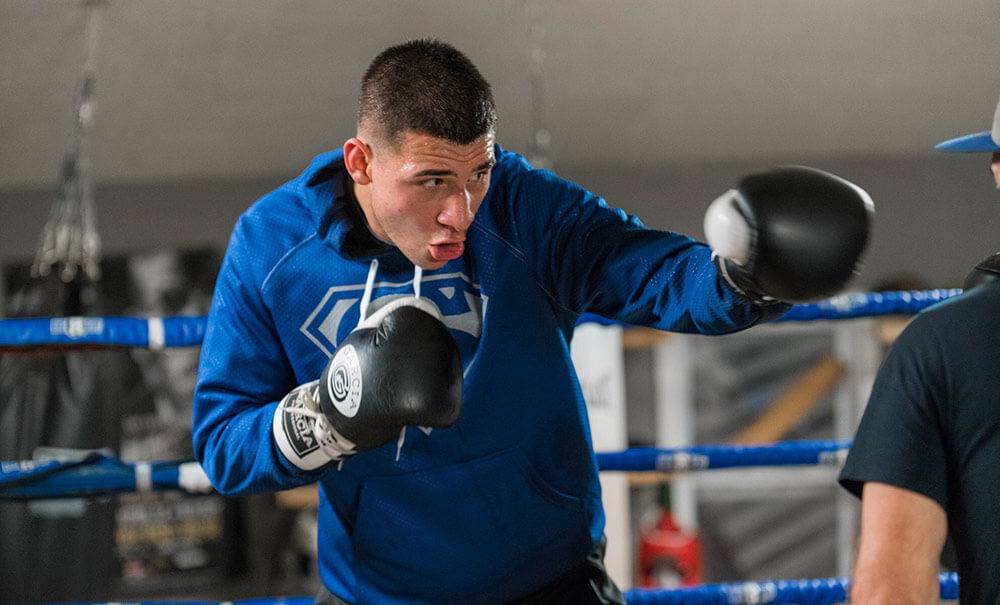 The young teen had not inherited his father's affinity for life in a saddle. A life in the boxing ring was more his calling. Today that young teen goes by the alias of La Lagartija–The Lizard—in the ring, but his fellow National Guard Soldiers know him as SPC Efrain Morales of the 731st Trucking Company, 169th Combat Sustainment Support Battalion, 69th Troop Command, Kansas Army National Guard.
 When he entered that gym in Garden City, Kansas, over a half dozen years ago, he did not go in with great expectations. He was there merely as a favor to his former manager, sparring with local boxing hopefuls who were training at the gym. 
But SPC Morales' performance in the ring that day can only be described as unexpected. He punished the other men, landing punch after punch. The outcome was startling to both SPC Morales and his former manager, Juan Aldana. SPC Morales had left boxing in his past, but obviously, his talent for throwing punches had not left him. 
"I went in there and I [was] tremendous, and I made a lot of them look bad" SPC Morales joked as he remembered the day. "[Aldana] pulled me aside and he said 'What are you doing? Why aren't you out here still?'
"It just caught me off guard, but this is what I'm, what I'm destined to do. November 22, 2014, I made my professional debut. It's just been a war storm since then."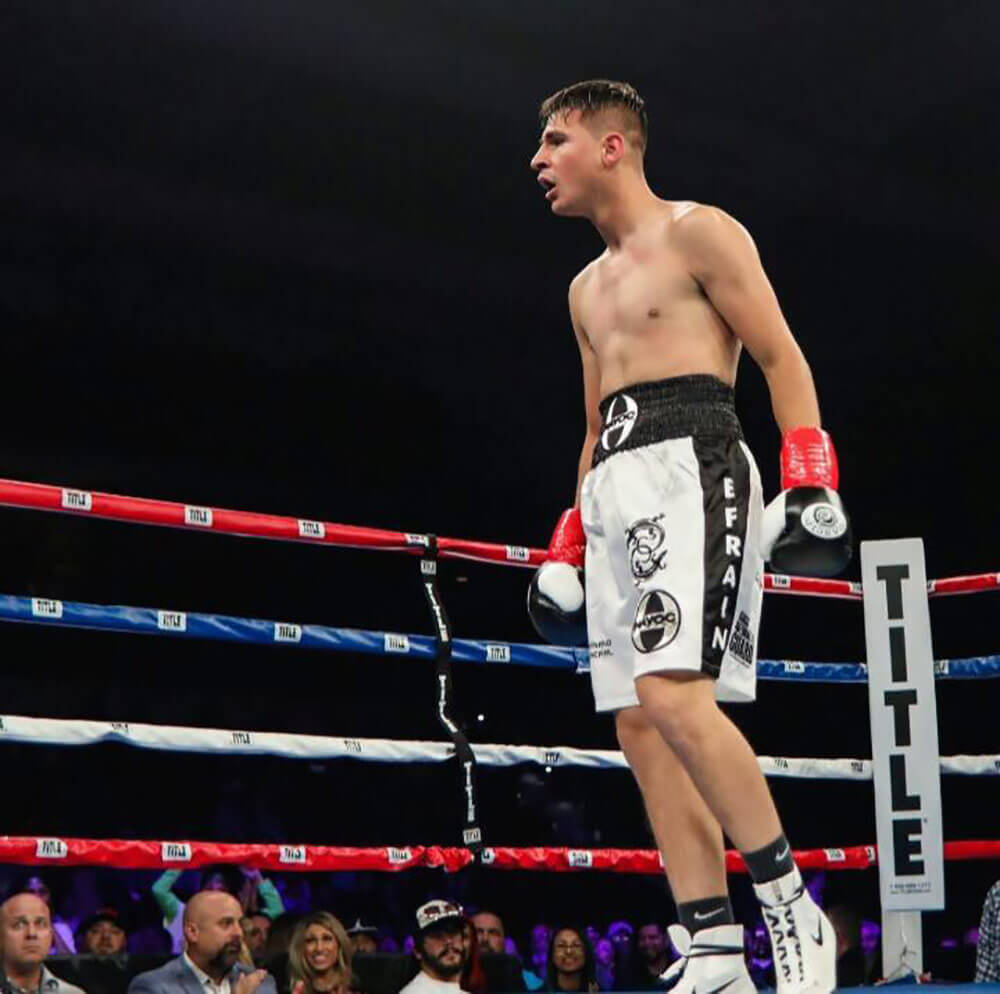 The build-up to that storm began over a decade earlier. When SPC Morales started boxing, he was just six or seven years old. At first, his motivations for wanting to box were pretty simple. He was the smallest kid in the neighborhood, so his dad, Efrain Morales Sr., introduced him to sparring at a local gym, telling him "You better not cry."
He didn't know it then, but boxing would become the thing for which he would develop a tenacious passion. It would also be the thing to help keep him off the sometimes mean streets of Garden City and lead him to eventually become a professional athlete. Back then, the rewards were more fundamental.
"I saw a big old smile on my Dad's face and I've fallen in love with [boxing] ever since." he said.
Efrain Morales Sr., a Mexican immigrant and cancer survivor, still spends long days riding in the feedlots in Garden City, tending to herds to put food on his family's table. 
The younger Morales learned much from his father's example of strength and tenacity. "My Dad and all his struggles are why I want to be somebody, why I continue to box," said SPC Morales.
There's at least one other man in Garden City that SPC Morales admires—his manager and friend, Aldana, who he met when he was 15. Aldana had started the Garden City Boxing Club and SPC Morales joined. 
SPC Morales called Aldana "one of the best dudes I know."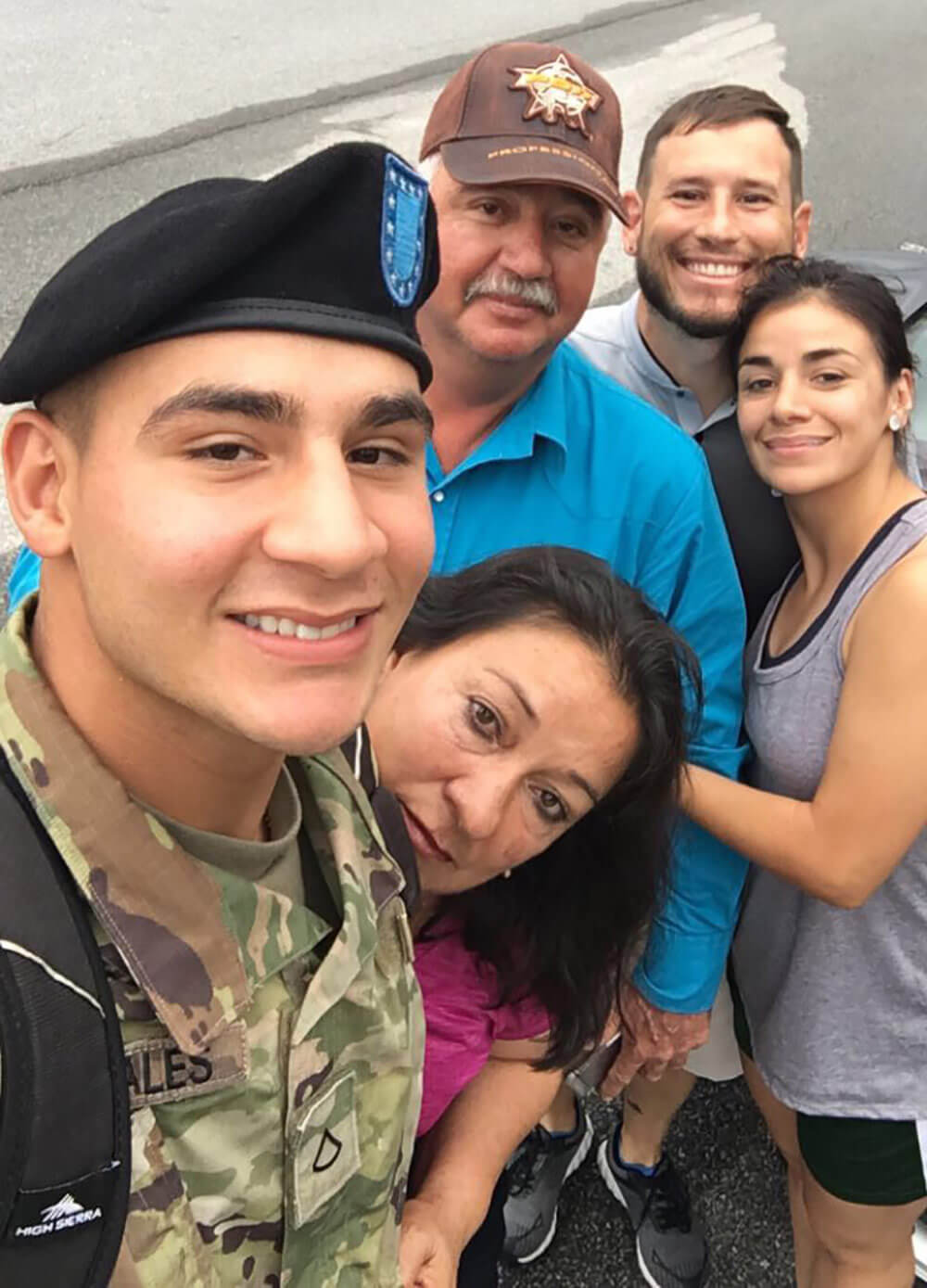 "The community has offered lackluster support for the sport," Aldana said. "It has been an uphill battle, training kids in civic halls and a series of garages. Exercise regimes for the boxing students sometimes spilled out into the street adjacent to the improvised gyms." 
Even as a younger man, SPC Morales was physically gifted, Aldana said. To some extent, that was because he was tall, standing at just under six feet with long arms. His long reach allowed him to deliver blows to his opponents, while avoiding their jabs.
His raw talent earned SPC Morales a spot in the Silver Gloves competition in St. Louis, Missouri, almost immediately after he started boxing. 
"We sent him off right away to St Louis and I believe he may have lost in the finals," Aldana remembered. "Then we came back and got to work and started [with the basics]. We took him back to the step one—learning how to throw punches, how to throw certain combinations, how to stand, all of that."
SPC Morales' boxing journey has not been a straight line. He decided to step away from the sport after his junior year of high school when he broke his ankle in a soccer match. He wasn't as driven to get back into the ring. He said his parents were understanding but firm, and that they told him it was okay with them, but if he gave up the sport, he would have to find some other way to be productive. 
Then, many months later, he was swept back into the ring when he opened the door on that converted horse barn—the club's new gym—and agreed to spar for Aldana.
SPC Morales won the Kansas State Junior Middleweight Championship in November 2014 by defeating Eric Rosales in his professional debut. He has retained the belt to this day. He has gone on to defeat a half dozen other opponents—three by knockout. 
Still fully committed to his boxing career, SPC Morales was compelled to become a U.S. Soldier around the time of the 2016 presidential election. The fierce divisiveness present in the country at the time motivated SPC Morales to take a stand that would demonstrate his love for both his country and his heritage. 
"I just wanted to show that my parents are immigrants from Mexico and raised their kids with good values," he explained. "I ran into a SFC Frank Garcia. He said you can box in the Guard, you can be a role model, you can be that face and if you ever want to go back to school, it's free. Yeah, I scratched my head a couple times. I said, 'You know what? If you can make it happen, I'll do it.' I didn't even think twice about it."
In the Kansas Army National Guard, SPC Morales is a wheeled vehicle mechanic. His commander said the Soldier is serious about his duties and has come to be an integral part of his unit. 
"I can't count the times that a truck would come in and the platoon sergeant would holler for Morales and put him on it," said 731st Trucking Company Commander CPT Adam Beckman. "Obviously the E5s are running things, but Morales catches on really quick and they can rely upon him to get the job done."
The 131st participated in Exercise Golden Coyote as their Annual Training last year. CPT Beckman said SPC Morales put in long days and nights during the two weeks—often logging 14-hour shifts. BG Anthony Mohatt, the assistant adjutant general of Kansas, presented SPC Morales with a commemorative coin for his dedication to duty during Golden Coyote.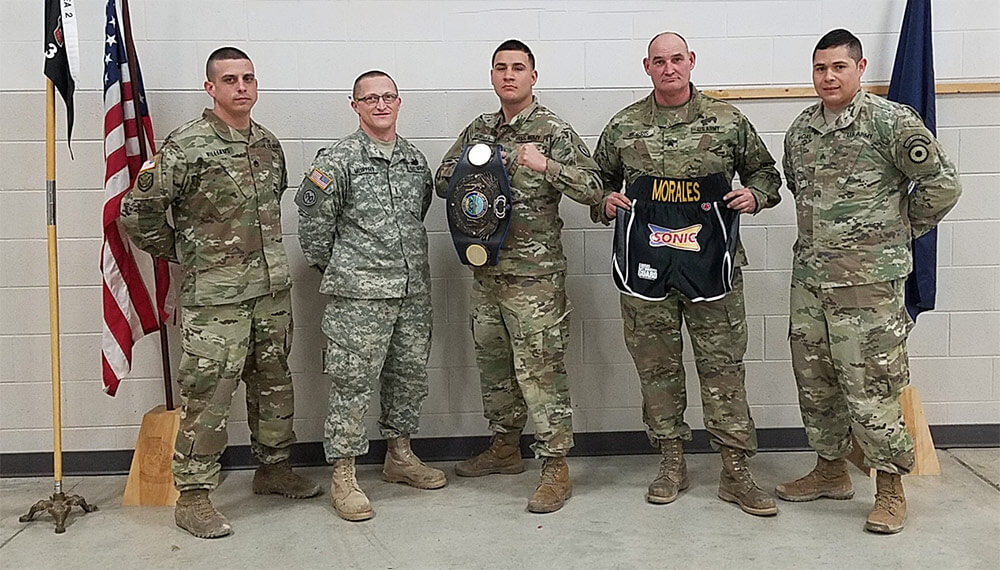 The Kansas Soldier's last fight of 2018 was a big one. Its outcome only emphasizes the volatile nature of professional sports. One day you're on top, the next day you're fighting to get back on top. In September 2018, he fought Brad Jackson for the American Boxing Federation USA Super Welterweight title. Jackson is a tenured boxer with over 30 bouts under his belt.
SPC Morales lost the fight by knockout. "I would definitely take a rematch any day just to avenge the vendetta," SPC Morales said. "It's a learning experience for me. It ate me up for a couple months."
With a 7-1 record, SPC Morales said he sees his window for more boxing glory as somewhat smaller, but he's taking his shot and moving forward. He has another fight scheduled for July 2019.
His window for the Army National Guard, and life in general, remain wide open. SPC Morales said he has aspirations to get into politics some day and will likely take advantage of his Guard service to get a college degree in political science. 
His commander said he could see SPC Morales gaining the rank of sergeant in the not-so-distant future, and, with SPC Morales' can-do attitude and outgoing personality, he thinks future political ambitions are not out of reach.
"He's got the right personality for it," CPT Beckman said. "He shows genuine concern for his fellow Soldiers. He's intellectually curious, which is what our Army needs more and more [considering] the complex situations we find ourselves in. I think that would translate well into the political arena, should he go that route."
For now, SPC Morales is focused on the Guard and his boxing career. As he reinvigorates himself, mending and training, both in the ring and in the field, SPC Morales remains confident that his greatest triumphs are yet to unfold. 
by Staff Writer Matthew Liptak