An Update on the National Guard's Response to Hurricanes Maria, Harvey and Irma
Beginning in late August, Soldiers and Airmen of the National Guard have been actively responding to the catastrophic series of hurricanes that swept through the United States this year.
With Hurricane Harvey making landfall in Texas on Aug. 26, Hurricane Irma hitting the Florida Keys on Sept. 10 and Hurricane Maria thrashing Puerto Rico on Sept. 20, the National Guard has been in a posture of ongoing activation in response to the devastating natural disasters impacting the Nation.
Hurricane Maria
As relief efforts for Hurricane Harvey and Hurricane Irma were coming to a close, Hurricane Maria was on a dangerous path of destruction in the Caribbean.
Hurricane Maria made landfall in Puerto Rico as a Category 4 hurricane. It ripped through the island with 150-mph winds and 30 inches of rain. It caused massive damage to the island, leaving it in an almost demolished state.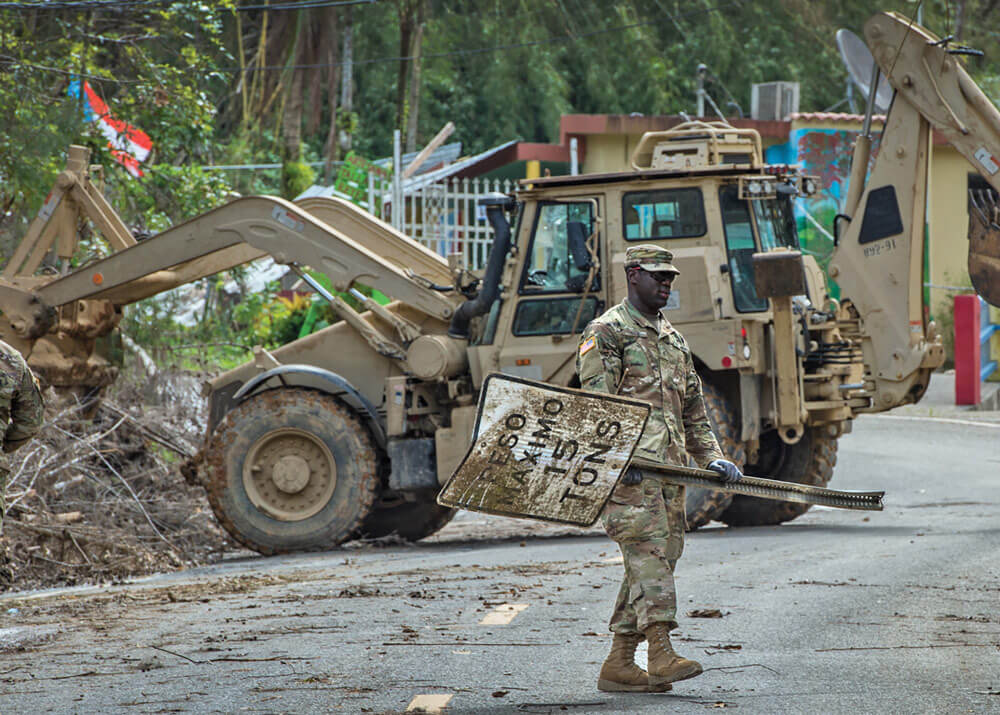 To compound matters, Puerto Rico was still in recovery from Hurricane Irma when Hurricane Maria hit – with just two weeks between the storms. After Hurricane Irma, approximately 80,000 Puerto Rican residents were without electricity. After Hurricane Maria, Puerto Rico's power grid was completely destroyed, and the number of those without electricity rose to include all 3.4 million of the island's residents.
"All of the power lines were down," said SSG Indhira Duprey of the 783rd Maintenance Company, Puerto Rico Army National Guard. "It was pitch black."
The National Guard's response to support Puerto Rico relief and recovery efforts was wide-scale. A total of 6,700 National Guard members were deployed in response to the storm. Soldiers and Airmen were deployed from Alaska, Alabama, California, Illinois, Louisiana, Massachusetts, Minnesota, North Carolina, Nevada, New Jersey, New York, Oregon, Ohio, Pennsylvania, South Carolina, South Dakota, Tennessee, Washington and West Virginia.
Relief efforts on the island were divided into four task forces: rescue, engineering, security and logistics. The National Guard provided trucks, filled with MREs, to deliver food to those in need and used Black Hawk helicopters to deliver meals in areas that were difficult to reach by automobile. Relief efforts also included clearing roadways of debris, delivering fuel and generators, establishing forms of communication that did not require the power grid, creating water distribution points and partnering with local police to provide security. Since the scope of the damage left by Hurricane Maria was so substantial, relief and recovery efforts will continue for the foreseeable future.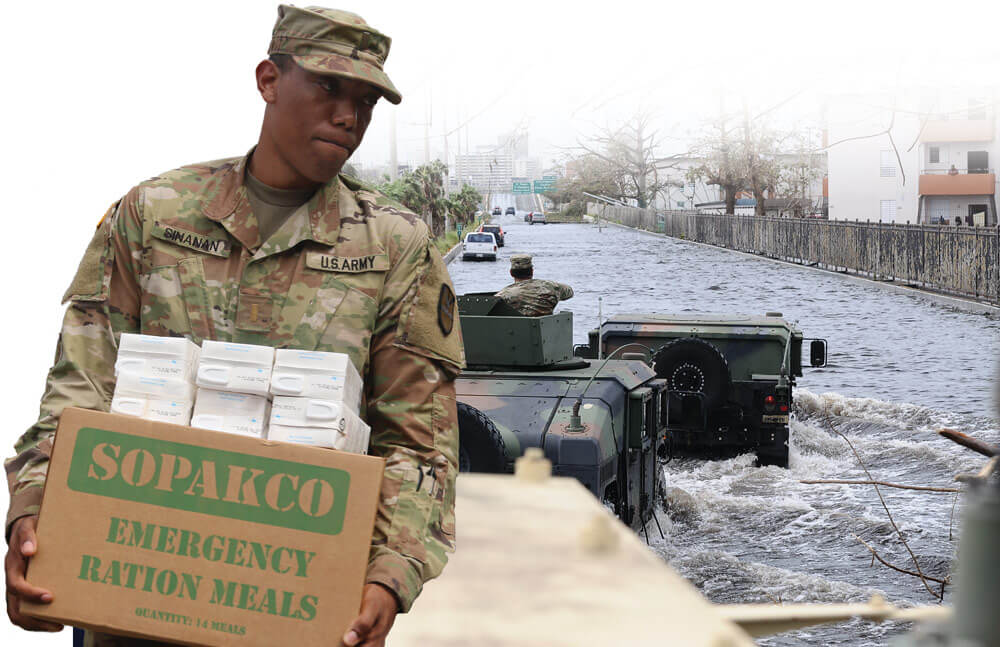 "When I got here, we had 25 helicopters and 4,500 troops," said LTG Jeffery S. Buchanan, commander of ground forces in Puerto Rico. "Now, two weeks later, we have 68 helicopters and 14,300 troops. We're getting a lot done, but we have a long way to go."
The night Hurricane Irma made landfall in Puerto Rico, SSG Duprey performed rescue missions and personally experienced the immediate aftermath of Hurricane Maria.
"It was very hectic," SSG Duprey explained. "We could hear people screaming for help. They were on their roofs, and there were a lot of elderly people who couldn't get out of their houses. We rescued a lot of people. I can't say an exact number, but the emergency management center where we took those people said that there were more than 3,500 people there at that time."
Having been a part of the immediate rescue missions and the subsequent relief and recovery efforts, SSG Duprey has worked nonstop to support Puerto Rico.
"I've learned that you have to be prepared for every type of disaster and event," SSG Duprey said. "In situations like this, you don't realize how capable you are of reacting. People under stressful situations are capable of doing amazing things. I haven't had a day off since Irma. We've been working the whole month just assisting and bringing people potable water and food."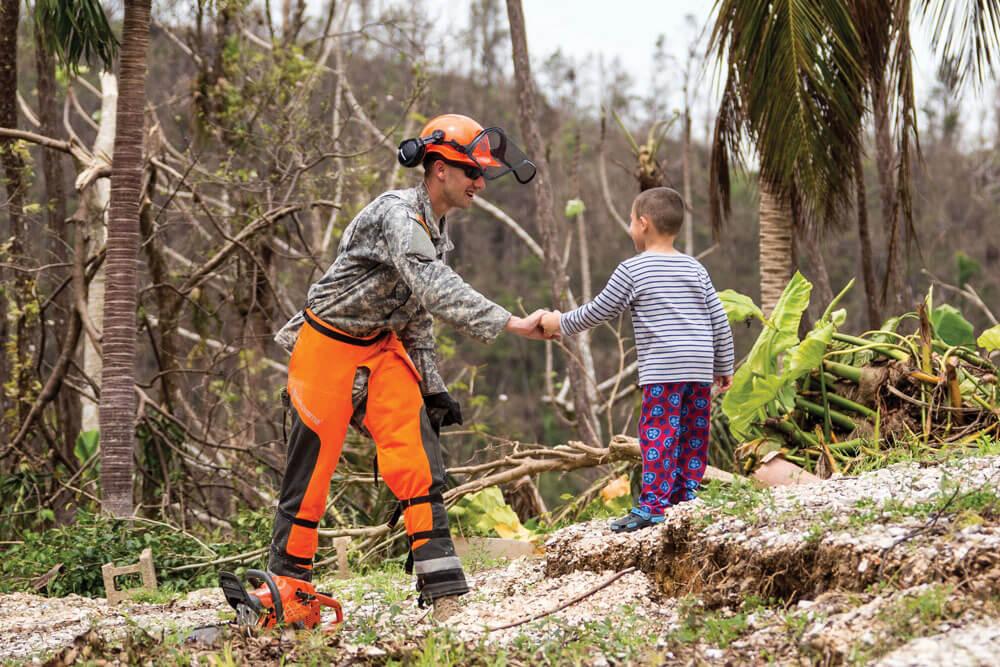 Water purification has been a primary focus in the relief efforts. SFC Juan Ortiz, of the 105th Quartermaster Water Purification and Distribution Company, has been heavily involved in the effort to bring clean water to the people of Puerto Rico.
"I've been in charge of coordination and making all of the arrangements and RECONs to determine the best area to deploy our equipment in order to produce potable water," SFC Ortiz said.
To purify water taken from lakes and the sea, the company uses a Reverse Osmosis Water Purification Unit (ROWPU) that filtrates the water by applying pressure on a high level. Using this method, as of Oct. 30, 2017, the unit has produced over 750,000 gallons of purified water. Using this method, as of Oct. 30, 2017, the unit has produced over 750,000 gallons of purified water.
"It's been a rough ride," SFC Ortiz said. "The conditions of the roads made it harder to access locations. But after we got ourselves to places where we could start working and deploying our equipment, we could help the people that were in need of water."
While Puerto Rico was afflicted with extraordinary damage from Hurricane Maria, progress has been made. On Sept. 29, 2017, 91 percent of cellular service in Puerto Rico was out of commission. According to the Department of Defense, as of Nov. 3, 2017, 90 percent of the population's cellular services had been restored.
Reestablishing methods of communication has been an ongoing effort. National Guard Soldiers were able to increase communications between the Territory and the mainland by using the Disaster Incident Response Emergency Communications Terminal (DIRECT). DIRECT allows the Army National Guard to provide communication services when local commercial networks are down. During Hurricane Maria relief efforts, DIRECT created a communications bridge to first responders and allowed citizens to contact their families back on the mainland.
"Some of the people had no contact with family for weeks, and thanks to the communication support from [DIRECT], they were able to reconnect with their families and let them know they are okay," said SFC Travis Martinelli, a member of the Nevada Army National Guard's DIRECT team.
The second of the U.S. Territories caught in the deadly path of this summer's hurricanes, the U.S. Virgin Islands, was still recovering from damage caused by Hurricane Irma when Hurricane Maria pummeled the islands with a second blow. The storm's powerful winds left St. Croix, the largest of the U.S. Virgin Islands, with damaged infrastructures, downed communications, destroyed power grids, roads covered in debris and an estimated $200 million worth of repairs.
The National Guard provided storm survivors with food, water, medical treatment, aerial ambulatory transport, shelter and security. States supporting the U.S. Virgin Islands include: Florida, Kentucky, Missouri, Mississippi, New York, Ohio, Pennsylvania, Tennessee, Virginia and Vermont.
One of the Guard's larger initiatives during the recovery was the cleaning of mold and debris from schools and public buildings in St. Croix. This effort was part of Operation Island Restore, a domestic operation that brought 1,900 National Guard Soldiers and Airmen from 37 States and Territories to the U.S. Virgin Islands.
"We had the opportunity for [the Nation] to see the National Guard in action and understand why it's critical for the National Guard to be in every State and Territory," said BG Deborah Howell, Adjutant General of the Virgin Islands.
As of Oct. 20, 2017, more than 2,800 students and 271 teachers were able to return to schools in the U.S. Virgin Islands, with more set to return in the following weeks.
Recovery efforts for Puerto Rico and the U.S. Virgin Islands are ongoing. Multiple roads have been cleared, hospitals and stores have reopened, commercial flights are up and running and power is gradually being restored. However, recovery will continue for some time. "Reflecting on the tremendous effort put forth by the National Guard, and by Puerto Rican citizens, SFC Ortiz commented, "I've learned that no matter how hard you get hit, we can stand up, come together and help each other."
Hurricane Harvey
This past summer, Hurricane Harvey made landfall as a Category 4 storm near Rockport, Texas, accompanied by heavy rain and fierce winds. The hurricane left more than 300,000 people without electricity, an estimated $198 billion worth of damages, more than 32,000 people displaced in shelters and at least 90 confirmed fatalities. But amidst the loss and destruction, the National Guard was there, diligently working, facilitating relief and recovery efforts to help bring the affected areas of Texas back to normalcy.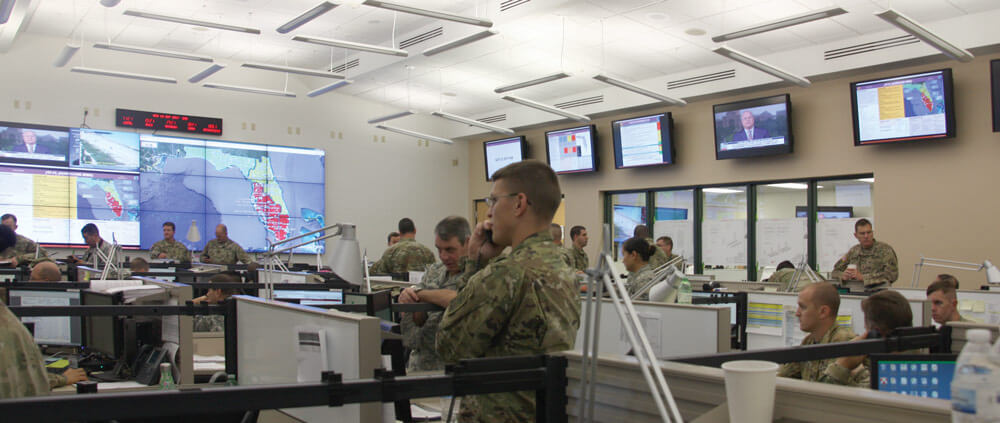 Nicknamed Task Force 56, the 56th Infantry Brigade Combat Team was responsible for coordinating the relief efforts in Texas, which included response missions in the eastern, central and southern regions of the State. These areas included the cities and suburbs of Houston, Corpus Christi and Beaumont. The Task Force, led by COL Carlton Smith, was activated in Texas for a month responding to the immediate aftermath of Hurricane Harvey.
"The relief effort took about four weeks before we could say that we did everything we could to get people out of danger and out of the impacted area," said COL Smith, commander of the 56th Infantry Brigade Combat Team.
With the initial dangers stabilized, the National Guard has completed relief efforts in Texas. Currently, the Federal Emergency Management Agency (FEMA) is performing recovery operations. COL Smith noted his pride in the relief efforts the Task Force provided and applauded the National Guard's level of preparedness in responding to Hurricane Harvey.
"I think [relief efforts] went very well," COL Smith said. "Because of our experiences with past hurricanes, we were more prepared to respond to this. Two or three days prior to the hurricane making land, we already had units stationed and had armories ready to receive people once it was safe to start rescue and relief operations."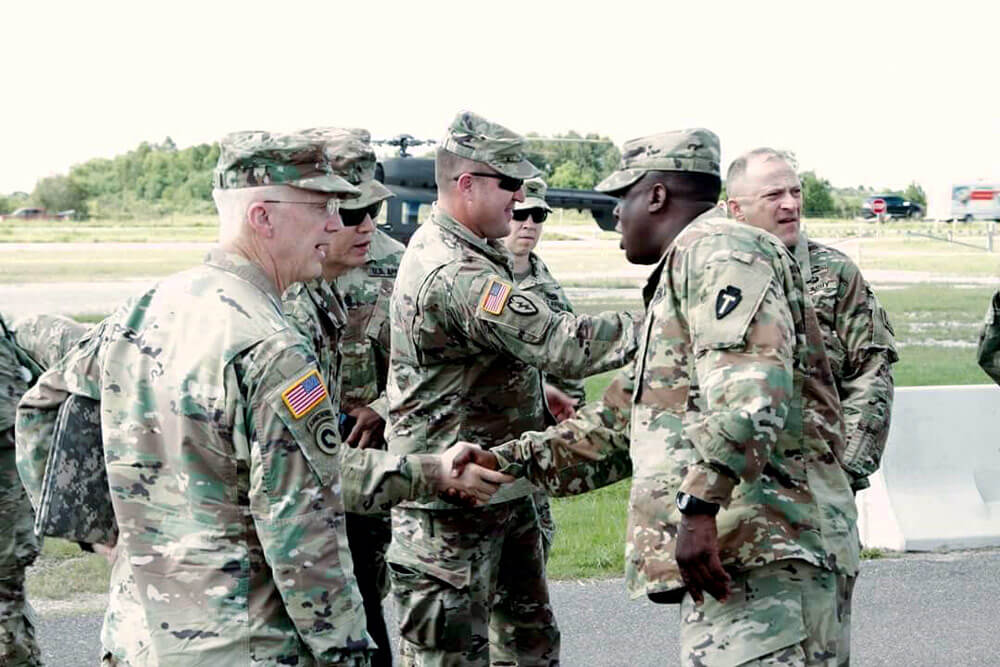 Having the right equipment was essential to the overall success of the relief efforts. According to COL Smith, high-water vehicles, helicopters and boats were the primary assets used during rescue and relief missions. Approximately 18 DIRECT systems were also on site.
"[The equipment] was critical, especially when we talk about the rescue operations," said COL Smith. "While we were there, close to 1,000 individuals were rescued, particularly in the Orange and Beaumont areas. When we got there six or seven days after the storm hit land, Orange was pretty much still underwater. We had boats, but a lot of citizens had more boats than we did, and they helped with the rescue operations. They allowed us to accompany them on their boats or use their boats when necessary."
COL Smith went on to note his thanks to the citizens and civil authorities in Texas for contributing to the success of the relief operations. According to COL Smith, the citizens had first-hand knowledge of what areas had a greater need and which areas were easier to access. The Task Force was able to more efficiently respond to the needs of the affected areas and citizens because of this shared information.
"The integration of the Guard, the citizens and the civil authorities stood out," COL Smith said. "The citizens were right there with us. They didn't just stand back and let us do our work. They got in there and did some of the heavy lifting with us. They knew the areas that needed help better than we did. We linked up with civil authorities and citizens who told us where to go and where to set up points of distribution to get the most out to certain areas and get our high-water vehicles into certain neighborhoods."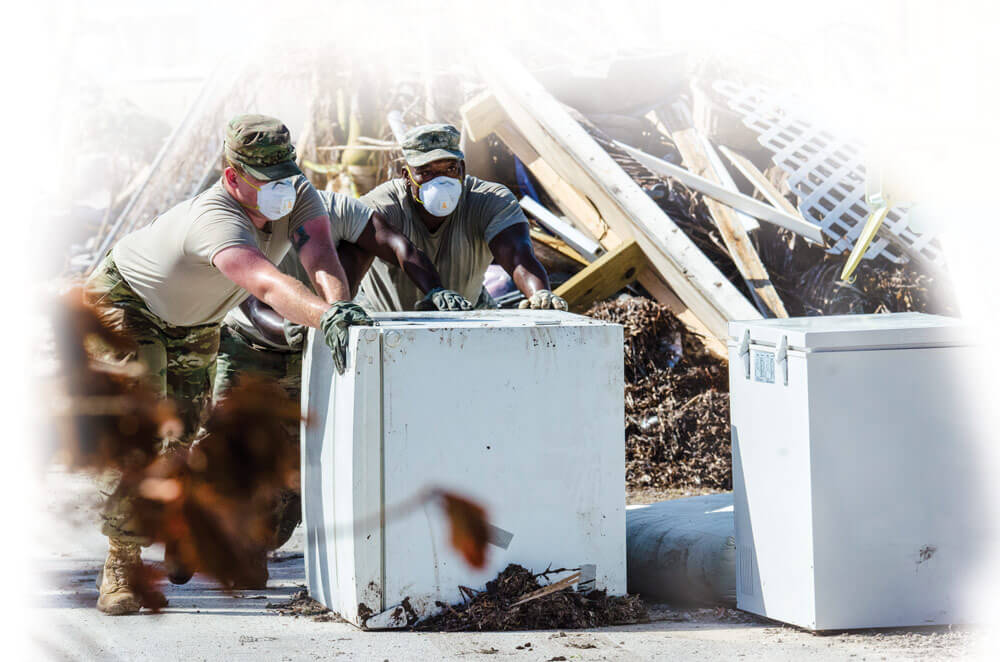 Reflecting on the Guard's response to Hurricane Harvey, COL Smith attributed its success to the readiness of the National Guard Soldiers and Airmen.
"The initial preparedness and early deployment of troops to those [high alert] locations, wherever we could reach them – that was key in our success."
Hurricane Irma
Hurricane Irma, a record-breaking Category 5 hurricane, tore through the Caribbean and Florida Keys just two weeks after Hurricane Harvey devastated Texas. Irma caused an estimated $50 billion in damages and caused at least 90 deaths in the United States. On Sept. 12, 2017, almost 4.4 million Florida homes and businesses were without power.
Recovery efforts went in full swing once the immediate dangers of the hurricane subsided. Less than two weeks after Irma barreled through Florida, power was restored to 99 percent of Floridians.
The Florida Keys suffered the worst amount of damage, leaving over 12,000 homes uninhabitable. Being a string of islands, the Keys faced a great deal of challenges following Irma and were a large focus of the National Guard's efforts. Within 24 hours of Irma making land, the Florida National Guard's 753rd Brigade Engineer Battalion utilized their heavy equipment to clear U.S. 1 from Florida City to Key West, allowing first responders and others to gain access to the Keys.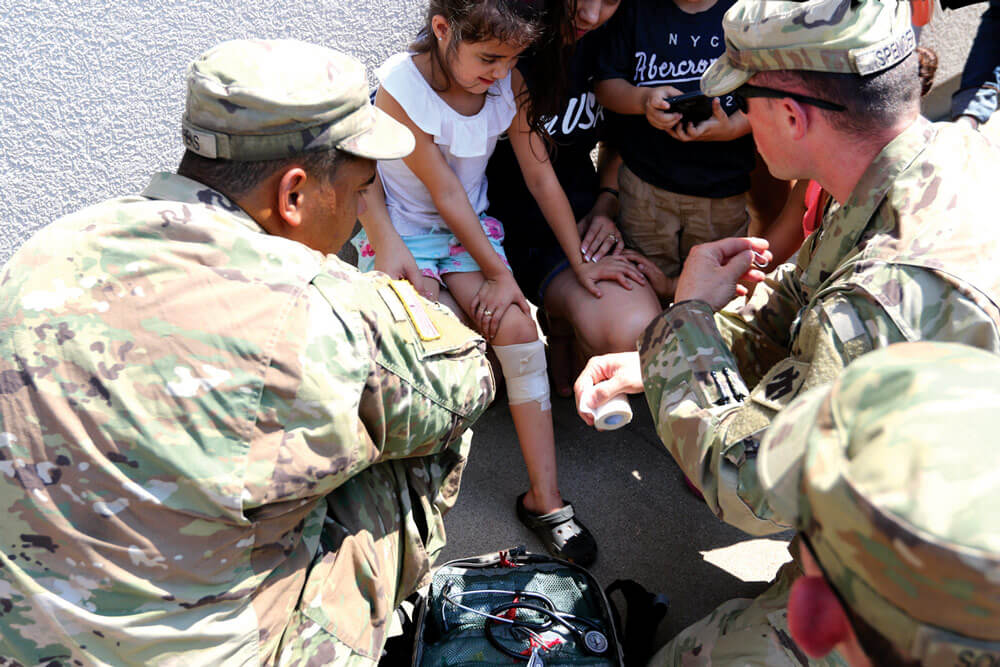 The two-hour minimum travel time from the mainland to the lower Keys made it difficult for many commercial contractors to access the area and assist with the debris clearing and removal. In response, on Sept. 25, 2017, Florida Governor Rick Scott activated a task force, led by the 753rd Brigade Engineer Battalion, to conduct residential de-mucking and debris clearing for the residents of Monroe County. Monroe County, 99 percent of which sits in the Florida Keys, was hit the hardest by Hurricane Irma. It left the low-lying islands of Monroe County covered in debris.
As of Oct. 5, 2017, the Task Force had completed 244 debris removal and de-mucking missions in Monroe County. The Keys have since reopened to regular traffic and are continuing to rebuild.
"We [had] the unique opportunity to return and help these fellow Floridians take their first steps towards rebuilding and recovery," said LTC Betsy Evans, Commander of the 753rd Brigade Engineer Battalion. "This is what we signed up for, and I'm extremely proud to have [had] the opportunity to be a part of this critical mission in support of Monroe County and the State of Florida."
Hurricane Irma also took its toll on the U.S. Virgin Islands, causing immense amounts of damage on the islands of St. John, St. Thomas and Water Island. In support of the U.S. Virgin Islands' recovery, the Virginia National Guard's 116th Infantry Brigade Combat Team was deployed as mission command headquarters for the Joint Task Force Stonewall, a special recovery task force.
Joint Task Force Stonewall was made up of Soldiers and Airmen from 18 different states and the District of Columbia. The task force served to augment the capabilities of the U.S. Virgin Islands National Guard. Joint Task Force Stonewall was assigned to deliver supplies at 16 points of distribution, provide security and traffic control, conduct airfield operations and provide communications support to critical infrastructure sites.
"We are making steady progress," said COL Scott Smith, Joint Task Force Stonewall commander. "We were welcomed with open arms by our gracious hosts from the Virgin Islands National Guard, and I am so proud of our Soldiers and Airmen who answered the call of duty to help our fellow citizens."
By Staff Writer Drew Lansbury
VIDEO