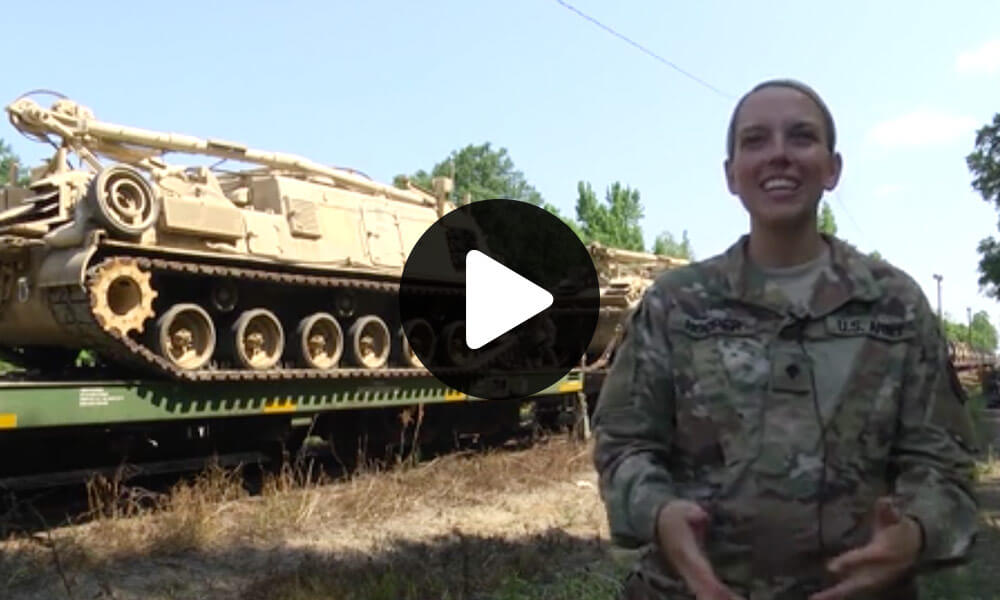 In support of Operation Western Strike Crewmembers of the 142nd Field Artillery Brigade, Arkansas National Guard, load tracked armored vehicles onto railcars for the first time since Operation Desert Storm. (U.S. Army National Guard video by Staff Sgt. James Heuston)
Operation Western Strike was not your average artillery exercise. It was in fact a 20-year first for the Arkansas Army National Guard's 142nd Field Artillery Brigade. According to COL Nicholas Jaskolski, commander of the 142nd, the unit's five battalions each transported one dozen pieces of heavy artillery and supporting equipment via railway to Wyoming National Guard's joint training center, Camp Guernsey – a task the entire unit has rarely executed.
The event was an emergency deployment readiness training and field artillery gunnery exercise that took place early last year. It involved all 1,200 of the personnel that make up the 142nd's five battalions – consisting of three battalions from Arkansas, one battalion from Alabama and one battalion from Tennessee.
In addition to personnel, the training required hundreds of vehicles, including 12 Multiple Launch Rocket Systems (MLRSs), brought by the 142nd's 1st Battalion; 12 M777 towed Howitzers, brought by the 142nd's 2nd Battalion; 12 High Mobility Artillery Rocket Systems (HIMARS), brought by the 1st Battalion, 181st Field Artillery Regiment, Tennessee Army National Guard; a dozen Paladin Howitzers, brought by the 117th Field Artillery Regiment, Alabama Army National Guard; plus high mobility multipurpose wheeled vehicles, light medium tactical vehicles, ambulances, fuelers and gun trucks brought by a combination of the participating States.