Command and Control Training for "America's Worst Day"
This year's Vibrant Response exercise challenged Soldiers to mitigate, not one but two, simulated 20-kiloton nuclear explosions near the cities of Detroit and Phoenix.  Army National Guard units were tasked with dealing with the aftermath of the notional Detroit detonation. It was an exercise which, for the first time, included a command and control structure built from the ground up at Selfridge Air National Guard Base in Harrison Township, Michigan.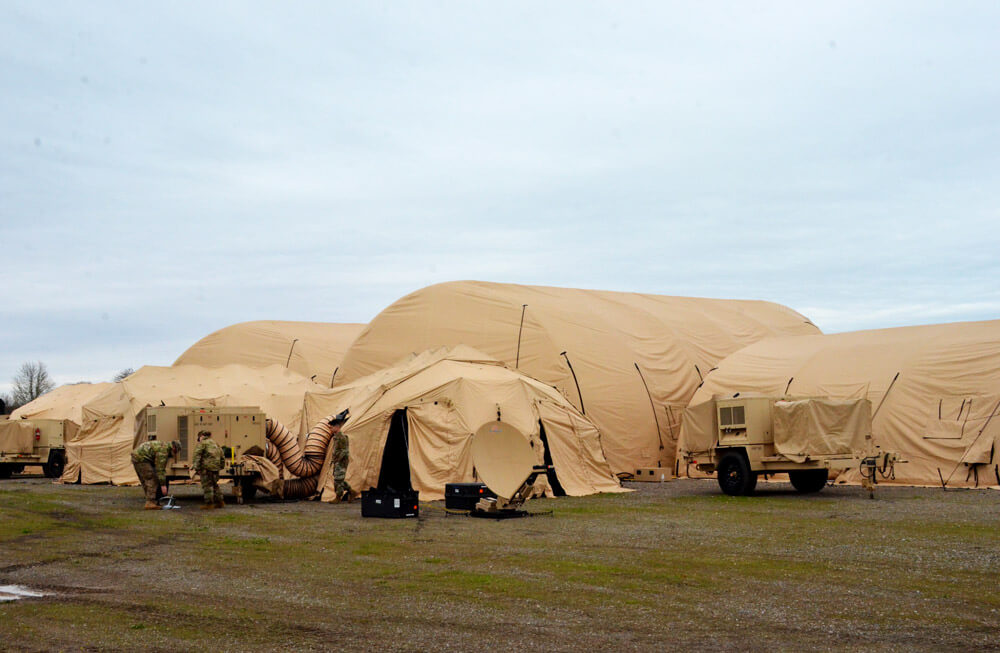 "Last year after, after we got done with Annual Training, [our Commander] MG Michael Stone said that next year he wanted to do what we do in the field in cases where we go to an area and all we get [for command] is a big field," commented COL Steven Gust, logistics lead for the 46th Military Police Command, Michigan Army National Guard.  "We don't get a building. We don't get power. We don't get any of that. So, we immediately started looking at locations where we could do command operations in the field. And we went to a number of courses of action and selected the Detroit area."
Exercise Vibrant Response is a disaster response training exercise held annually since 2009. Most of the non-command and control portions of the exercise took place at Camp Atterbury and the Muscatatuck Urban Training Complex, both in Indiana.  The exercise is hosted by U.S. Army North, U.S. Northern Command's Joint Force Land Component Command. The Michigan National Guard's 46th Military Police Command—which is one of three Department of Defense (DoD) elements designated to provide command and control of DoD assets providing life-saving disaster response, recovery and other support to civilian authorities in the event of a Chemical, Biological, Radiological and Nuclear attack—participated in Vibrant Response as the command control unit.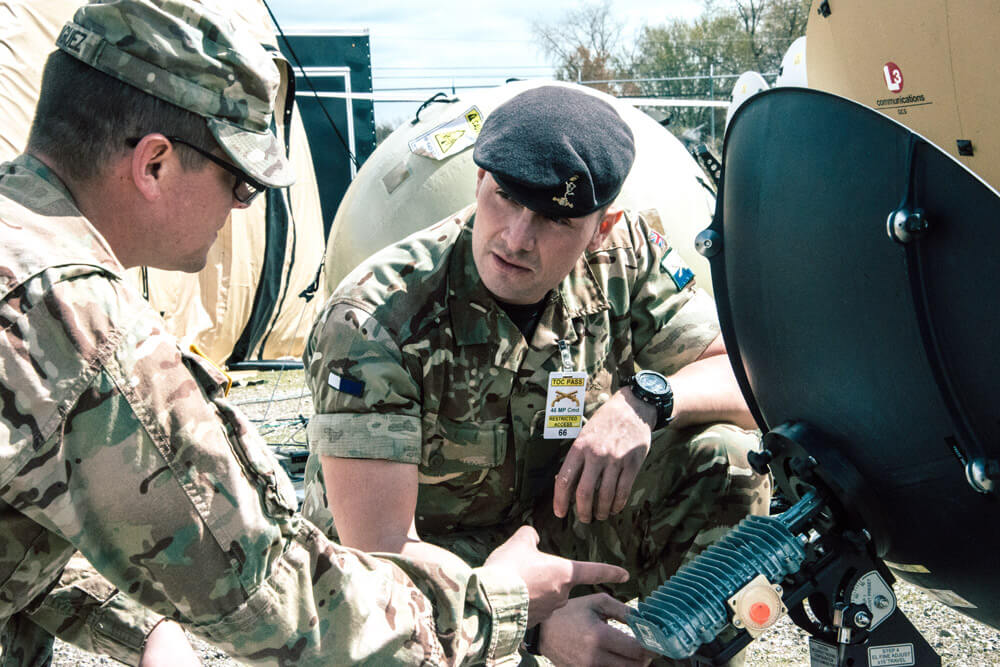 Over 3,500 military members participated in Vibrant Response this year, including National Guard personnel from 28 States.  Also involved were personnel from the Federal Emergency Management Agency and several other federal and Michigan State agencies.  The Guard units involved included  the 46th Military Police Command and 507th Engineer Battalion from the Michigan Army National Guard; the 369th Sustainment Brigade and 133rd Composite Supply Company from the New York Army National Guard; the 444th Chemical Company and 710th Medical Company Area Support from the  Illinois Army National Guard; the 119th Combat Service Support Battalion and 154th Quartermaster Company from the New Jersey Army National Guard; the 198th Expeditionary Signal Battalion from the  Delaware Army National Guard; the 105th Human Resources Company from the Tennessee Army National Guard; and the 108th Chemical Company from the South Carolina National Guard.
The exercise put the command and control element in austere conditions in the field with infrastructure that was only available from whatever could be flown or trucked into the area. This trend toward realism in exercises is thought to increase both unit readiness and Soldier proficiency.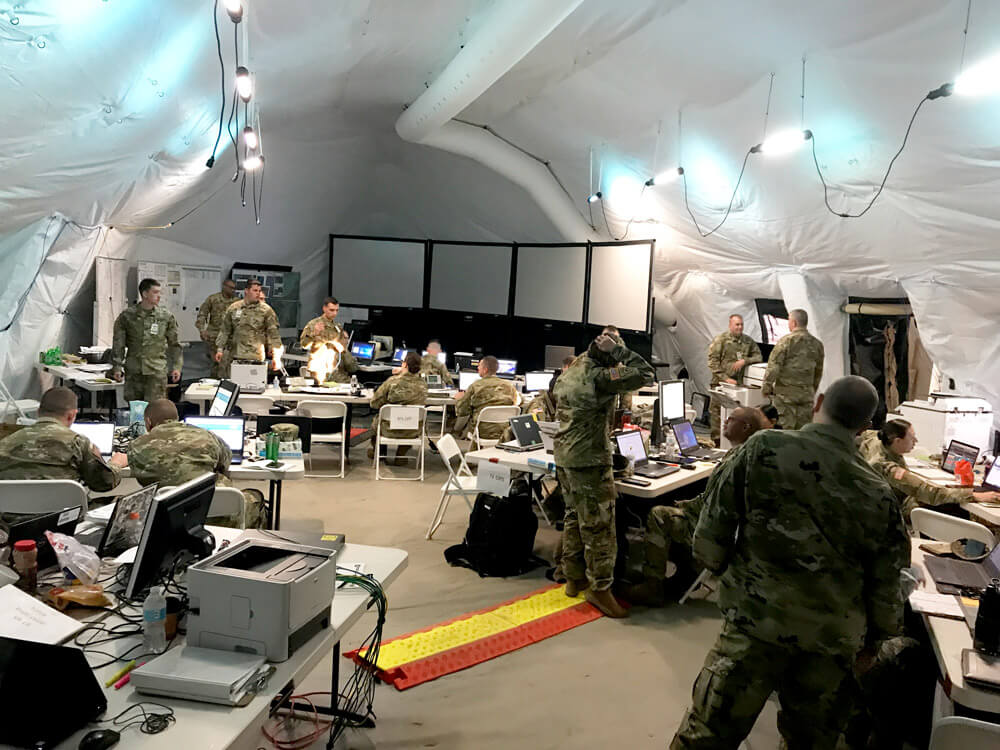 During last year's Vibrant Response, command and control operated from a building on Camp Atterbury.
"The big difference for us is last year when we moved, we occupied basically a big cold storage building where we set up our mission command, and so it already had power and already had heating and cooling," COL Gust said. "All we really had to do was forecast what we would need to take us there. The logistics that were supplied down there were a heck of a lot simpler than what I've had to go through this year, because they had all classes of supply available at Camp Atterbury."
Not so this year. The level of complexity for the in-field setup was exponentially more complicated than last year.
"In a field environment, we've got about 250 people that are on the ground here at Selfridge. I had to acquire enough tents, food, water, fuel and other classes of supply in order to pull this off, because I've got 250 people sleeping in tents," COL Gust noted. "And then I've got 250 people working in another set of tents. So, we've got a sleeping tent area and we've got an operations area in two different locations."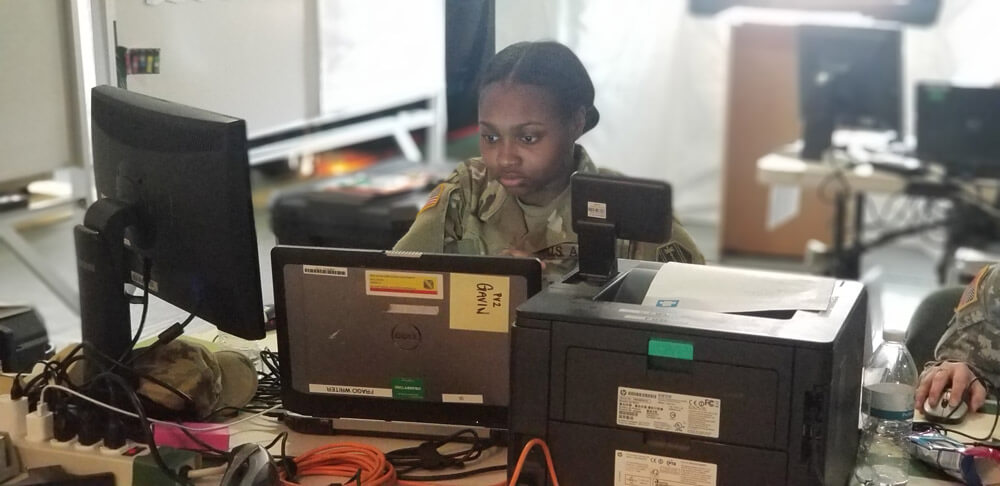 As part of the G6 for the 46th, COL David Hayes helped tackle the communication effort for the unit while at Selfridge.  The large amount of training and preparation his section had done since last year's Vibrant Response was evident when it came time for this year's exercise.
"We had communication set up within 12 minutes of hitting the site," he said. "We had a satellite linkup and we were pushing data in 12 minutes."
COL Hayes cited four main reasons why the communication section saw improvement over last year's Vibrant Response. The Soldiers had not been idle during the year that had passed.
COL Hayes explained that the United States is a bandwidth-intensive environment. As a National Guard element in the defense support of the civil authority arena, the 46th needs a lot of bandwidth as they have many large files that get sent back and forth across the task force. COL Hayes' section looked at how they could increase capacity and decided to invest in some additional satellite downlinks that would provide additional increased bandwidth. They employed those links at exercises throughout the year.
The next element COL Hayes had the unit focus on was the continued training of Soldiers. Attrition had occurred over the year. Soldiers leave and new Soldiers enlist. The unit had some gaps with training, so the command took time to send Soldiers to schools—not only Army schools, but also schools run by the manufacturers of the equipment they use. Soldiers went to the manufacturers and, on occasion, COL Hayes noted, the manufacturers came to them. Subsequently equipment were at several exercises to assist and support the unit.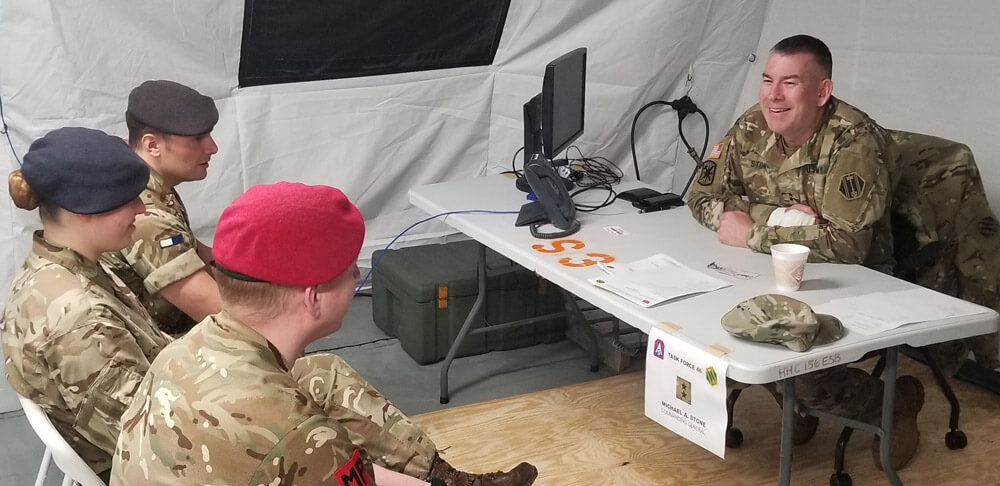 The 46th also increased the amount of training exercises conducted during the past year. They held additional communications exercises to make sure that both the unit's personnel and equipment were able to manage expectations of the command. 
Finally, the communications section looked at collaboration efforts. As the 46th could be assigned to a mission operating across hundreds of miles of area, figuring out how to communicate and collaborate effectively is critical. The 46th looked at its standard operating procedures and adjusted them accordingly to increase efficiencies. 
SGT Victor Berndt, a team chief and signal support specialist with the 46th, believed deploying the unit's mobile equipment and putting both his team members and the gear to the test was essential to increasing readiness. He embraced the old saying, "a used key always stays bright" and that definitely is the case, metaphorically speaking, when it comes to Soldiers keeping their skills sharp.
"If we don't actually pull up the equipment or utilize it, we may not prepare as well as we'd like to or should," explained SGT Berndt. "And the more prepared you are, the better we are able to support anyone [who needs us] for their worst day."
SGT Berndt noted this year's Vibrant Response had been executed better by his team over their performance last year. He cited Soldier feedback as an indication of the improvement.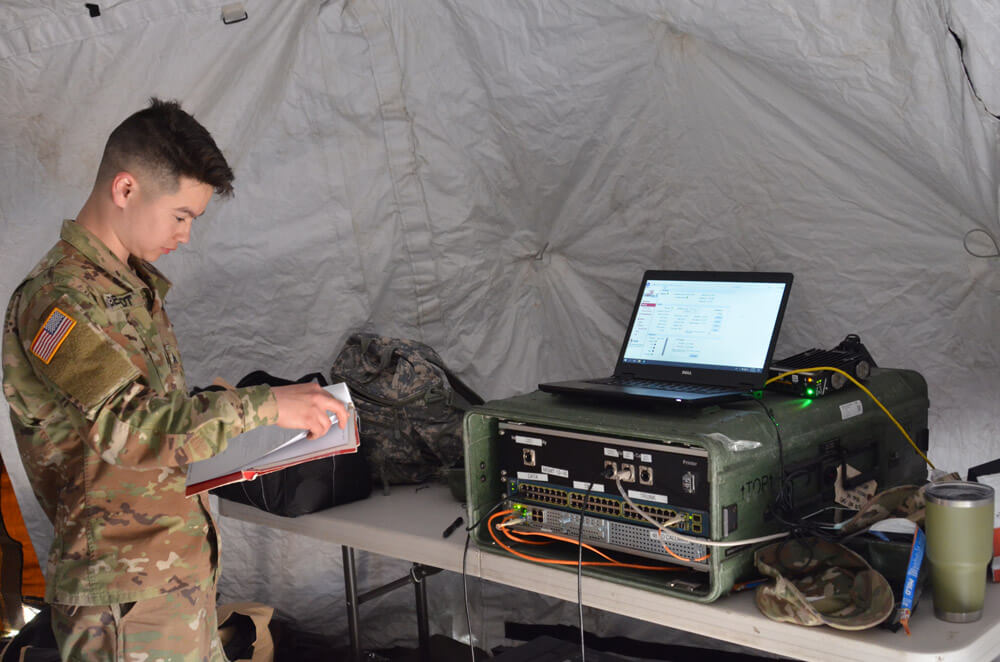 "We were more prepared for this [Vibrant Response]," he said. "For example, usually people would complain the internet was slow. Now, we haven't really had very many complaints with those issues. So far, it's definitely improved immensely."
COL Hayes said he felt that not only did the 46th improve proficiency, but that the entire mosaic of units and personnel in the joint exercise had improved their abilities as well.
"I will say that from [Vibrant Response] 18 to 19, we probably doubled our knowledge capacity," he said "We really put a big effort towards getting the equipment we needed and trained the Soldiers across the board."
The use of Selfridge was critical in making the austere expeditionary nature of this year's command and control elements successful. Commander of the Selfridge Air National Guard Base, Brig Gen Rolf Mammen, indicated that the type of working together he observed at his base during Vibrant Response 19 is a major key in how the American military wins in the field. 
"I just thought it was a fantastic collaboration," he said. "I mean, it's the way things really come together as a joint force to be effective, to make sure we accomplish the mission."
Vibrant Response is likely to continue to evolve, becoming more realistic and more robust with each passing year. Being prepared for America's worst day requires both U.S. Army North and the Army National Guard to put their best feet forward.
"I think it's just going to continue to accelerate," said COL Gust.
BY STAFF WRITER Matthew Liptak