The National Guard Reigns at the "All Army" Championship
At the 2018 U.S. Army Small Arms Championship – also known as the All Army – the National Guard proved that the marksmanship of Guard members is right on target. National Guard members brought home 19 winning titles across all eight All Army categories – including the championship titles in both the team and individual categories.
Hosted by the U.S. Army Marksmanship Unit (USAMU), the Small Arms Championship is a comprehensive live-fire training event held at Fort Benning, Georgia. From March 11–17, more than 200 Soldiers were tested on their ability to problem-solve and think critically while employing both primary and secondary weapons systems.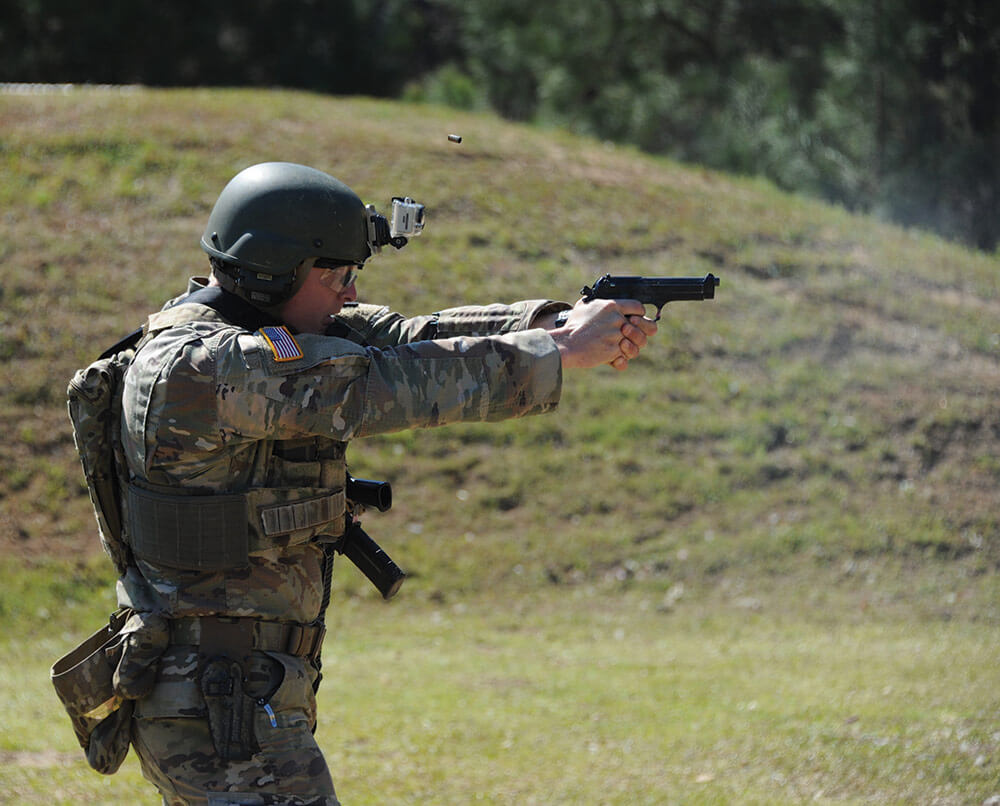 In this year's event, 11 National Guard teams competed to challenge 26 active duty and Reserve teams. Six of the 11 Guard teams were victorious and placed in the top three of their competition categories.
The Soldiers of the Missouri Army National Guard team seized first place and were named U.S. Army Small Arms Team Champions, after taking first place in the pistol team competition and second place in both the multi-gun and rifle team categories. The winning team was made up of SSG Michael Richey, 1SG James Phelps, SGT David Ball and SSG Jerry Dement.
With the highest aggregate score from all individual matches, SGT Justus Densmore of the Texas Army National Guard's 551st Multi Role Bridge Company earned the title of U.S. Army Small Arms Overall Individual Champion.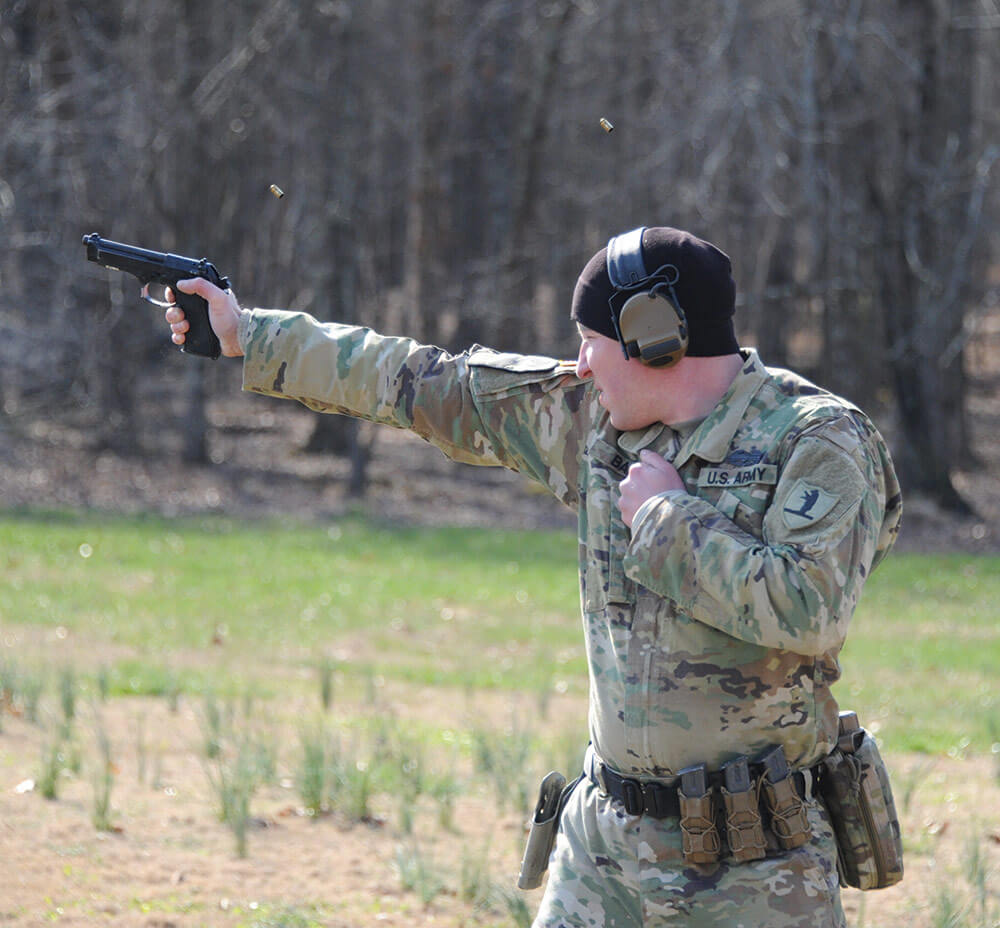 The Small Arms Championship began with training from USAMU coaches, instructors and competitive shooters who conducted a rifle and pistol Small Arms Firing School (SAFS) for all participants in the championship competition. During the championship, Soldiers competed in multiple events, both as individuals and as four-person teams, to test diverse levels of marksmanship.
Once the competitive matches began, USAMU held clinics after each match as refresher courses on the fundamentals of marksmanship.
While the in-competition training was certainly helpful, the members of the National Guard teams came prepared and had trained hard before ever setting foot on Fort Benning. They participated in a week-long training session in Tennessee prior to the Small Arms event.
"We were fortunate enough to be funded by the National Guard Marksmanship Training Center [NGMTC] and had an actual trainup before going to the competition," said 1SG Phelps of the 1139th Military Police Company, who individually placed seventh overall. "We have talented shooters. We each take a lot of time to enhance and hone our skills. The biggest thing was having support from the State and the NGMTC, allowing us the opportunity to train in preparation for [the championship]."
1SG Phelps also noted that outside of the training session at NGMTC, Soldiers were encouraged to get "as much training as you can."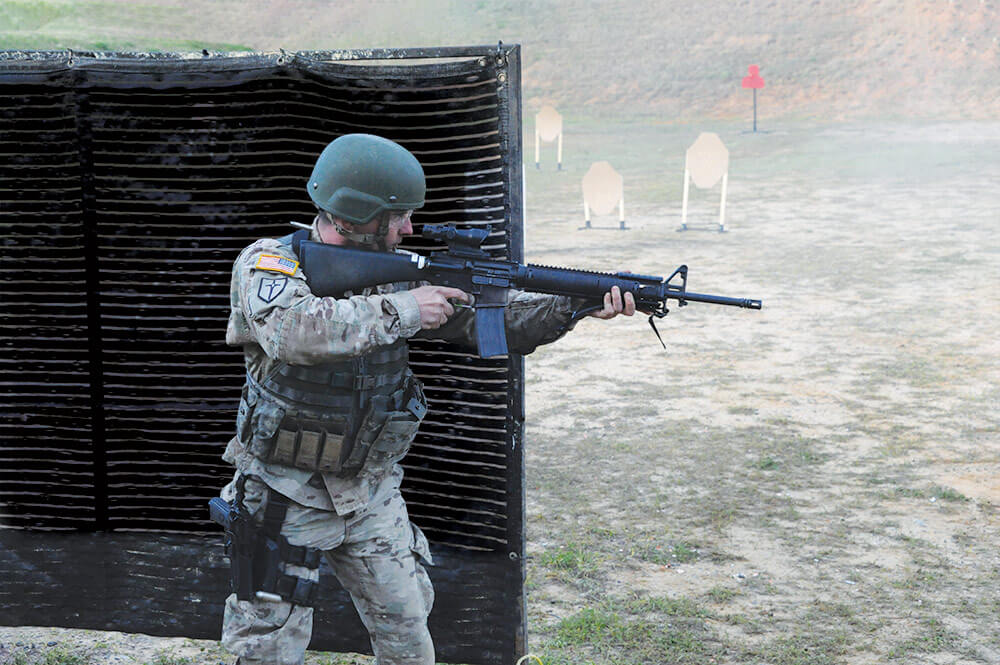 "If you want to get really good, you have to put in a lot of work on your own time," said SSG Richey of the Missouri National Guard Joint Force Headquarters, who individually placed fourth overall. "Every day after work, I go to the range and shoot. I usually shoot thousands of rounds a week. That's why we did so well – because all of the guys I have on my team put in a lot of work on their own time."
"I always focus on practicing the fundamentals prior to a match," SGT Densmore explained. "Once you have those down, you can apply them to any match or combat situation."
Also serving as the Competitive Events Coordinator for the State of Missouri, SSG Richey knew his team was prepared to perform well.
"It's my job to manage the shooting team and the marksmanship program," SSG Richey explained. "I knew that we had a good team going into the match. I couldn't say [for certain] that we were going to win, but I had a pretty good feeling."
1SG Phelps also expressed a feeling of confidence upon entering the competition.
"Missouri has a long-standing tradition of performing in the top tiers of matches," said 1SG Phelps. "We thought we would perform well because we put a lot of time and energy into the match."
With a wide range of Soldiers entering the competition, all with unique backgrounds and techniques, the championship fostered an environment of collaboration and a sharing of knowledge.
"I love the camaraderie," said SGT Densmore. "I have made many friends in the Army shooting community over the years, and it was great to see so many familiar faces. There were so many levels of shooters at this match, from Soldiers attending their first match to national and international champions. The level of respect for each other and the willingness to share experiences, tips, tricks and training notes was outstanding."
This willingness to share knowledge ties into the overarching mission of the Small Arms Championship, which is to advance marksmanship across the Army.
"The competitors [are] always willing to share their methods," 1SG Phelps said. "They share their knowledge because the ultimate goal is to maintain a high state of combat readiness. We are privileged to be able to train and compete with the best marksmen in the Nation. Having the ability to shoot beside other competitors from other branches of service and learn from what they are doing enhances everyone's ability across the spectrum."
While the winning Guard members were most certainly proud of their achievements at All Army, they were also quick to emphasize the importance of focusing on the lessons learned, rather than the scores ranked.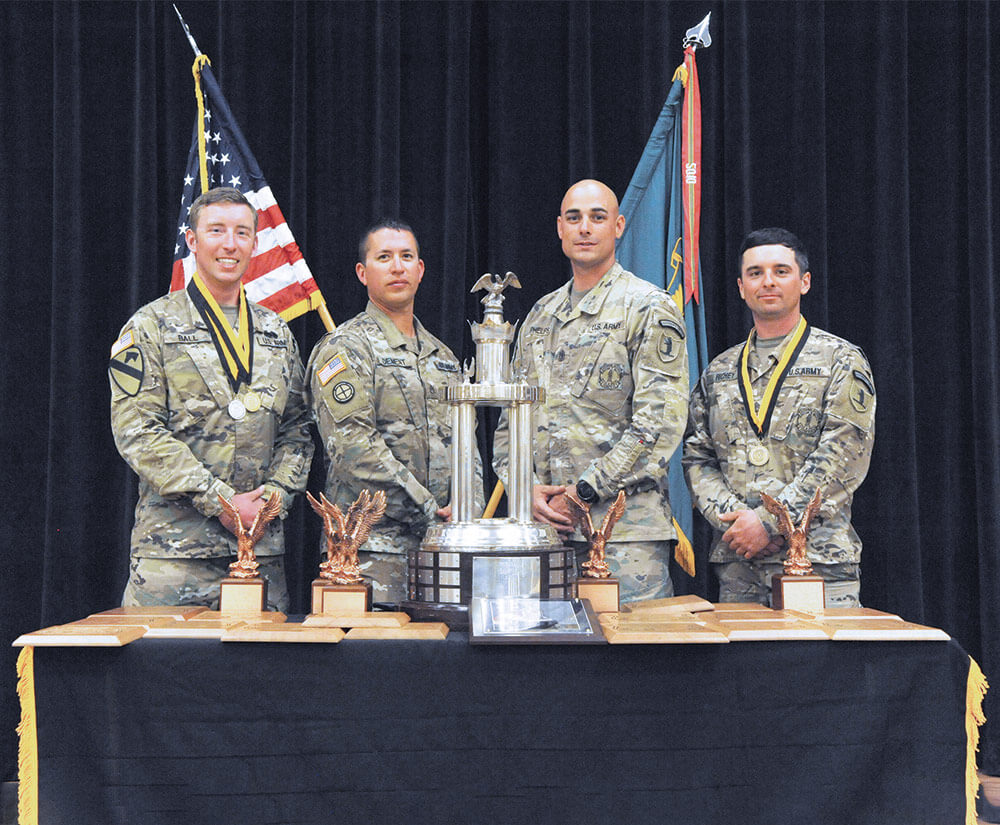 "In my mind, it's not about how we perform," 1SG Phelps explained. "Performance is important, but it's more about what we learn from the competitions to take back and use to enhance our Soldiers' abilities.
"It is my opinion that the reason why we compete is to learn the skills it takes to engage targets, then to bring that information back to the Soldiers [in our units] to make them more effective in combat," explained 1SG Phelps. "That's the bottom line of what we do. Yes, we won. It was awesome, but there's a reason why we do it."
The Soldiers also noted how the support of the NGMTC contributed to their preparedness for this event and for future competitions.
"[The benefit of NGMTC's support] really shows when we go to competitions like this. We shoot against active duty and Reserves, and pretty much clean house," said SSG Richey. "It really says a lot about the NGMTC and what they offer."
Coming off of a remarkable win at the Small Arms Championship, Missouri's team next competed in the 2018 Winston P. Wilson National Championship held in April at the NGMTC facility on Robinson Maneuver Training Center in North Little Rock, Arkansas. The NGMTC offers a host of training and competition opportunities – all with the mission of "developing and improving proficiency beyond basic marksmanship skills to increase combat survivability."
"All Guard teams owe a big thanks to the National Guard Marksmanship Training Center," said SGT Densmore. "NGMTC conducts marksmanship competitions to develop competitors into trainers who translate this knowledge and experience into training that is used back at our home stations.
"I have been blessed with the opportunity to shoot on both the All Guard International Combat Team and the All Guard Service Rifle Team," SGT Densmore continued. "My time with these teams, supported and run by the NGMTC, has set the standard for my training and led to great success for me over the last couple of years. I know without the opportunities provided through National Guard Marksmanship competitions, I would not be the shooter I am today."
Soldiers interested in attending training courses at the NGMTC or in participating in one of the training competitions, should contact the center by phone at 501-212-4420 or by email at ng.ar.ararng.mbx.ngmtc@mail.mil.
U.S. National Guard Marksmanship Training Center photos by MAJ David Stapp
BY STAFF WRITER Tatyana White-Jenkins
All Army Category Winners
Overall Individual Champions
1st Densmore, Justus, SGT, Texas ARNG
2nd Mccombs, Jeremy, SPC, Colorado ARNG
3rd Tucker, Robert, SGT, Vermont ARNG
Overall Team Champions
1st Missouri National Guard
2nd Iowa National Guard
3rd Wisconsin National Guard
Service Pistol Individual Champions
1st Tucker, Robert, SGT, Vermont ARNG
2nd Mccombs, Jeremy, SPC, Colorado ARNG
3rd Larsen, Nicholas, 1LT, USA
Service Pistol Team Champions
1st Missouri National Guard
2nd Vermont National Guard
3rd North Dakota National Guard
Service Rifle Individual Champions
1st Densmore, Justus, SGT, Texas ARNG
2nd Mccombs, Jeremy, SPC, Colorado ARNG
3rd Goldade, Tyler, SGT, North Dakota ARNG
Service Rifle Team Champions
1st Iowa National Guard
2nd Missouri National Guard
3rd Wisconsin National Guard
Multi-Gun Match Individual Champions
1st Fuentes, Rafael, SSG, USAR
2nd Brotherston, Curtis, 2LT, USAR
3rd Balsley, Brad, SSG, USA
Multi-Gun Match Team Champions
1st Arctic Warrior A-Team, USA
2nd Missouri National Guard
3rd Illinois National Guard
Top Six National Guard Teams
Missouri Team: SSG Michael Richey (ARNG), SGT David Ball (ARNG), 1SG James Phelps (ARNG), SSG Jerry Dement (ARNG)
Iowa Team: TSgt Micah Larson (ANG), SFC Paul Deugan (ARNG), SGT Karl Johnk (ARNG), SSG Tyson Fisher (ARNG)
Wisconsin Team: SGT Brandon Swanson (ARNG), SFC Jordan Cegler (ARNG), SSG Jameson Nelms (ARNG), SSgt Robert Marciniak (ANG)
Vermont Team: SGT Robert Tucker (ARNG), SrA Justin Oddy (ANG), SGT Maxim Nickerson (ARNG), SSgt Robert Marciniak (ANG)
Illinois Team: SSG Jacob Blount (ARNG), SFC Tracy Mix (ARNG), SGT Adam Mathis (ARNG), SGT Nolan Murray (ARNG)
North Dakota Team: SrA Gavin Rook (ANG), SGT Andrew Maley (ARNG), SSgt Matthew Jasper (ANG), SGT Tyler Goldade (ARNG)