Targeted at developing and challenging Soldiers, Georgia's marksmanship program is hitting the mark when it comes to continuing the spirit of excellence within the Army National Guard.
The Georgia Marksmanship Program offers Soldiers of various ranks and skill levels the opportunity to practice and develop their marksmanship abilities. Completely inactive just seven years ago, the marksmanship program was brought back to the State of Georgia thanks to SFC Jakob Raven, the State Marksmanship Coordinator and State Ammunition Manager.
SFC Raven saw the potential Georgia Soldiers had to succeed and develop within a marksmanship program, so he decided to take action. After inquiring about the State Marksmanship Coordinator position, SFC Raven spearheaded the resurgence of the Georgia Marksmanship Program.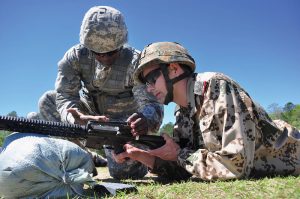 "Our State had the talent sitting in its Soldiers," SFC Raven said in an interview with SSG Jeremiah Runser from the National Guard Marksmanship Training Center. "It was just giving Soldiers the platform so that they could show their talents."
While every State in the Nation has the capability to have a marksmanship team, not all of them have a program dedicated to marksmanship. After leading the resurgence of Georgia's program, which has regional relationships with the Tennessee Guard, the South Carolina Guard and the Florida Guard, SFC Raven had the opportunity to help other states start one.
"Participants in the program are members of the Army National Guard, Air National Guard and Active Army," SFC Raven said. "Regardless of rank or skills, they can participate. All Soldiers learn from it, and we don't want them to be afraid."
Fundamental marksmanship is a skill every Soldier needs to master. In Georgia's marksmanship program, Soldiers develop these vital skills by participating in competitions that provide hands-on training in real-life scenarios.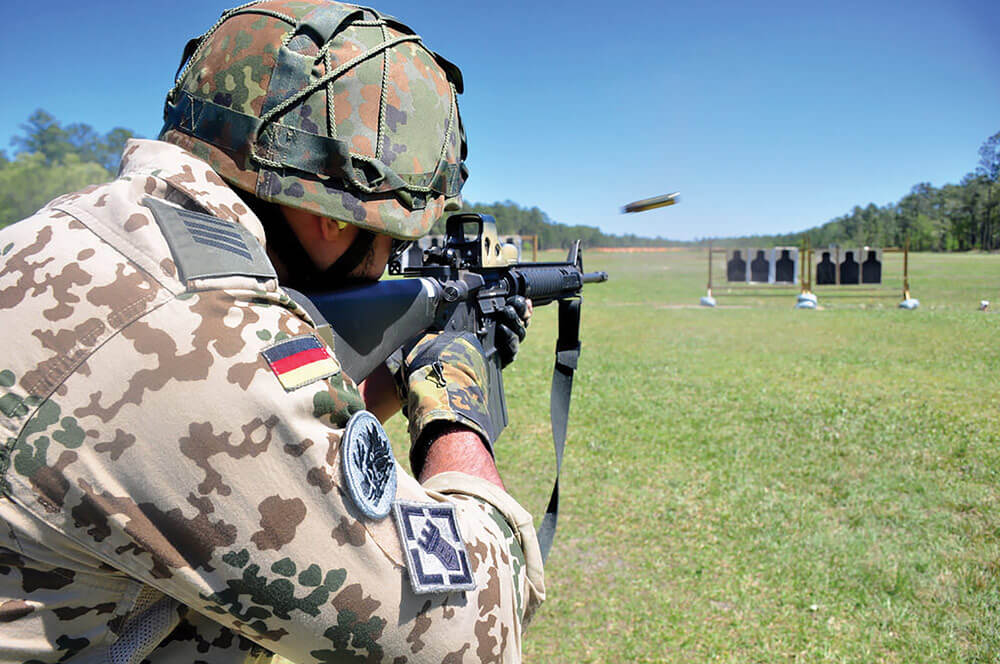 "We have several competitions throughout the year, ranging from small arms to sniper," SFC Raven continued. "We provide everything for Soldiers to compete. We want it to be fun with more advanced techniques being taught. Our last competition was about stamina. We trained all day."
One of the major competitions in Georgia's program is the Andrew Sullens Marksmanship Competition. The competition is in its fourth year and is held at Fort Stewart, Ga. The 2017 competition brought together participants from the Army and Air National Guard, along with Soldiers from German Armed Forces Command and German law enforcement.
The competition is named after SPC Andrew Sullens (Ret.), a former Soldier in the Georgia Guard who was wounded in Afghanistan in 2009. Although he is retired, he continues his service by dedicating his time to training Soldiers in marksmanship. Sullens assists in many aspects of the competition, from helping set up targets to mentoring shooters one on one. This year, he competed with other Soldiers in the pistol anti-body armor phase. Knowing the importance of marksmanship and the training it takes, Sullens actively shared his knowledge and experiences with the other competitors.
For this year's competition, Soldiers competed in several events, including anti-body armor, reflexive fire and an excellence in competition qualification. Their skills were put to the test in realistic scenarios and conditions. Soldiers competed to have the honor of wearing the Georgia Governor's Twenty Tab that signifies subject matter expertise in marksmanship excellence. This year, Soldiers also competed for the German Armed Forces Badge for Weapons Proficiency, which is the equivalent to the U.S. military's rifle and pistol qualification.
A central goal for the marksmanship program is for Soldiers to gain something new with each competition.
"Going through the competitions, you learn something every match," SFC Phillip Keeter, Team Leader, said.
The National Guard Marksmanship Training Center is dedicated to the National Guard's marksmanship school and competition programs. Located in North Little Rock, Ark., the Training Center serves all 54 States and Territories within the Army and Air National Guard. It provides service members the opportunity to learn advanced level marksmanship skills through training and programs that help develop their skills and confidence in the field. Georgia took full advantage of the resources available at the Training Center.
The Training Center also hosts a series of its own competitions that serve to test and promote marksmanship training. One such competition is the Winston P. Wilson Small Arms Championship at the Robinson Maneuver Training Center in North Little Rock. Over 300 Army and Air National Guard marksmen from 47 States and Territories competed in the 46th annual competition this year, including Soldiers from Georgia's Marksmanship Team.
With individual and team matches, this competition tests a full range of shooting skills. For a team to win, members must excel in skills across the entire spectrum of 11 events. The events develop new and experienced competitors in advanced marksmanship and focus on combat scenarios like close-quarter battle, combat pistol barricade, dueling trees and reflexive fire.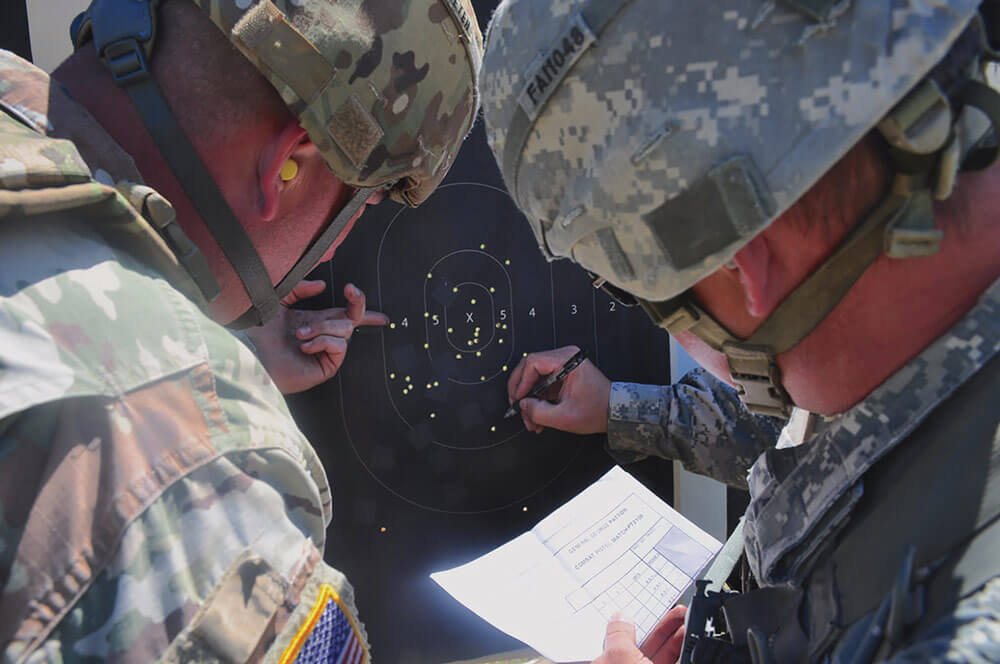 Other competitions held each year at the Training Center include a sniper competition, a light machine gun match, the Armed Forces Skills at Arms Meeting and the Chief National Guard Bureau Postal Match. With these competitions, Soldiers have the opportunity to gain knowledge and build beneficial relationships with the other participants.
"Some of these guys that are leaving here are PFCs and E-4s. That's the future," SFC Raven said. "The new NCOs are going to take the knowledge they acquired here, the camaraderie and the contacts from other States, and they're going to go back and spread the word to other people. Hopefully, when they pick up NCO, they'll take what they learned, the good tactics and techniques, and use it to help run a team properly."
Along with providing the opportunity to compete, Georgia's marksmanship program assists Soldiers in other ways.
"Our team can also assist with unit weapons qualification and range operations," SFC Raven said. "We have a small arms clinic that includes RSO certification."
Georgia's program also offers an NCO induction course for Soldiers who are looking for further development opportunities.
"This course is for E4 Specialists who are promotable," SFC Raven said. "It teaches range operation, day and night land navigation, how to properly track matrix and how to diagnose marksmanship deficiencies."
While it is still developing, Georgia's marksmanship program is on target for steady growth and success.
"We're definitely not to the level of the States that have full-time teams, but we're well on our way to becoming as good as those States," SFC Raven said. "We're going to continue to develop, and I'm pretty sure that you'll eventually see Georgia up on top."
For more information about the marksmanship program in your State, call the National Guard Marksmanship Training Center at 501-212-4420 or email at ng.ar.ararng.mbx.ngmtc@mail.mil.
By Staff Writer Tatyana White-Jenkins