For the past 60 years, women have been making their mark as service members in the Army National Guard. Highlighted below are milestone moments and trailblazing women who have helped shape the history of female Soldiers in the Army National Guard.

1956
President Dwight D. Eisenhower signs a bill allowing women to join the National Guard as officers in the medical field.
1957
LT Sylvia Marie St. Charles joins the Alabama National Guard's 109th Evacuation Hospital, becoming the first woman to join the Army National Guard.
1960
Four years after the Army National Guard opens the force to women, 56 female medical officers are serving as National Guard members.
1967
Women are authorized to join the enlisted ranks of the National Guard. The Guard is now open to female officers and enlisted personnel. According to the National Guard Bureau, women find themselves in combat situations despite being classified as filling combat support positions.
1973
After the Army opens flight training school to women, CW3 Diane Dowd of the 143rd Aviation Company, Connecticut Army National Guard, becomes the first female Army National Guard aviator.
1978
Female membership in the Army National Guard has grown from 56 to 13,353 – that equates to a growth rate of approximately 23,700 percent.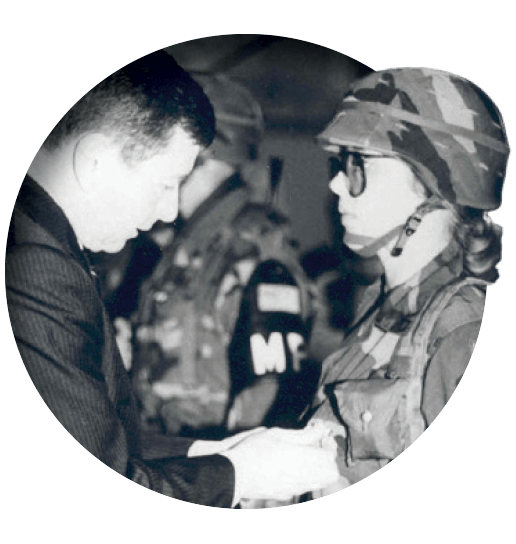 1989
While on a training mission in Panama, PFC Charla Shull of the 1138th Military Police Company, Missouri Army National Guard, becomes the first female National Guard Soldier to come under enemy fire. She goes on to serve in Operation Desert Storm.
1990
During the Gulf War, hundreds of female National Guard members are deployed to Saudi Arabia to support the allied effort to remove Iraqi troops from Kuwait. Of the 34 Guard members who make the ultimate sacrifice during that war, eight are women.
1991
Sharon Vander Zyl of the Wisconsin Army National Guard becomes the Army National Guard's first female flag officer when she is promoted to Brigadier General.

1997
MG Martha T. Rainville becomes the first woman in the 360-year existence of the National Guard to serve as a State Adjutant General. She commanded 3,800 members of the Vermont Army and Air National Guard.

2005
After performing heroic actions in Iraq, SGT Leigh Anne Hester of the 617th Military Police Company, Kentucky Army National Guard, becomes the first female Army National Guard Soldier to be cited for valor in close quarters combat.
2016
Following an announcement by Defense Secretary Ash Carter, all military occupations and positions are open to women. For the first time in history, female Soldiers serve with no restrictions on rank or MOS.
2LT Katrina Simpson of the New Hampshire Army National Guard becomes the first female National Guard officer to graduate from the Infantry Basic Officer Leader Course at Fort Benning, Ga.

2017
CPT Samantha Domingue of the Washington National Guard becomes the Army's first cavalry-qualified female commander to take charge of a troop.
By Staff Writer Tatyana White-Jenkins