Suicide continues to be a significant issue nationally and in the military. The Army National Guard has taken substantial steps to educate Soldiers about the resources available for help and counseling. As part of this same initiative, the Guard is also working to educate Soldiers on the importance of connecting with fellow Guard members, on a personal level, in hopes that they might be able to identify and help a friend or colleague in need.
"I really wish more people would take this training," said SPC Cierra Murphy of the 35th Infantry Division. "It is very beneficial. The trainers were awesome. It wasn't 'death by PowerPoint'. It was very engaging and provided [applicable information]."
Recognizing that the people often most able to identify individuals presenting suicidal behavior are the Soldiers who work along side them, the Army National Guard is offering Soldiers Applied Suicide Intervention Skills Training (ASIST). A two-day interactive workshop in suicide first aid, ASIST teaches advanced techniques to understand, identify and connect with people who may be at risk for suicide in both military and civilian situations. The course objectives include teaching Soldiers how to recognize suicidal behavior, safely intervene and then create a support plan to help guard the safety of the individual.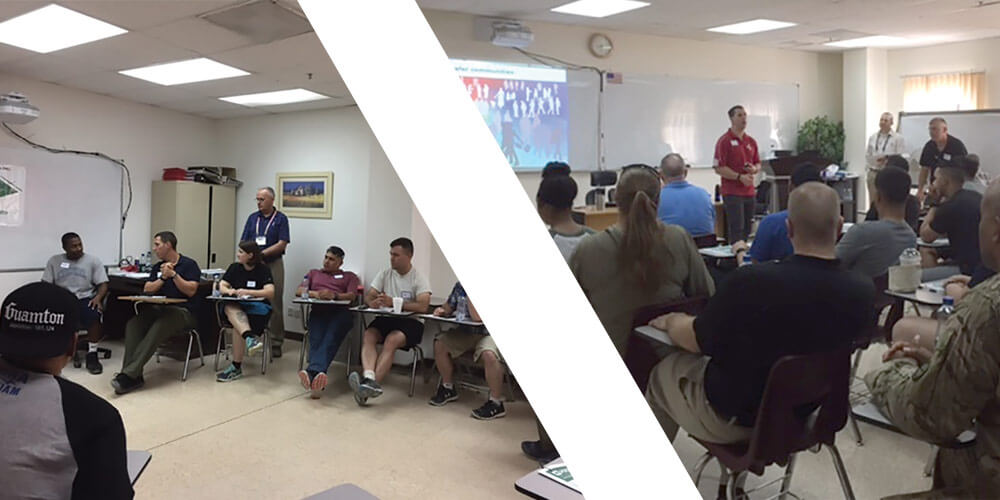 Much like CPR, while ASIST is widely used by healthcare providers, formal medical or mental health training is not required to learn and use the ASIST model. Anyone 16 or older can attend the workshop.
In September 2017, Chaplains from the Kansas Army National Guard – Chaplain MAJ Richard Dunn of the 35th Infantry Division and Chaplain CPT Ronald Marshall, Army Central Command Operations Chaplain – held an ASIST workshop while deployed to Camp Arifjan, Kuwait. More than 25 Soldiers from the 35th Infantry Division attended the two-day training.
During the course, each participant shared his or her personal thoughts and beliefs about suicide. The goal of these discussions was to help Guard members understand the ways in which personal and societal attitudes can affect a person's view on suicide and the importance of intervention. Soldiers then learned how to detect the numerous warning signs for suicide. They were taught to pick up on small and seemingly insignificant acts that can in fact be signs of suicidal thoughts. Soldiers also participated in role-playing exercises to learn how to safely provide guidance after identifying an at-risk individual. By the end of the course, Soldiers walked away prepared to identify and help fellow Soldiers who may be struggling with thoughts of suicide.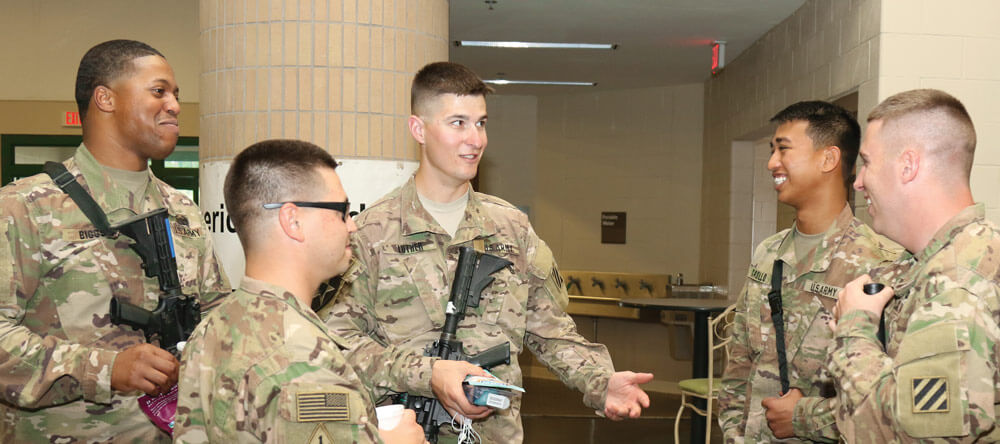 "The skills we learned were very useful and helpful," said SFC Durant Whitlow of the 35th Infantry Division. "It was really great to learn and understand how to assist [those in need]."
In a U.S. Army study that surveyed personnel who had ASIST training, 96 percent agreed that the training should be given to all members of the military who interact closely with Soldiers. The same study also reported significant increases in the likelihood of Army personnel to intervene when encountering an at-risk individual after participating in an ASIST workshop. While the fear of making a mistake during the intervention phase is common, the ultimate goal of ASIST is to empower Soldiers to feel confident and informed during a real-life intervention.
For more information
about the Army National Guard's Suicide Prevention Program or to register for an ASIST workshop, contact your State's Chaplain Office.
If you think you know of someone who may be experiencing suicidal thoughts, or if you have been struggling with thoughts of suicide, call 1-800-273-TALK (8255)
Counselors are available to help 24 hours a day, seven days a week.
By Staff Writer Tatyana White-Jenkins