More than three centuries ago, American farmers set aside their plows to defend their homes and communities. Today, a Missouri farmer continues the National Guard's oldest tradition while protecting his State and Nation from 21st century threats.
SPC Taylen Winchell of Lamar, an intelligence analyst with the 35th Infantry Division at Jefferson Barracks in St. Louis, was awarded the Joint Service Achievement Medal on April 6.
SPC Winchell was recently selected to serve on a temporary active duty assignment at Jefferson Barracks to support the Missouri Army National Guard's Federated Intelligence Program (FIP) with the U.S. Transportation Command, a Department of Defense combatant command headquartered at Scott Air Force Base, Illinois.
The FIP provides Army National Guard Soldiers with the opportunity to provide real-world support to commands. All 54 States and Territories are eligible to participate in the program.
"We have Soldiers throughout the National Guard enhancing the mission of combatant commands while facilitating training through our Federated Intelligence Program," said COL Paul Hessling, the intelligence liaison officer with the National Guard Bureau. "It takes innovative solutions like this to meet today's challenges. SPC Winchell is a great example of this."
In addition to his National Guard service, SPC Winchell helps operate his family's cattle operation in southwest Missouri, which has been a lifelong passion. He said joining the Guard is a family tradition; his dad retired from the Missouri Army National Guard in the early 1990s.
"We're fourth-generation farmers," SPC Winchell said. "It's more of a ranching operation now. We run cattle and maintain the land. We had dairy cows and now focus on beef."
He is committed to the farming lifestyle and supporting his family business, but saw the Guard as an opportunity to do more.
"I joined to better myself and experience new things," SPC Winchell said. "I've always liked analyzing stuff and enjoy working with computers. I've been able to use my computer skills more than I anticipated when I joined."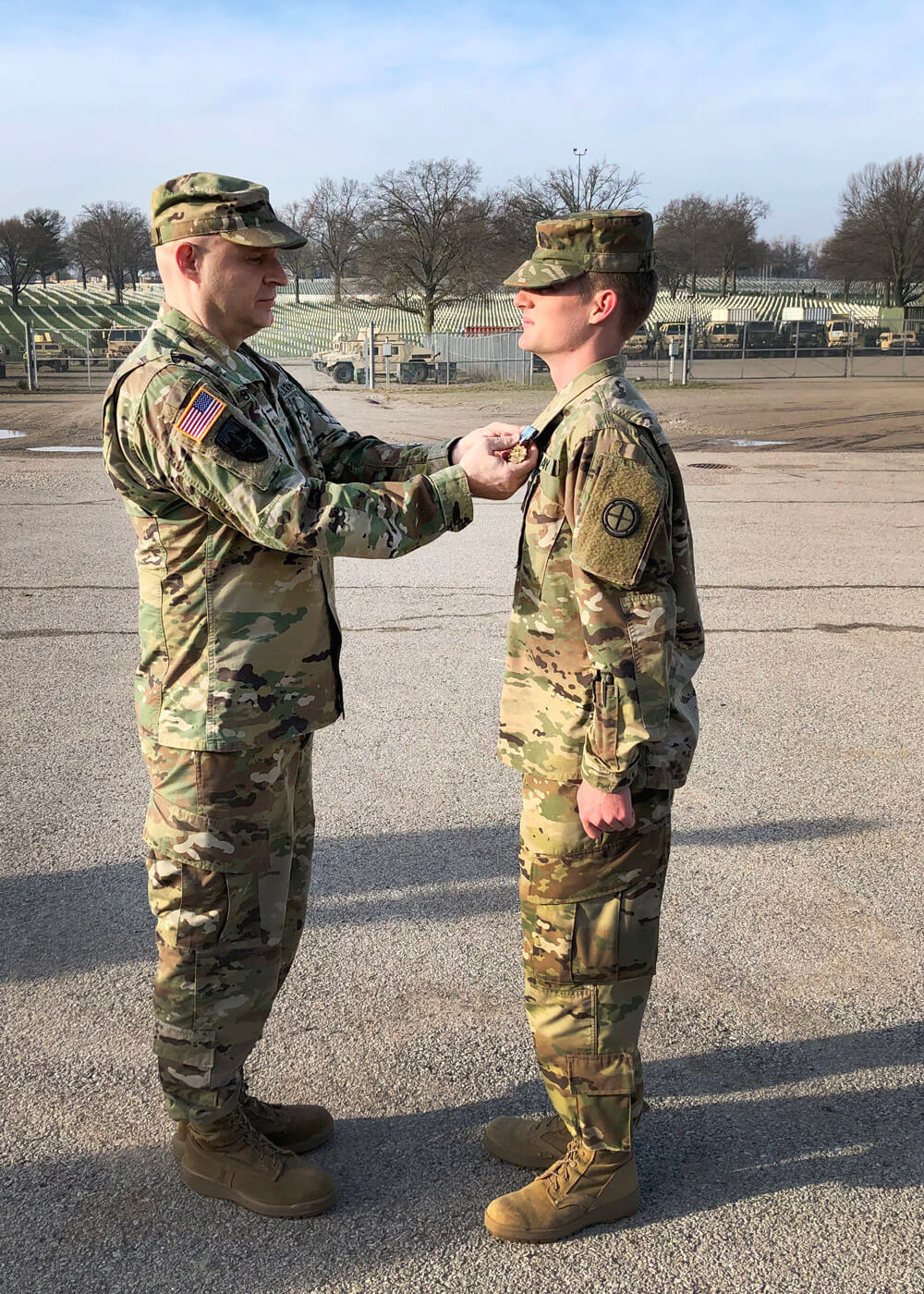 His computer skills and thinking outside-the-box is what brought SPC Winchell's unique talent to his leadership's attention. While thinking about ways to improve his workflow, he wrote a program to automate routine tasks. The specialist's supervision took a look and realized the potential. Pretty soon, his ideas were being distributed to other Soldiers and States.
SPC Winchell developed an application called ADAMS, a coded database that reduced execution time from one hour to 15 minutes. This new standardization has reportedly saved the command hundreds of hours in personnel and $50,000 in labor costs.
"I was just doing my job," SPC Winchell said, not expecting to be formally recognized for his work.
His work was recognized—and through a unique medal not typically awarded to National Guard Soldiers, particularly at the State level.
According to DoD documents, the Joint Service Achievement Medal may be awarded in the name of the Secretary of Defense to service members who make exceptional achievements or perform commendable service while assigned to a joint duty activity. The success or service cannot have been otherwise recognized through a military department medal, such as an Army Commendation Medal.
SPC Winchell, a junior enlisted Soldier with about four years of service, is still looking at long-term career options, but ultimately expects to complete a career as a drilling Guard member while helping run the family farm.
"I like the camaraderie of the Intel community; we're able to solve problems on a different level," SPC Winchell said. "But I'll probably be a farmer all my life as well."
BY CPT Phil Fountain, Missouri National Guard