From Finance to the Field
After designation as Focused Readiness Units (FRU), the New Jersey Army National Guard's 250th and 350th Financial Management Support Detachments replaced their traditional annual training at Fort McCoy, Wisconsin, with a dynamic mobilization exercise (MOBEX) at Joint Base McGuire-Dix-Lakehurst, New Jersey, in the summer of 2018.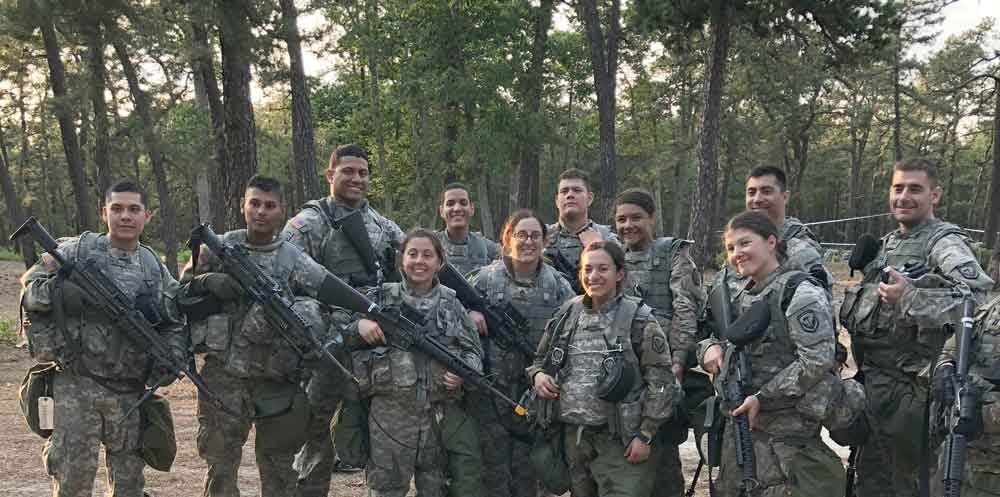 In 2017, the 250th and 350th were notified that they would be identified as FRUs—units required to maintain a higher readiness level and status and, when called upon, must be ready to mobilize and deploy quickly. FRUs are tasked with rapid response to real-world domestic and overseas operations, thus enhancing the Army's ability to respond to national security threats. 
To ensure the newly designated FRUs were prepared to meet their added responsibilities, the Army proposed a two-week MOBEX at Joint Base McGuire-Dix-Lakehurst, commonly referred to as Fort Dix. The MOBEX would be a comprehensive training event focusing on the lethality and survivability of the two FRU finance detachments.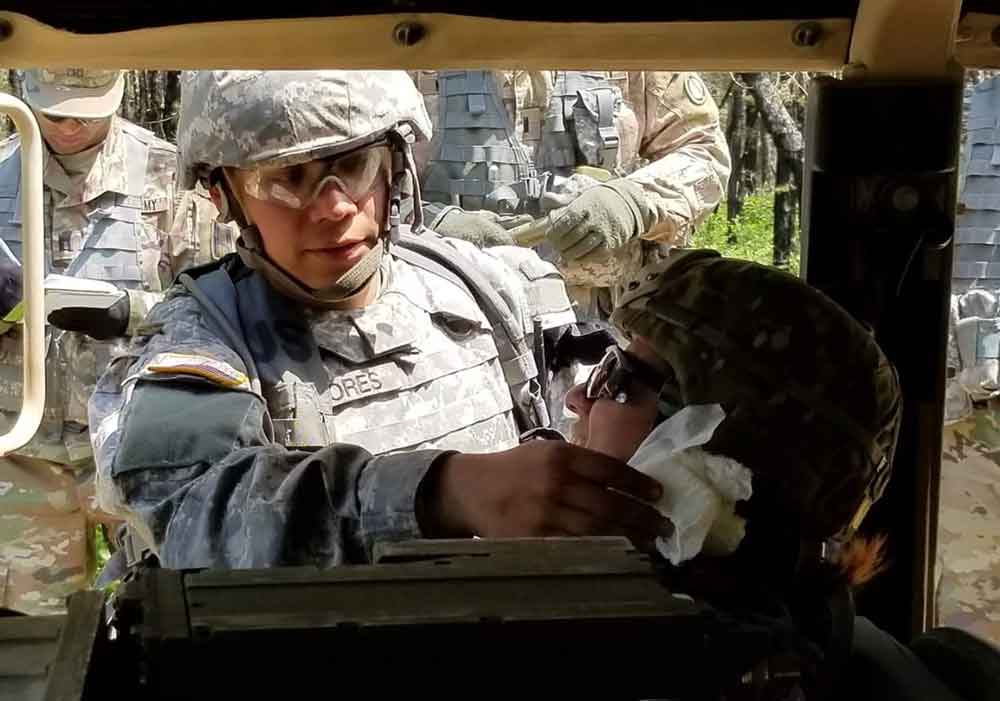 For annual training, New Jersey's finance units usually travel to Fort McCoy to participate in Diamond Saber, a joint training exercise focused on individual and collective finance skills. But with their new FRU label and its associated responsibilities, MAJ Douglas Coppola, commander of the 50th Financial Management Support Unit—commanding unit for the 250th and 350th—saw the mobilization exercise as a more suitable exercise to meet detachments' new needs. According to MAJ Coppola, it was a difficult, but necessary decision. 
"We've always done the cantonment finance operations and now I'm asking my Soldiers in my unit to go out into the field with no tents, no electricity, no power, no nothing and just survive in the field at Fort Dix to prepare us for I don't know what," MAJ Coppola said. "It was a tough pill to swallow for myself and for the unit."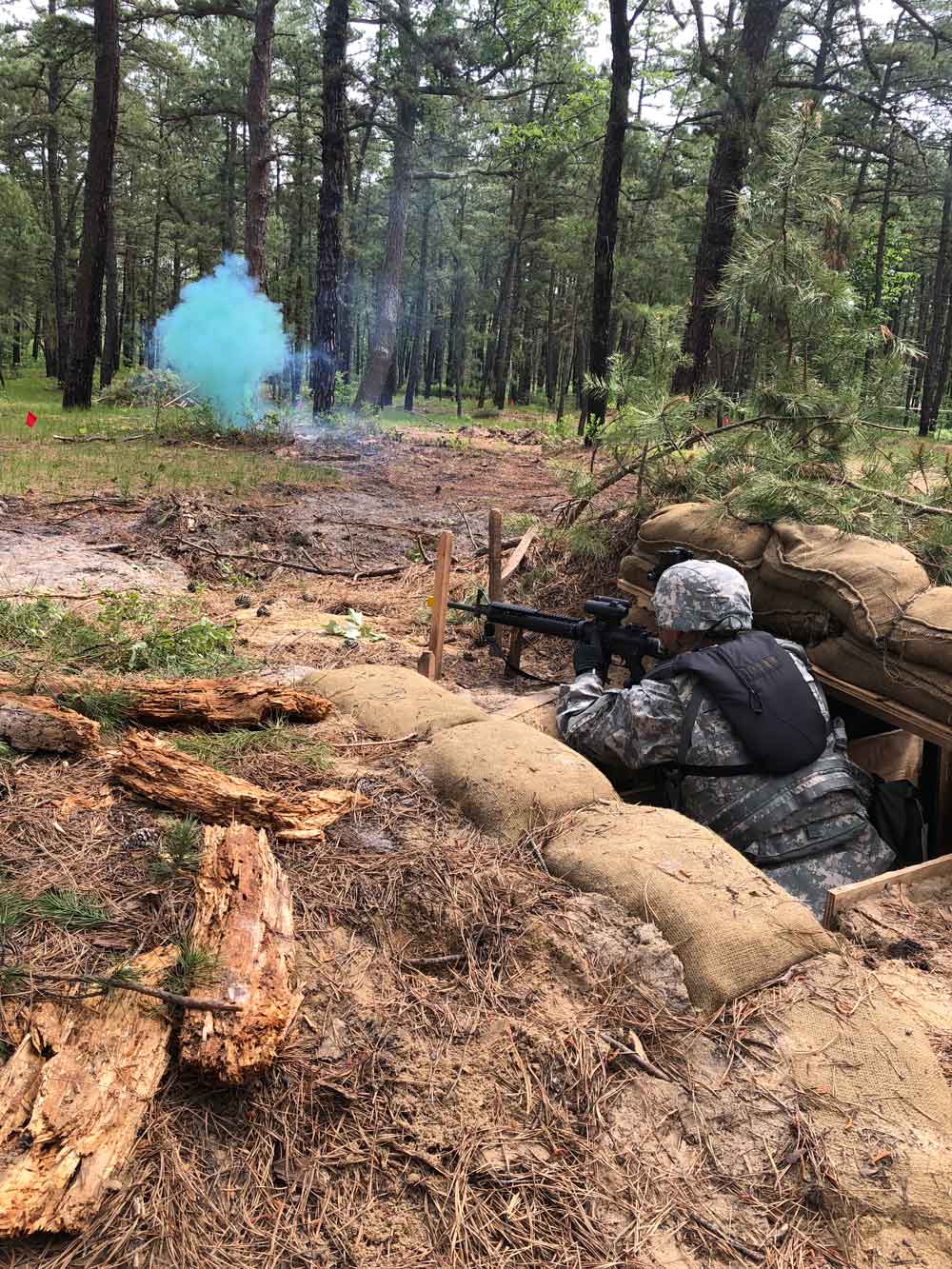 The MOBEX was evaluated by the 174th Infantry Brigade, a multicomponent training unit headquartered in New Jersey that provides operational training readiness for units in the continental northeast. From January to May of 2018, the New Jersey National Guard partnered with the 174th to plan the extensive MOBEX. 
The exercise focused on operations in an austere environment, employing Soldier fundamentals and Army initiatives. 
"It's the shoot, move and communicate," explained MAJ Coppola. "But the Army said it's not only shoot, move and communicate, you have to decontaminate, medicate, sustain and retain." 
The MOBEX proved to be a win-win for all involved, as it allowed the finance units to gain insightful training while also acting as an assessment of what Fort Dix could offer.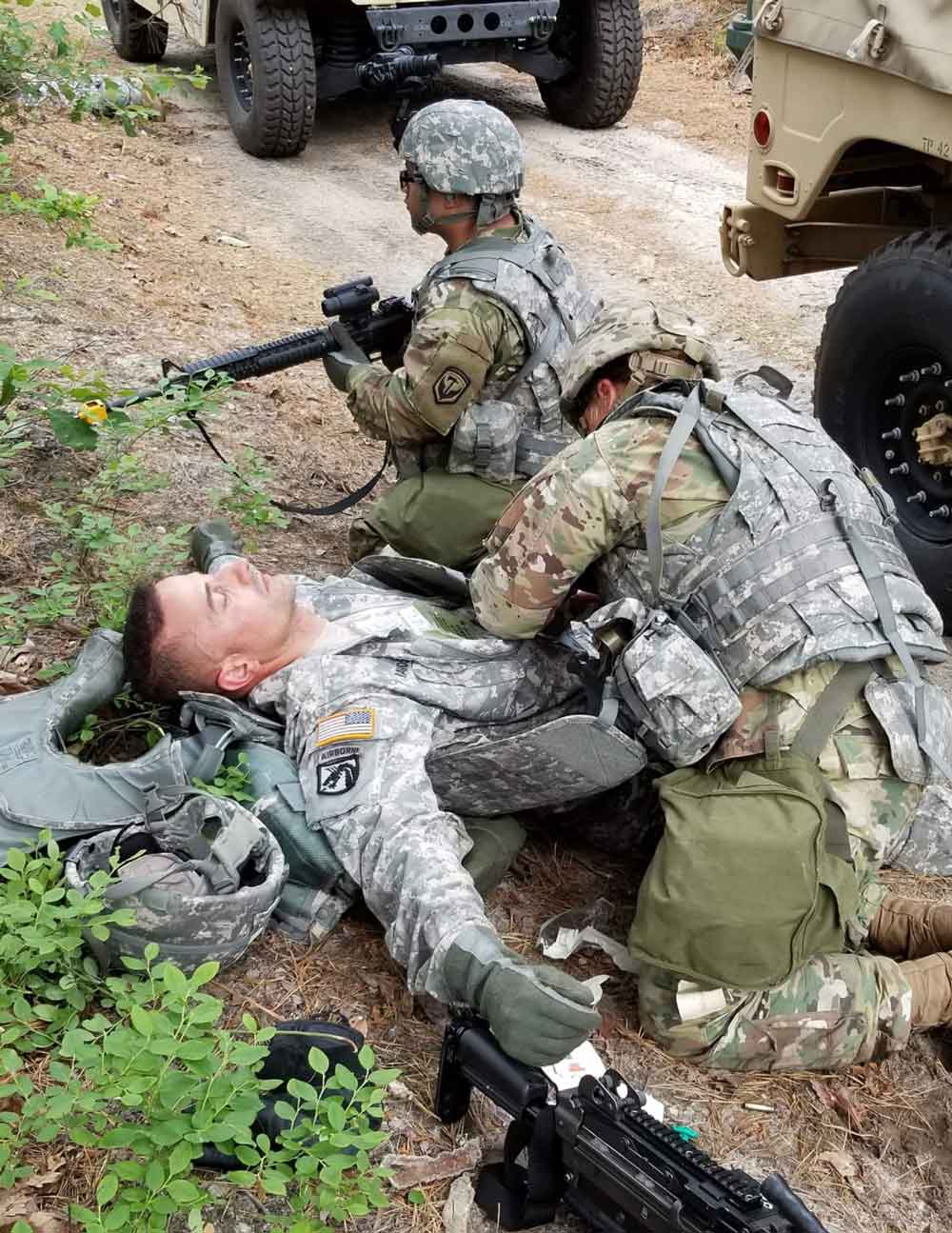 "This was a test pilot to determine whether or not a mobilization could be facilitated at Fort Dix," MAJ Coppola said. "We were ideal. We were small companies located right here at Fort Dix. It was a win-win for New Jersey because we got some very 'hooah hooah' training and that's something we haven't done since I've been in finance and I've been in finance for 15 years." 
The MOBEX consisted of a Soldier Readiness Program, a records review, a gear showdown and gear withdrawal, individual weapons qualifications, convoy operations and a live-fire exercise. 
"The training that our Soldiers [underwent] was the most unique they've ever experienced," said 1LT Michael Daly of the 50th Financial Management Support Unit. "It was [in line] with the Army's initiatives of survivability and lethality. It put into perspective how quick the timeline would be in a deployment type of environment." 
Approximately 40 Soldiers from the 250th and 350th participated in the unexpected and challenging MOBEX. 
"Going from a National Guard status to full-on mobilization status in two weeks was intense, mentally and physically," SSG Jonathan Cohen of the 250th Financial Management Detachment said. "I believe that our Soldiers, including myself, were not sure how to prepare for that. It was tough going from zero to 100 so quickly."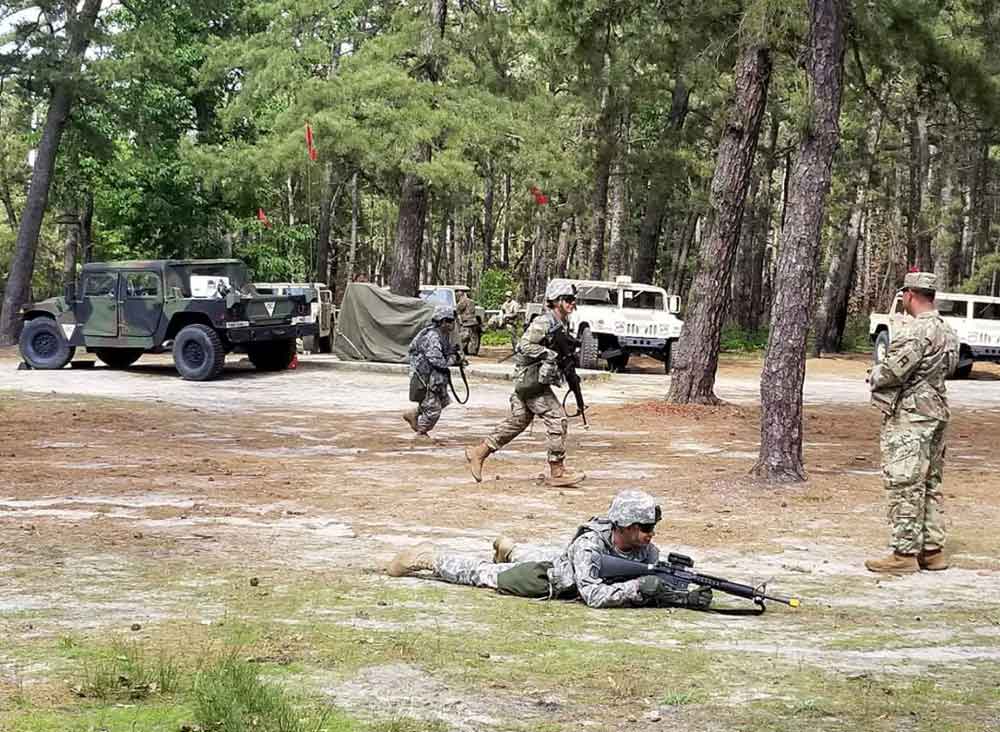 As Soldiers accustomed to reviewing contracts, assisting with military pay operations and conducting other aspects of financial management, the MOBEX placed Soldiers out of their comfort zone and required them to go back to the basics. 
"When you haven't done something for a long time, you kind of don't know what you don't know," explained LTC Ed Dowgin, deputy commanding officer of the 42nd Regional Support Group, New Jersey Army National Guard and one of the planners of the New Jersey finance units' MOBEX. "Soldiers had to get back into the frame of mind of living in the field environment and conducting basic soldiering skills. When you don't do those little things for some time, it can become problematic for you." 
While the MOBEX may have presented challenges for the Soldiers, the chance to participate in the vigorous training was an incredible learning opportunity. 
"You're talking about finance Soldiers that are typically not in austere environments and all of a sudden being thrust into basic soldiering skills," said LTC Dowgin. "They learned a lot of things that they could do better, but they did a very good job. They'll carry those lessons learned going forward and they'll continually get better and more efficient." 
The challenges of the exercise allowed the Soldiers to hone-in on their strengths and build camaraderie amongst the unit. 
"The morale didn't break," MAJ Coppola said. "I think the most rewarding thing was how motivated [the Soldiers] were throughout the MOBEX." 
"It comes down to the old adage of 'embrace the suck'," SSG Cohen added. "We came together as a unit. As difficult and challenging as it was, it allowed us to lean on each other to work as a team. Through that teamwork, we were able to overcome every obstacle that came before us."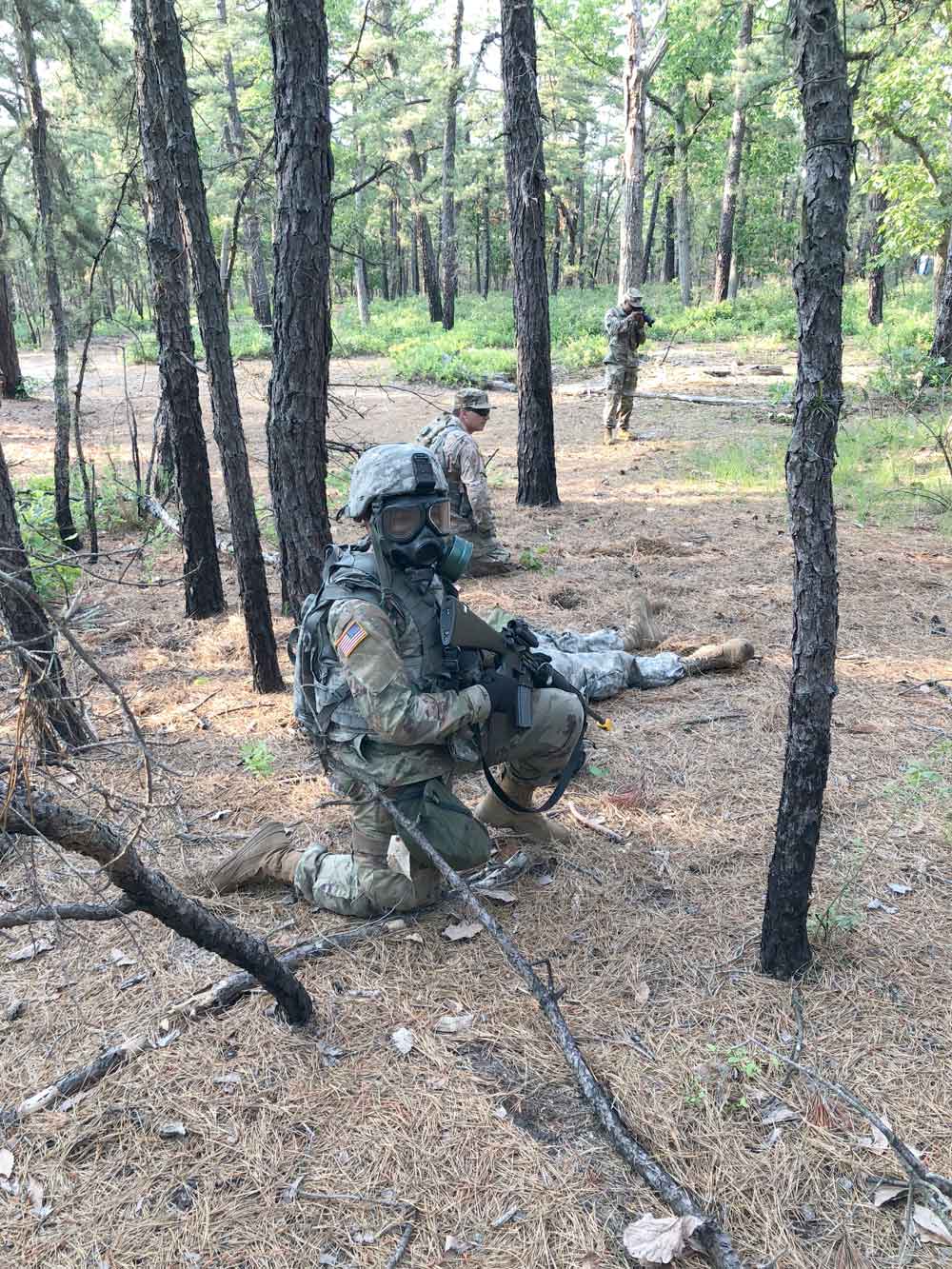 For SSG Cohen, the challenges were the highlight of the MOBEX. "That was my favorite part of the exercise," he said. "We are a support unit so we don't exercise a lot on infantry tasks. Getting back into this field, going back to the range, sleeping outside, going back to the basic training mentality was difficult and challenging, but a lot of fun. We got to experience things we don't normally do on a drill weekend." 
SSG Cohen went on to describe one particular phase of the MOBEX that required the Soldiers to use their new, yet growing, infantry skills—the Base Defense exercise.
"We had to dig holes and our commander had to strategize on where to place us and how we were going to repel an enemy attack. We did it in multiple stages: crawl, walk and run. And we did both night and daylight. It was very interesting to experience something that we hadn't done before." 
Another event was the convoy operation, which required Soldiers to utilize their skills in a collaborative fashion. 
"It actually allows multiple Soldiers to participate," 1LT Daly said. "We had Soldiers that were acting as drivers, that were talking on the radios. We had a convoy commander so the entire detachment as a whole had to be involved. When they would add an aspect of injuries and casualties, everyone had to participate in order for the whole group to be successful." 
SPC Vanessa Mendoza of the 350th Financial Management Detachment noted how the new experience showcased the unit's ability to rise to the occasion and work together to get the job done.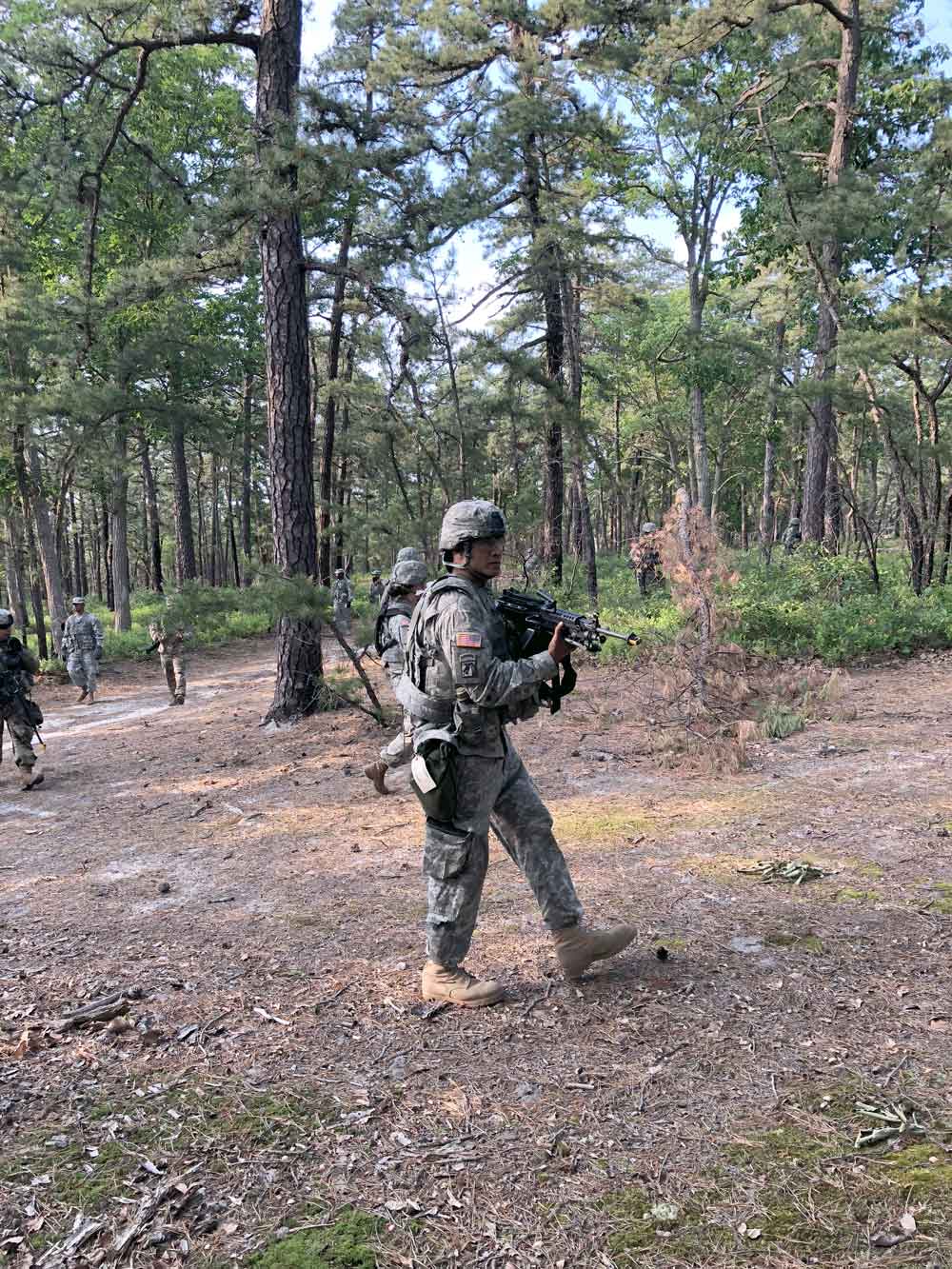 "I was one of the drivers and we had to wear the gas mask at one point," SPC Mendoza said. "I've never done that before so that was a pretty nice experience. We had an outline of what was going to happen [during the MOBEX], but we didn't know exactly what to expect." 
She continued, "It was a nice experience because we learned our weaknesses and strengths as a unit. Communication was key and one of our strengths was working together. From our senior leaders to the lower enlisted, we were all there helping each other out and that was amazing." 
The MOBEX proved especially useful in that it not only prepared the Soldiers on a physical and tactical level, but it also alleviated some of their concerns related to the "unknown" factor that comes with deploying for the first time.
"A lot of us have never deployed before so we really didn't know what a MOBEX was," SPC Mendoza said. "Now that we've had this experience, we have knowledge of what to expect. It was great training for us." 
MAJ Coppola noted the importance of all Soldiers, regardless of military occupational specialty, getting the training that will keep them prepared to join the fight, ready and able to win. 
"I think every unit, not only finance, should have the opportunity to really get back to the roots and understand what it's like if power goes down or if there's no electricity," said MAJ Coppola. "How are you going to operate? What are you going to do if you are dropped in the middle of the field and you're being overrun? Are you going to be able to survive?" 
Soldiers of the 250th and 350th had an opportunity to answer those questions. The MOBEX prepared the units for what their duties as FRUs may entail and gave them a stage to prove themselves as lethal and deployable Soldiers. 
"Finance Soldiers aren't necessarily seen as door kickers or as the tip of the spear," said LTC Dowgin. "They're typically in an office environment processing pay vouchers and such. For them to be able to do a typical infantry-type exercise and perform it just as well, if not better than some of their counterparts, was a true success story for the finance Soldiers."
By Staff Writer Tatyana White-Jenkins
Photos courtesy New Jersey Army National Guard