Remembering PFC Emmanuel Mensah
One of the tenets of being in the American military is that no one gets left behind on the battlefield. PFC Emmanuel Mensah brought that commitment into his civilian life when he died while saving others from what has been reported as the deadliest fire in New York City since 9/11.
PFC Mensah was enjoying the holiday season prior to reporting for his first drill duty with the 107th Military Police (MP) Company, New York Army National Guard. Up to that point, he had been assigned to Alpha Company of the New York Army National Guard's Recruiting and Retention Battalion. He had just finished basic training and was preparing to become one of the 107th's newest wheeled vehicle mechanics.
On Dec. 28, 2017, PFC Mensah was suddenly confronted with a terrible choice. He could save his own life and a chance at the future he had worked so hard for; or put it all at risk to help those left behind in the raging fire that was enveloping his apartment building.
He chose the latter. At least four people are alive today in the Bronx, N.Y., because of PFC Mensah's decision. Detectives of the New York City 48th Police Precinct said the Soldier re-entered the fire at least three times to pull people from the inferno. The firefighters who found PFC Mensah on a neighbor's floor presumed he had gone into the fire one last time to try to rescue more victims.
The fire was started by an accident involving a gas stove in the kitchen of one of the building's apartments. The family living in the apartment where the fire ignited escaped, but the door was not shut behind them. That may be why the flames spread with such speed, investigators believe.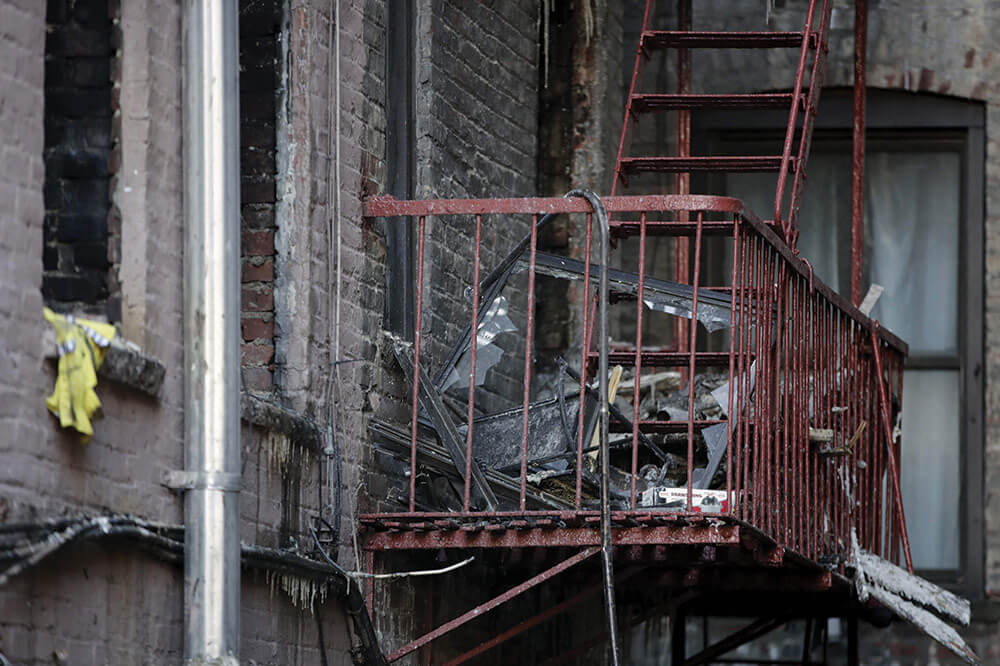 "It's a sad thing to see happen. He only had a brief time in his [military] career," said PFC Mensah's recruiter, SSG Ruben Martinez-Ortiz, Alpha Company, Recruiting and Retention Battalion. "It's hard when it's somebody that barely had any time in service, and yet they [still] go out in such a heroic way."
The staff sergeant recalled noticing that PFC Mensah stood out among other recruits from his first day in basic training. PFC Mensah addressed him as Sir from the beginning and usually did it from a position of parade rest, he recalled.
"He was professional with me at all times," SSG Martinez-Ortiz remembered. He always had the discipline from the very beginning. One could say he was a natural fit. He wanted to serve."
According to his friend and co-worker, retired SSG William Torres, PFC Mensah was already a hard worker even before joining the Army National Guard, and would work early shifts at La Guardia Airport in New York City.
"His job was to – at 4:00 in the morning – give out the radios and [other] equipment to the crew chiefs going out on the field," Torres said of his friend. "He was like a supply clerk. He ran the supply room."
Torres, who retired after 28 years of service in the Army National Guard, has been with American Airlines at La Guardia Airport for 22 years. He recognized the potential he saw in the hardworking younger man and encouraged PFC Mensah to look into the Army National Guard for opportunities.
"When I first met him, he was wearing a coat that had Marines on it," Torres recalled "I asked, 'You're in the Marines?' He said, 'No, no. I bought this jacket at a military surplus store.' That's how we started talking. I convinced him to join the Army National Guard instead of the Marines because they have more units here in New York."
PFC Mensah was an immigrant from Ghana. According to Torres, he truly valued the opportunities his new home offered, and when he learned more about the opportunities the Army National Guard could offer, he saw a real path to success.
"He was very excited when I got him the position in the 107th MP," SSG Martinez-Ortiz said. "He was so motivated. I remember the day he took the oath. He was excited. His life was about to change and he was ready to [embrace] the changes."
As a recruit, PFC Mensah did well in the Recruit Sustainment Program (RSP). SSG Martinez-Ortiz noted that he was a quick learner who was often a little ahead of the others in his group. Displaying traits that may have blossomed into the makings of a future leader, PFC Mensah did his best to help fellow recruits keep from falling behind.
"He was already a person that was willing to help people out," SSG Martinez-Ortiz said of PFC Mensah.  "He already had the mindset that he wanted to help people." The staff sergeant said that PFC Mensah had helped fellow recruits with their workouts, and later had helped a Soldier with the same MOS.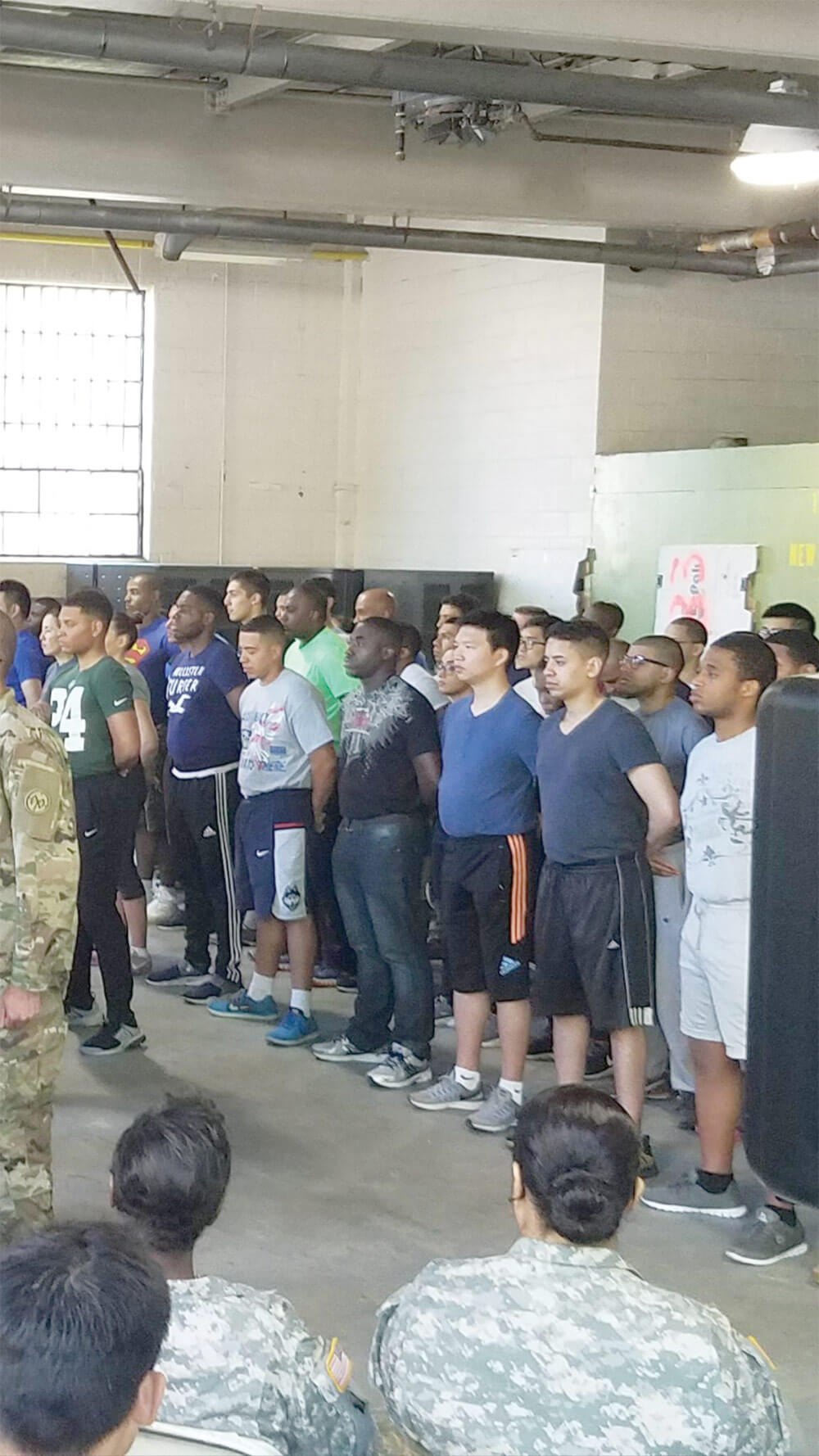 91B was just a first step for PFC Mensah. He wanted to be in law enforcement, his recruiter said. However, the immigrant Soldier could not get clearance to become an MP until he obtained his U.S. citizenship. With his enlistment, he was on track for making that happen. SSG Martinez-Ortiz noted that with his placement in the MP unit, PFC Mensah would have been well positioned to pursue law enforcement once he obtained citizenship here in the United States.
The life of a Soldier looked to be a good fit for this driven and dedicated young man. He was already regimented, respectful and in great physical shape, according to friends. With all the Army National Guard has to offer – education, on-the-job training and potential citizenship – the future looked bright for PFC Mensah. He seemed to have found his path.
"It was in his heart," SSG Torres recalled. "He really wanted to do better for himself – do bigger and better things."
But on a cold December evening late last year, life intervened. PFC Mensah put all his hopes and dreams aside to help his neighbors one last time. As best he could, he would make sure no one was left behind. Those of us who take time to remember him are living testimony to the truth that his sacrifice was not in vain.
On Thanksgiving of 2017, PFC Emmanuel Mensah sent one last text to his recruiter. He wrote a simple thank you to SSG Martinez-Ortiz: "Thank you for changing my life and making me who I am today … a Soldier."
"I keep reading that text," SSG Martinez-Ortiz said. "That's the thing that keeps running in my mind since the incident happened. He was a really good Soldier."
PFC Emmanuel Mensah was posthumously awarded the Soldier's Medal by Army Secretary Mark T. Esper. It is the Army's highest award for heroism outside of combat. He was also posthumously awarded the New York State Medal for Valor – the highest New York State military award for heroism.
Alpha Company recognized their fallen brother during the RSP drill that followed PFC Mensah's passing.
SSG Martinez-Ortiz reflected that, "He'll live on through us."
By Staff Writer Matthew Liptak
VIDEO