Kansas's 35th Infantry Division Steps Up as Division Headquarters
More than 500 Soldiers of the 35th Infantry Division blazed a new trail during their recent deployment to the Middle East. On its first deployment as a division in more than 70 years, the Division took charge of providing for the needs of more than 10,000 Soldiers among five brigades, spread across an area the size of the entire United States.
The 35th Infantry Division set a precedent in its role as the first National Guard division to serve its entire deployment as a division headquarters in the Middle East. The Division was responsible for the needs of thousands of Soldiers, consisting of Army National Guard, active duty, and Army Reserve, under the concept of the "Total Army" program.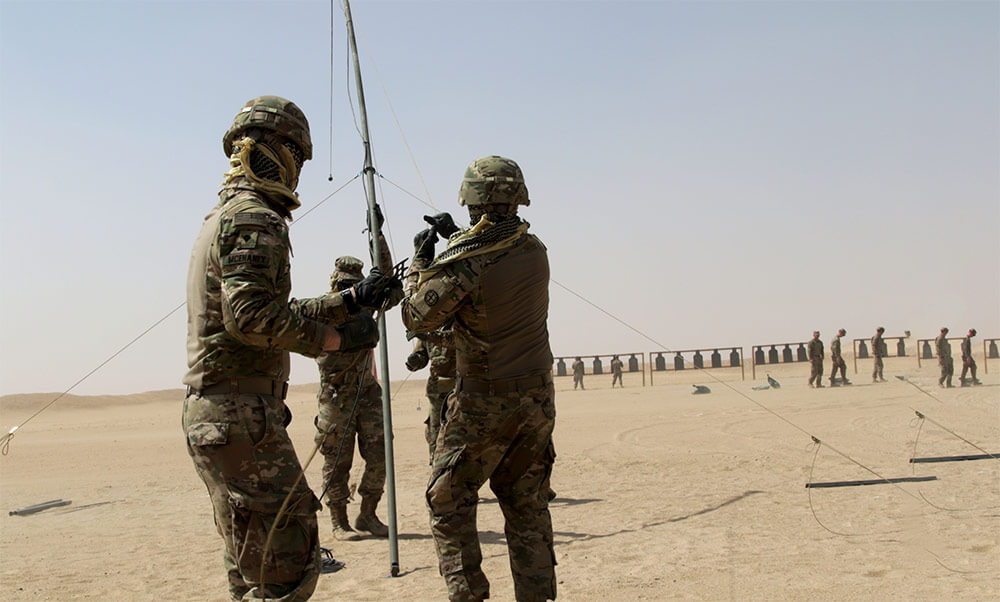 "The 35th Infantry Division supports operations across the theater," said MG Victor Braden, 35th Infantry Division commanding general. "We're involved in offensive tasks, defensive tasks and stability tasks – all at the same time. It is not entirely a stability-oriented mission."
According to COL Timothy Bush, 35th Infantry Division chief of staff, only eight division-level organizations are aligned under the National Guard, and just 10 are aligned under the active duty Army. The 35th Infantry Division worked to purposefully implement the Total Army concept among its endeavors to enhance readiness, create an environment of seamless transitions and continually develop interoperability among the various Service components and partner nations.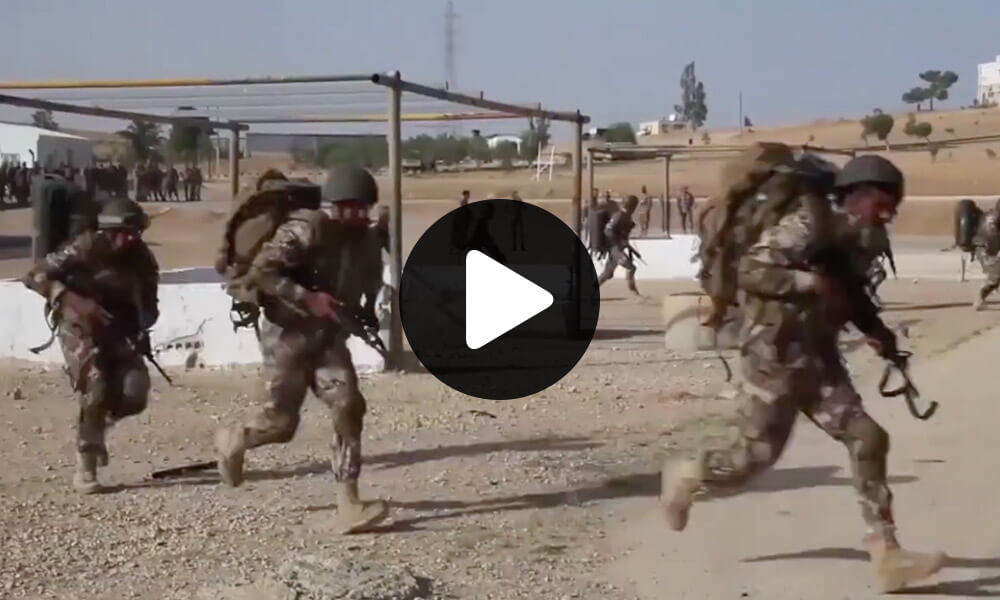 "If our platoons are going to deter aggression on this peninsula, to be most effective, they could potentially have to operate with a regional partner nation," said COL Bush. "It becomes exponentially more complicated in that we have to develop interoperable exercises and training – where not only do we have to be good, but we have to be good in conjunction with our regional partners."
Challenges, according to COL Bush, include learning one another's different weapons, interacting in some cases with basic understandings of language, culture and communications systems, and learning to work well together.
"We have had to figure out how to intermingle and interoperate in effective ways," said COL Bush. "We have developed exercises where we can work platoon-to-platoon, company-to-company or battalion-to-battalion. It has helped us to forge important relationships and understanding among our partner nations."
COL Bush explained that with the 35th Infantry Division taking on the mission of division headquarters, U.S. Army Central Command (USARCENT) has an opportunity to continue to enhance its role as a Service component command.
LTG Michael Garrett, USARCENT commanding general, agreed.
"The establishment of Task Force Spartan as a tactical command for [Operation Spartan Shield] permits USARCENT to fully focus on our operational-level, theater-wide responsibilities," LTG Garrett said.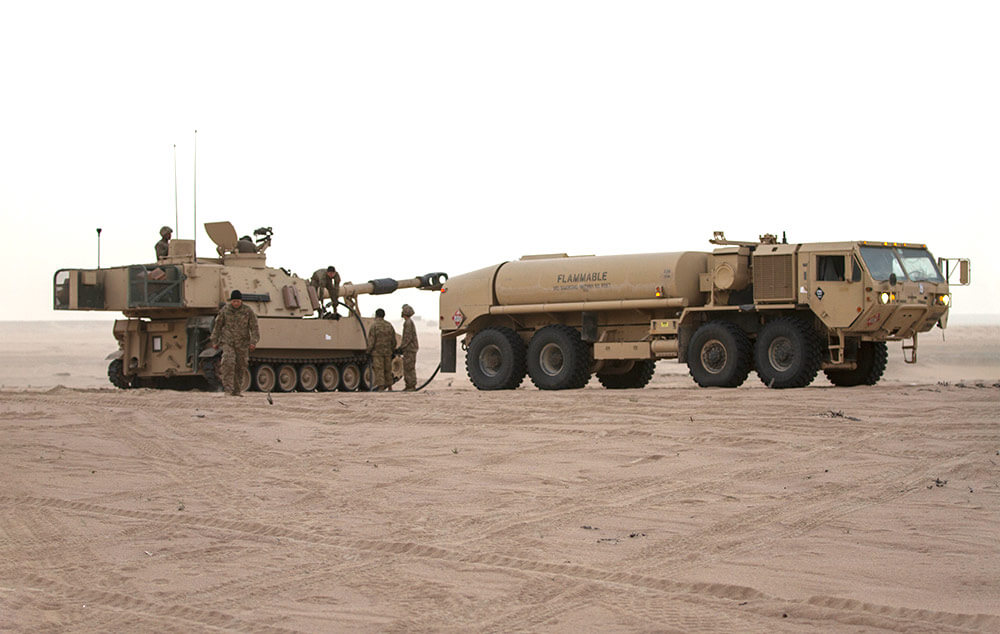 Operation Spartan Shield is U.S. Central Command's (CENTCOM) means to deter regional aggression and stabilize countries within the region. Task Force Spartan is the U.S. Army's Total Army concept in action. It involves all Army components working together toward a common goal. Among the elements and strategies involved are logistics, fire support and training that includes partner nations for interoperability and cohesive operations.
The division aligned itself for success from its inception as a division headquarters by ensuring its continual immersion in the duties of Task Force Spartan in support of Operation Spartan Shield, and applying the Total Army, One Standard-approach to their work throughout the theater.
"I think among the strengths of the Total Army policy is that there's only one standard," said COL Bush. "The standard for the way the National Guard or Army Reserve does a task is the same as the way the active duty Army does tasks, such as maintenance, personnel, pay, supply or information security. All of those things have one standard."
COL Bush explained that with its precedent-setting role, the division's deployment differed in notable ways from past deployments, and required a new perspective.
"If you came over here thinking that you were going to be fighting ISIS, you really had to change your mindset," said COL Bush. "We're not directly fighting ISIS, but by building the most capable force, we're creating a deterrent that enables American forces to defeat ISIS. In many respects, this deployment bridged that gap between being deployed in support of combat operations, while performing the normal Title 10 missions of an active duty Army."
Given their diversity of education, experience and skillsets, Soldiers throughout the division had an opportunity to influence positive outcomes, according to COL Bush.
"We have Soldiers with a great diversity of professional experience and education," said COL Bush. "Our unique perspectives lend incredible strength to the mission and to the force as a whole. I think it is among the ways that we bring strength, and it really enables us [to] look at things in a different way."
Although the Division performed some behind-the-scenes functions, COL Bush explained the importance of those roles.
"That tank crew is there because an S-1 [personnel section] is ensuring that they are manned; that they're resourced; that everyone has the correct entitlements," said COL Bush. "Without the S-1, when push comes to shove and we really need them, the tank crew wouldn't be manned, educated, resourced [or] evaluated – they wouldn't be awarded or getting paid. This means the S-1 shop behind the scenes really makes that tank crew effective. Those Soldiers that respond to our orders are part of us — even if they were not wearing our patch. Whether they're National Guard, Army Reserve or active duty Army, we were still responsible for them — and that is a very sacred responsibility that the 35th Infantry Division executed."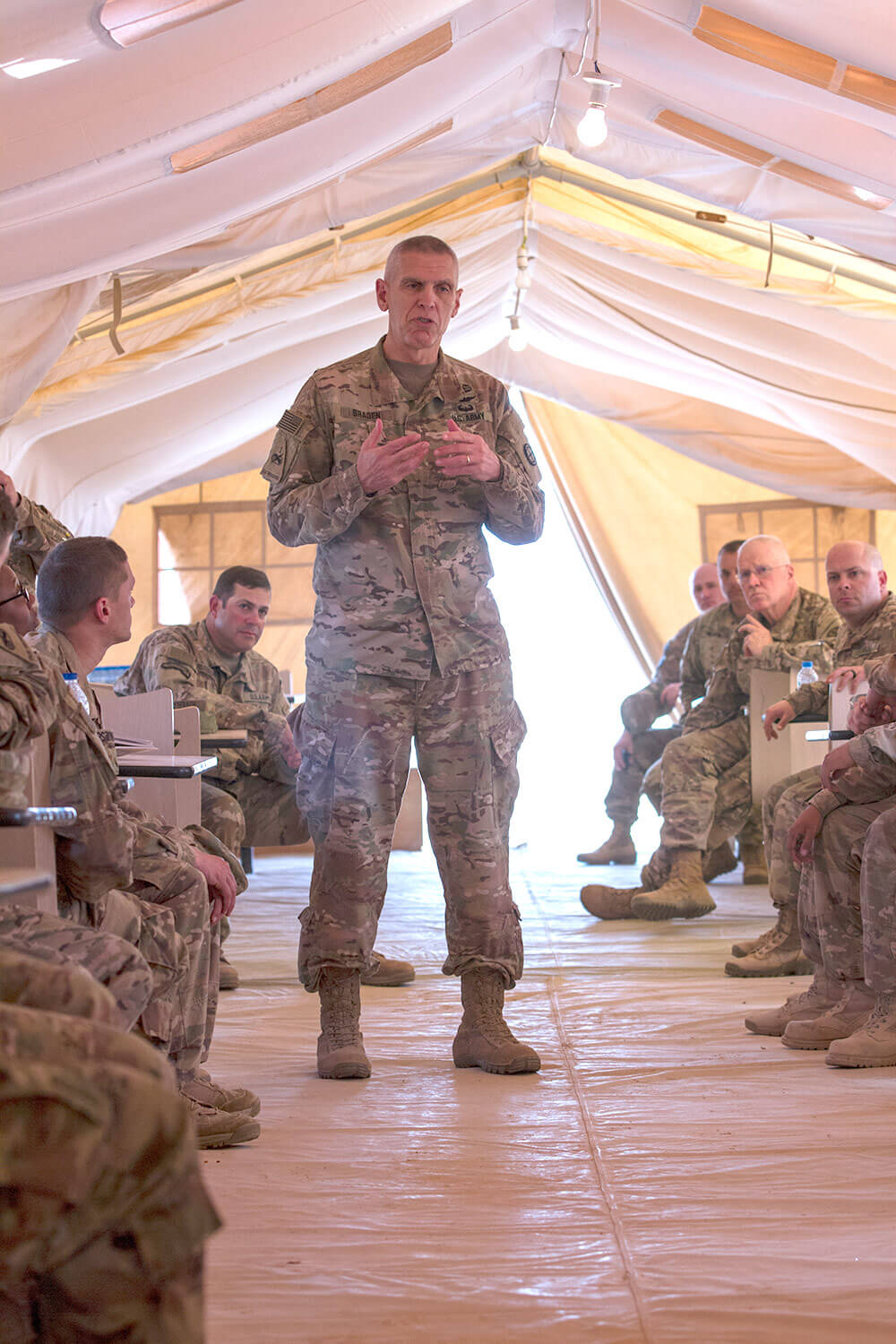 In addition to administrative responsibilities, these troops enhanced interoperability through the execution of multiple exercises and operations in conjunction with partner nations, as well as training with partner nations and interacting with host nation communities.
Operations and joint training of the 35th Infantry Division under Task Force Spartan included: Operation Angel Strike, Operation Diamond Torrent, Iron Union 18-6 and several other joint training interaction opportunities, such as U.S. and Kuwaiti Land Forces (KLF) joint medical training with doctors and nurses from each nation; a legal luncheon for U.S. military attorneys and Kuwaiti Armed Forces Military Justice Authority attorneys to discuss legal cooperation between the two countries; and building a lasting partnership for the future.
Soldiers of the 35th Infantry Division exemplified the motto that "every Soldier is an ambassador" through community engagements such as Women in Science and Technology, a Kuwaiti Book Fair, participation in Discover America Week, a joint barbecue with KLF, as well as a beach clean-up endeavor with Kuwaiti and U.S. Navy forces.
LTG Garrett appreciated the contributions and high standards set by the 35th Infantry Division.
"We need our reserve components – that's the absolute truth," said LTG Garrett. "The Army would long ago have failed as an institution without the contributions of the Total Army, which includes our National Guard and Army Reserve Soldiers. The Soldiers of the 35th Infantry Division took on this mission with great enthusiasm and executed it successfully and above expectations in every way. This type of mission had never been assigned to a National Guard division before, but these Soldiers lived up to the reputation of their storied past. They were once known as "The Infantry Spearhead" of GEN George S. Patton's Third Army, and they spearheaded this new responsibility efficiently, effectively and professionally."
Approximately 40 percent of the units deployed throughout the CENTCOM area of responsibility are National Guard and Reserve Soldiers.
"We remain indebted to the National Guard Bureau, the director of the Army National Guard and the Army Reserve command for all they have done to ensure we can continue this important mission here in the CENTCOM area of responsibility," said LTG Garrett.
By Contributing Writer SSG Tina Villalobos