Dynamic Front 19 Tests Joint Fire Capabilities
Army National Guard Soldiers from Illinois, New Hampshire, New York, Ohio and South Dakota traveled through Europe this past spring as part of Dynamic Front 19, an annual multilateral exercise hosted by the 7th Army Training Command, U.S. Army Europe (USAREUR).
Across a week in March, participants trained on a wide range of skills and techniques and built relationships with North Atlantic Treaty Organization (NATO) allies. Consisting of approximately 34,000 participants from 27 NATO and partner nations, the exercise was geared at improving allied and partner nations' ability to deliver long-range fire capabilities.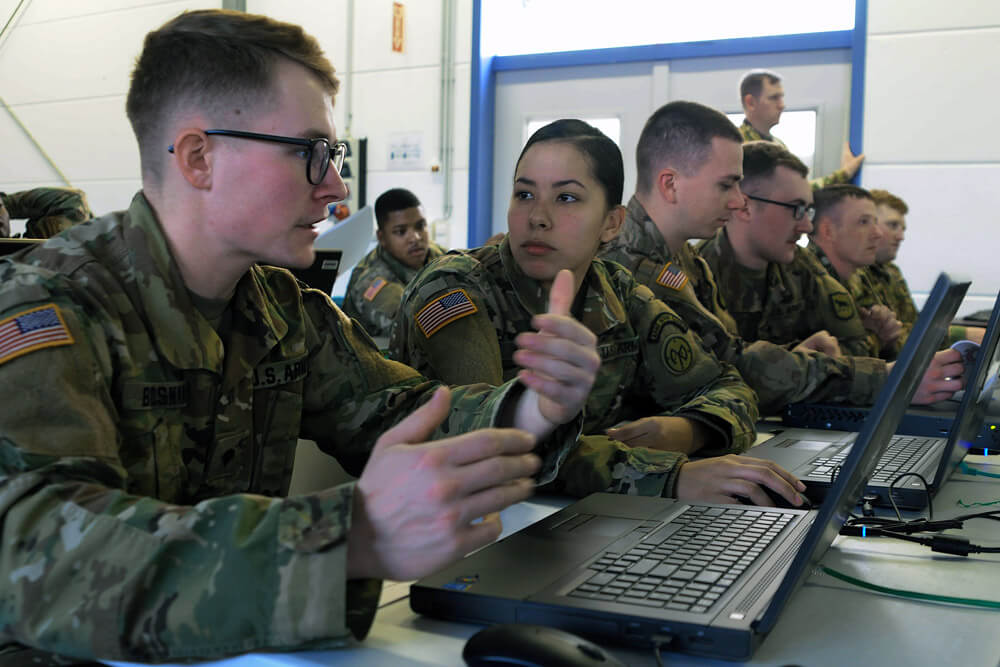 Dynamic Front 19 tested the interoperability of Artillery Systems Cooperation Activities (ASCA) distributed across the nations of Germany, Poland and Latvia with the Theater Surface Fires Command (TSFC) leading in Germany. TSFC is a USAREUR fires element concept used to plan, coordinate and execute joint and allied fires through organizational mission command. ASCA allows participating nations to receive or provide mutual fire support. The interface supports sharing key command and control fire support information. Currently, Denmark, France, Germany, Great Britain, Italy, Netherlands, Norway, Turkey and the United States use ASCA.
"It's important to be able to come together as a coalition and control fire," said SFC Andrew Wagner of New Hampshire Army National Guard's 197th Field Artillery Regiment. "Artillery isn't about just sending rounds down range, it's also about being precise, it's about being on time and making sure that we are controlled, shaping the operation. In order to do that, we need to be able to share information."
The effective and efficient sharing of information was the major goal of the Dynamic Front exercise. The exercise included simultaneous events in Germany, Poland and Latvia that involved shooting, artillery, testing processes, mission flow and data examination. Each day's challenges built upon the challenges from the prior day, causing the event to escalate in difficulty and complexity as it went on.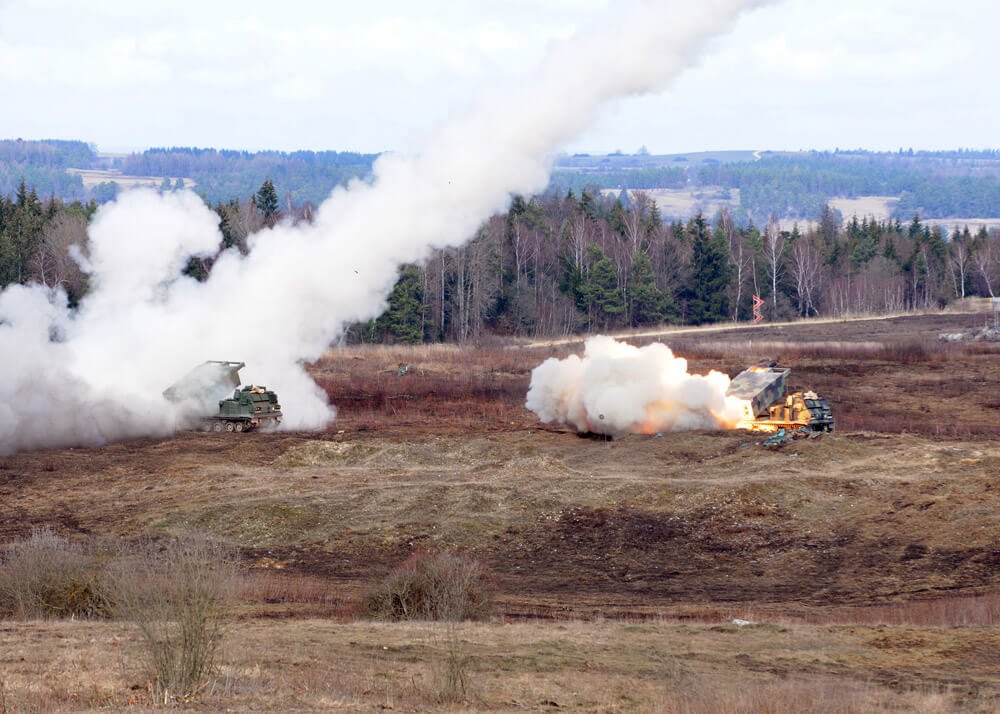 "It went really well for us," said SSG Cameron Paulson of the Illinois Army National Guard's 2nd Battalion, 122nd Field Artillery Regiment. "We were able to create good interoperability between the units both digitally and over the voice net. So, we were able to send missions from higher commands all the way down to the firing unit pretty seamlessly."
Working with foreign allies in a blended training environment also played a factor in the participants' ability to coordinate more efficiently and learn from one another's skills.
"The more we work with [ally and partner nations], the more we learn from them, the more they are learning from us; we get to share different ideas." said SFC Wagner.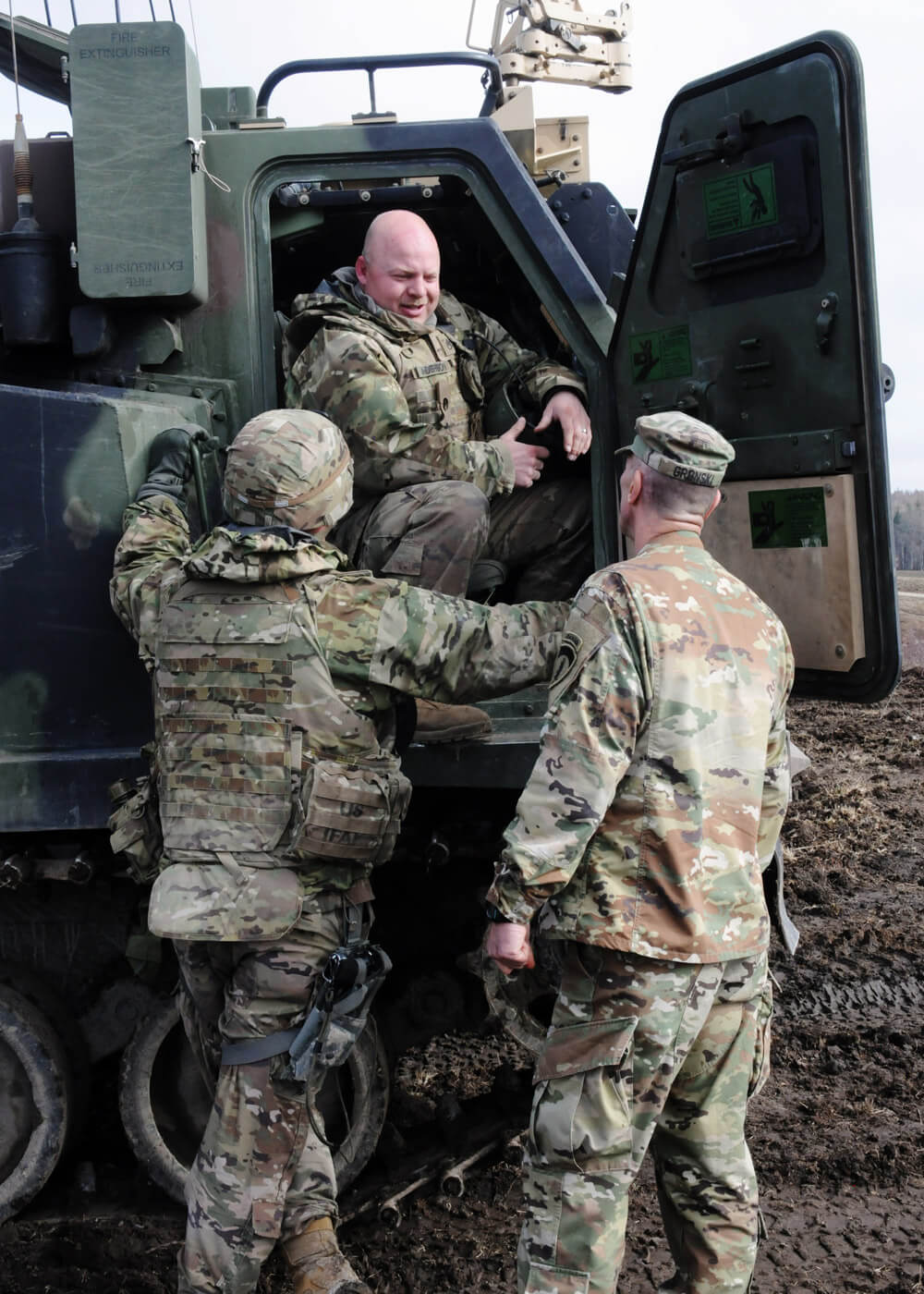 SSG Jeffery Panttila, also from Illinois' 2-122nd, served as an observer controller trainer during Dynamic Front, monitoring firing procedures and recording data. This was his first time participating in the exercise, and he said he enjoyed the opportunity to gain new knowledge and improve his skills.
"I thought the exercise was fantastic," said SSG Panttila. "It was a great learning opportunity and experience. Being able to do something as exciting as Dynamic Front as a National Guard Soldier was an experience I will never forget and a taste of knowledge that will continue to help me develop in the future."
The variety of participants, hailing from various States, countries and components, offered Soldiers the opportunity to gain new perspectives on old tasks.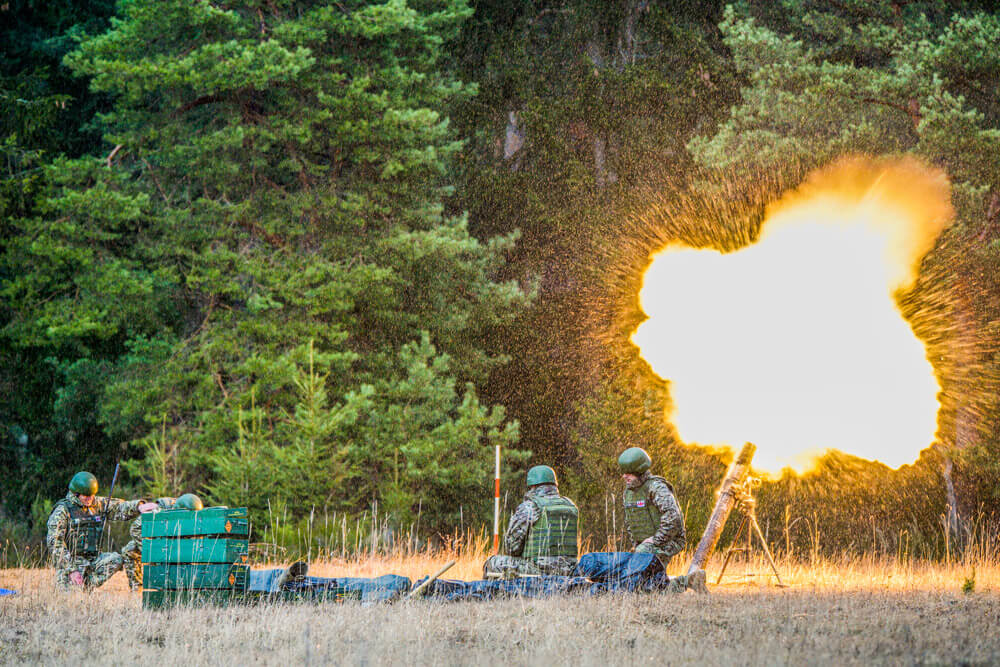 "Anytime you can get quite a few nations together to shoot and process missions together, it's always a big success," said CW2 William Sadlick of the 2-122nd's Headquarters Battery. "Working with people from other countries is always a great experience. You get to see how other countries do what you do."
Also working as an observer controller trainer, CW2 Sadlick worked alongside a Canadian unit to work on their counter fire processes.
"Anytime I can talk to other people, especially from other countries, as to how they handle managing their radars and how they manage the process, it's always great career information to expand my knowledge base," he noted.  "I was able to bring home lessons not only from the Canadian unit I was working with, but also some other nations that were there like the Ukrainians, Danish and English."
CPT James Nelson, a fire control officer of the Texas Army National Guard's 56th Infantry Brigade Combat Team, echoed CW2 Sadlick's sentiment.
"This experience has made a tremendous impact on my progression as a Soldier," CPT Nelson said. "It helps me see what other units and other countries do in artillery. I can see tactics, techniques and procedures they use, take those lessons learned back to my unit at home and apply those so we can become better artillerymen and better Soldiers."
With any multinational exercise, differences in language can cause initial obstacles, but in a properly developed environment these initial challenges often prompt soldiers to work more efficiently in an effort to understand each other and complete their tasks.
"There are certain commands that we take for granted that other countries either don't use, or it means something a little bit different in their language," explained CPT Dale Boughton of the 2-122nd Field Artillery. "So, that was a challenge [but] it was also the high point—being able to work through those small issues that just kind of popped up. You wouldn't really think about it until you were actually doing it."
CPT Boughton went on to note how working through these types of challenges during training serves to make a more unified, and lethal, allied front.
"Just these little nuances that we're catching in the practice are so important," he said. "NATO is a pretty big operation. You have to work out the kinks if you want it to work effectively and efficiently. Having the time to practice together, it's like having an all-star game. If you have all these great players, but they don't practice together, they're not going to be able to work as a team."
Along with working through one another's differences in language, techniques and skills, Dynamic Front 19 also highlighted the similarities between the diverse range of participants.
"You think that other countries are so different, but when it comes down to it overall, we're all kind of doing the same thing," CPT Boughton continued. "It was really neat being able to connect those similarities. Having that peer-to-peer exposure, and being able to network and talk about best practices that I can use to take back to my unit internally, I thought was really valuable."
In addition to developing interoperability with other NATO allies in general, Guard Soldiers from at least one State were also able to increase their working relationship specifically with a group to which they are tied through a popular National Guard Bureau program.
"[Texas'] State partner is the Czech Republic, and we'll be working with them [during Dynamic Front 19]," said CPT Nelson. "It will be nice to make contacts with them, so, when we have future exercises together, the language barrier is broken down and we're able to communicate effectively."
Participation in Dynamic Front not only helped to improve the proficiency of entire units, but also of individual Soldiers. SSG Paulson noted gaining knowledge from an event that took place toward the end of the exercise when various units came together to meet and engage.
"It's was kind of like a meet and greet where all the units brought their artillery pieces and their control centers down to one of the firing lines," SSG Paulson explained. "They took all the foreign nationals and American troops and they let them go through and look at the different howitzers and trucks and things. I think that was really beneficial for not only me, but all of the participants."
At the end of the event, Soldiers praised the exercise for its complexities and the beneficial opportunities it presented.
"[Dynamic Front] was outstanding for me," said CPT Boughton. "It was neat to talk to and interact with different Soldiers from other countries and see their policies, procedures and how they actually just run a section."
"[My favorite aspect] was the overall opportunity as a National Guard Solider to participate in an exercise of this magnitude and to be a part of something dynamic and fun," commented SSG Panttila. "It's really rewarding."
Dynamic Front 19 proved an eye-opening experience for many of its participants, leaving Soldiers with newfound perspectives and improved skill sets.
"I think the whole experience in general is great for anybody in the National Guard," said CW2 Sadlick. "If you can get an opportunity to do this kind of exercise, it's really mind opening. It gets you out of your own world of how things are done and you see how other people are doing things.
"It is a great learning experience and eye opening to get that cultural exposure working with other nations," CW2 Sadlick continued. "The one piece of advice I would give to anybody that is able to do these exercises is just get on board and do it."
BY STAFF WRITER Tatyana White-Jenkins